Name: Elena Kountoura
Title: Minister of Tourism, Greece
Company, city: Ministry of Tourism; Athens, Greece
Number of employees: Almost 1 million jobs in Greece are linked with tourism and travel.
Recent project: National tourism policy to promote Greece as a 365-day destination
First job: Physical education professor
Little-known fact about you: Mother of two wonderful sons
Your Business
What innovations/initiatives do you foresee in the industry over the next years? Ιn the fast-growing global tourism sector, where rapid changes occur in travel patterns and habits and new markets emerge, the key for destinations to stand out is to showcase their distinct identity based on authenticity, innovation and sustainability. Our new tourism policy promotes Greece as a global, attractive destination 365 days a year, highlighting a wide array of authentic, highly personalized experiences while protecting the richness, diversity and beauty of our nature and our thousands of years of history, traditions and culture. We work toward becoming an exemplary destination of sustainable tourism development that will benefit our millions of visitors and the people of Greece, and generate tourism activity across the country and throughout the year.
What is the best career advice you've received? The most valuable advice came from my sports coaches since an early age, as a member of Greece's national track and field team and during my university studies: Set goals in life and try your best to achieve them with discipline, perseverance, hard work, high values and ethics.
What advice would you give someone starting out in the field? Have a vision and the strong will to work toward making it happen despite obstacles and challenges that are likely to occur.
Elena Kountoura as a Traveler
Favorite travel memory or story: Having traveled the world, the most rewarding moments have been those when I engaged with the locals and exposed myself to new cultures and ideas. But some of the most precious memories I gained while traveling within Greece, discovering something new and different as part of the magic this country generously offers.
One travel tip you cannot live without: Technology provides fast and easy access to information in advance about the destination, its history and culture, and the options for places to visit and experience.
Βest advice for business travelers: Find time to explore the destination you are visiting.
About Greece
What can premium travelers expect from a visit to Greece? Greece offers unlimited options throughout the year for high-end vacation and tourism services in luxury resorts, boutique hotels and villas of the highest comfort, privacy and style as well as special packages for couples, families, individuals and groups of friends. As the largest and most diverse complex of islands in the Mediterranean, with more than 37,000 miles of coastline, Greece boasts several great marinas. Beyond our cosmopolitan islands, we introduce fascinating new destinations ideal for yachting and cruising as well as for golf, wellness and spas, diving, gastronomy and luxury amenities.
What can our readers look forward to in 2017/2018? Our 100-plus inhabited islands, each with its own beauty and identity, are known for their distinct atmosphere, architecture, landscape and travel experiences. The majestic mainland's seashore, breathtaking mountains, gorges, lakes, rivers and trails are ideal for biking, hiking and rock climbing in all seasons. Athens, Salonica and other cities offer ancient monuments, contemporary arts, festivals, entertainment and nightlife, great shopping and dining in fine restaurants. The Stavros Niarchos Foundation Cultural Center, Athens's newest cultural gem, houses the Greek National Opera, a 2-million-book National Library and a 42-acre park on Athens' Faliro Bay. Along with new 4- and 5-star hotels, these developments create a new contemporary culture, sparking renewed interest in the country and further strengthening Greece as a destination and a brand.
What are your recommendations for a visit to Greece? The exquisite landscape, rich history and culture are timeless elements embedded in the whole travel experience. Visitors should see some of our 18 UNESCO World Heritage sites, our renowned festivals, museums and galleries. Local fairs and village feasts in open-air theaters, castles and squares bring people together to celebrate life through music, dance, incredible food and locally grown products that promote health and longevity. Traveling around Greece can be a never-ending experience, and this is why many visitors return several times to see more of our amazing destination.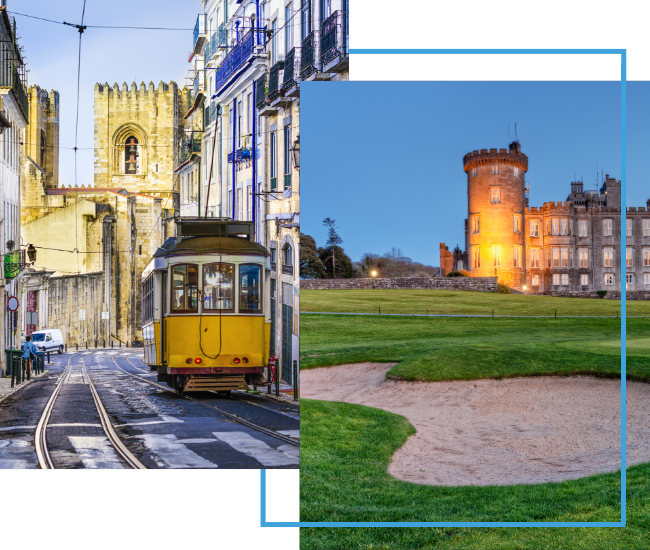 FX Excursions
FX Excursions offers the chance for once-in-a-lifetime experiences in destinations around the world.
Explore Excursions
The Perelman Performing Arts Center (PAC NYC), the cultural cornerstone and final public element of the World Trade Center site, opened this September.  The new performing arts center in Lower Manhattan provides a dynamic home for the arts, serving audiences and creators through flexible venues enabling the facility to embrace wide-ranging artistic programs.
Sponsored Content
United Airlines is in the midst of a major initiative to modernize its fleet over the next several years. After first announcing the plan in 2021, planes fitted with United's signature interior are finally beginning to appear across the airline's narrowbody fleet of Boeing and Airbus planes. United flyers are sure to notice these enhancements from the moment they step on board: Each new or updated plane sports remodeled seats, seatback entertainment screens for everyone, Bluetooth connectivity and more, all adding up to a better experience on every journey.
Whether you call secondhand fashion treasure troves "thrift stores," "fripperies," "charity shops," "vintage boutiques" or something else, shifting the paradigm from "old clothes" to "new finds," you may find the best, most conversation-starting souvenirs inside these shops and neighborhoods located in the world's most fashionable cities and a few unexpected places.