Two long whistle signals announce the release of train brakes. The locomotive chugs forward with telltale clouds of smoke spewing from a sooty stack. Ever so methodically, the engine puffs away, turning hot-fired coal into harnessed steam energy. Though it's a crude and raw type of power, this is the stuff that captures the imagination and dreams of many a child and adult who feel connected with rails of a different era. It's the coal-fired Cumbres & Toltec — a dream steam machine. To ride the steam-operated, narrow-gauge Cumbres & Toltec is to directly experience the nostalgic romance of trains and how they played such a major role in taming the Wild West. The bonus is the excursion covers some of the prettiest 64 miles of railroad track in America. The eight-hour journey hops between the state lines of Colorado and New Mexico a total of 11 times, all the while traversing through a splendid array of five life zones of the Southern Rockies. From sagebrush-covered high plains to the sub-alpine zone of Cumbres Pass, passengers pass through patches of piñon, juniper, ponderosa pine, Douglas fir, conifers and aspens to the high altitude forests of spruce fir.
Depending on the season, you may see wildflowers, fall foliage or even an occasional snow flurry. My ride in the middle of May was like experiencing four seasons in the span of a day. It's a testament to the unrestrained nature and majestic beauty of this part of the country. Of course, the crowning glory is just being able to experience the regal narrow-gauge engine scaling the 4 percent grade to Cumbres Pass at 10,015 feet. Opened in 1880, the railroad carried silver ore, timber and livestock along with passengers on 3-foot-wide tracks. The narrow gauge was designed to traverse mountainous terrain and negotiate tight curves standard trains couldn't handle. The two railways were originally part of the larger Denver & Rio Grande Railway, which unfortunately shuttered in the 1950s, but not before the Cumbres & Toltec was spun off for the scenic splendor of its route. However, by the late 1960s it was near abandonment, with service discontinued finally in 1969. Fortunate for train lovers everywhere, the line, along with its equipment and buildings, was saved through the united efforts of New Mexico and Colorado. In 2012, Cumbres & Toltec received a National Historic Landmark designation and is still known as the longest, highest and most complete example of late-19th– and early-20th-century narrow-gauge railroading in the nation. Be sure to experience the first-class service of the Parlor Car with cushioned seating reserved exclusively for adults 21 years and older. Your 9 a.m. departure is followed by continental breakfast, beverages, snacks and lunch, along with a surprise gift bag. Beer, wine and cocktails are available for purchase, or try the deluxe tourist car with café-type seating. The value-driven coach car offers cushioned bench seating and is a great choice for families. No matter which cabin you choose, everyone can roam about freely within the open-air gondola. Photographers will particularly appreciate the vantage points.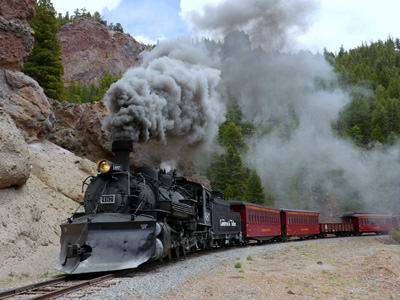 Through tunnels, trestles and gorges, the Cumbres & Toltec is like no other. Though there are other railways, such as the Durango & Silverton line, which are more accessible to tourists passing through, you'll be hard-pressed to find scenery as beautiful and breathtaking as what you encounter with your ticket to Toltec. With the 2016 season extending May 28–Oct. 23, the Cumbres & Toltec Scenic Railroad offers several choices to experience the romance of steam-powered trains. Plan on spending a full day, boarding from either the eastern terminus in Antonito, Colo., or the western terminus in Chama, N.M. The most popular and best value is to ride over Cumbres Pass, returning to your origination via a spacious motor coach. Another option with more limited scenery is to ride the train from either end to the lunch stop at Osier, then switch trains to return to your starting point. Special themed excursions include trips focusing on geology, botany (wildflowers and ecology), sunset dinners and a July 4 celebration. Prices start at $95 for coach fare to $185 for the Parlor Car, with discounts of 10 percent available to military, AAA and AARP members.
FX Excursions
FX Excursions offers the chance for once-in-a-lifetime experiences in destinations around the world.
Crystal Bridges Museum of American Art, located in Bentonville, Arkansas, presents Diego Rivera's America, the first major exhibition focused solely on the Mexican artist in more than 20 years, on view until July 31. Crystal Bridges is the second and final stop for the exhibition, the only remaining opportunity for visitors to experience Rivera's expansive vision of America.
Sponsored Content
Pack your bags, traveling for business is making a comeback — and the role of the corporate travel manager is more important than ever.
In San Antonio, Texas, old buildings are seldom destroyed. When they fall into disrepair, they are instead repurposed and restored to maintain the city's history and traditions for future generations to appreciate. Whether it's a former brewery or bank transforming into a chic hotel or a candy factory evolving into stylish lofts, this Texas city embraces both history and sustainability.