DINING IS AN ART, and now that applies to both on the ground and at 35,000 feet thanks to Hainan Airlines' "Hai Chef" Inflight Artistic Chinese cuisine series, a collaboration with Dong Zhenxiang, a Chinese culinary master also known as Dadong.
Dadong is well-known for conceiving traditional Chinese dishes from an artistic approach, integrating Chinese painting, Chinese potted landscape and classical Chinese literature to create a dish "like a poem, a dish that is an artistic conception."
Business-class passengers on long-haul international flights departing Beijing can enjoy these elaborate dishes as part of the Inflight Artistic Chinese cuisine series. Some of the delectable delights awaiting them onboard include shrimp cake appetizer with Shaoxing wine and spiced duck liver; Beijing roast beef fillet; fried sweet bean and pumpkin with agaric; fried seafood with XO sauce; stir-fried ginkgo nut and shrimp balls with Chinese parsley; braised eggplant with colorful peppers; fried chicken fillet with poplar mushrooms and chicken noodle soup with preserved vegetables and bamboo shoots.
Available in business class from 17 routes from Beijing, including Berlin, Seattle, Chicago, Boston, San Jose, Toronto, Las Vegas, Brussels, Prague and Tel Aviv, new dishes for the special series will continue to be developed, bringing the infinite possibilities and aesthetic of Chinese culture and cuisine to the sky.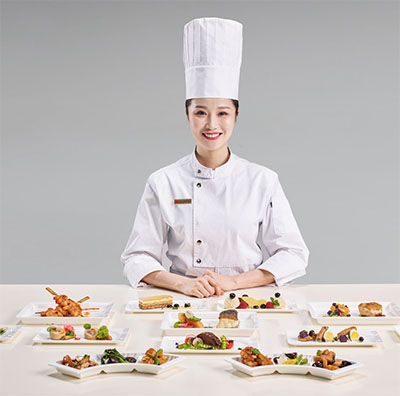 The "Hai Chef" programme also embodies a significant upgrade to the inflight dining experience overall, including cooperating with Michelin-starred chefs, such as Alyn Williams and Brent Savage, to design menus. In 2016, the airline launched the Cabin Chef program on all long-distance international routes.
The highly trained Cabin Chefs are culinary experts with in-depth understanding of food, cooking skills and presentation. They offer a unique perspective on color, flavor and taste and recommend dishes based on the business-class traveler's personal taste preferences. It's a private chef experience onboard.
Additionally, Cabin Chefs strictly control the preparation of dishes, from heating, seasoning and presentation to embellishment and serving, enriching further the in-flight dining experience. Beautiful desserts and after-dinner wine conclude the experience for travelers. The program is set to expand further.
Hainan Airlines flies to 19 North American destinations, covering Seattle, San Jose, Los Angeles, New York, Chicago, Boston, Las Vegas, Toronto, Calgary, Vancouver, Mexico City and Tijuana, forming an airline based on rapid connectivity and intermodal cooperation. "Fly easier", with the brand-new "Dream Feather" visual design and the delightful 5-star services, Hainan Airlines will provide passengers with more convenient choice and a more comfortable, safe and pleasant flight experience.
Learn more at hainanairlines.com.
FX Excursions
FX Excursions offers the chance for once-in-a-lifetime experiences in destinations around the world.
Airplane travel evokes a lot of emotions these days: excitement, anticipation, uncertainty and nervousness, just to name a few. But when you do take to the skies again, the giddiness of getting pampered at 35,000 feet can most certainly wash away the surrealness of the past year and a half — at least for the duration of a long- haul flight — as you sip Champagne and slip your feet into plush slippers. While some global airlines have paused or pushed back plans for upgrades and refreshes to their premium cabins, others have introduced exciting changes that await in your pod or lie-flat bed in first and business classes. What's more, amenities like privacy screens, sliding suite doors and space to spread out all serve a dual purpose as methods to luxuriate in the air while keeping social distance. Here are some nice- ties to expect now and in the near future, from retrofitted seat configurations to updated décor to Michelin-starred meals:
Sponsored Content
History and culture are etched into every corner of Greece. Beginning with its language, the oldest written language still in existence, and moving from the traces of passing civilizations and religions to pre-historic findings and works from many movements, there's a wealth of culture to discover on your next trip to Greece.
United Airlines is making international travel more accessible. United announced the largest trans-Atlantic expansion in its history, including 10 new flights and five new destinations including Amman (AMM), Jordan; Bergen (BGO), Norway; Azores (PDL), Portugal; Palma de Mallorca (PMI), Spain; and Tenerife (TFS) in the Spanish Canary Islands. All new routes, set to begin in spring 2022, are not served by any other North American carrier.