DINING IS AN ART, and now that applies to both on the ground and at 35,000 feet thanks to Hainan Airlines' "Hai Chef" Inflight Artistic Chinese cuisine series, a collaboration with Dong Zhenxiang, a Chinese culinary master also known as Dadong.
Dadong is well-known for conceiving traditional Chinese dishes from an artistic approach, integrating Chinese painting, Chinese potted landscape and classical Chinese literature to create a dish "like a poem, a dish that is an artistic conception."
Business-class passengers on long-haul international flights departing Beijing can enjoy these elaborate dishes as part of the Inflight Artistic Chinese cuisine series. Some of the delectable delights awaiting them onboard include shrimp cake appetizer with Shaoxing wine and spiced duck liver; Beijing roast beef fillet; fried sweet bean and pumpkin with agaric; fried seafood with XO sauce; stir-fried ginkgo nut and shrimp balls with Chinese parsley; braised eggplant with colorful peppers; fried chicken fillet with poplar mushrooms and chicken noodle soup with preserved vegetables and bamboo shoots.
Available in business class from 17 routes from Beijing, including Berlin, Seattle, Chicago, Boston, San Jose, Toronto, Las Vegas, Brussels, Prague and Tel Aviv, new dishes for the special series will continue to be developed, bringing the infinite possibilities and aesthetic of Chinese culture and cuisine to the sky.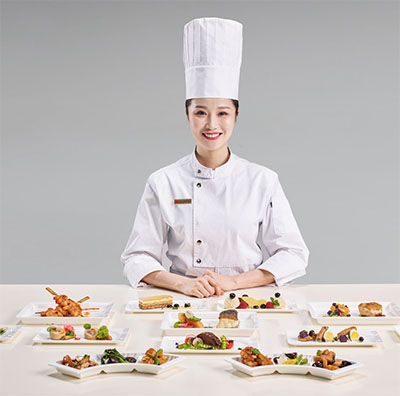 The "Hai Chef" programme also embodies a significant upgrade to the inflight dining experience overall, including cooperating with Michelin-starred chefs, such as Alyn Williams and Brent Savage, to design menus. In 2016, the airline launched the Cabin Chef program on all long-distance international routes.
The highly trained Cabin Chefs are culinary experts with in-depth understanding of food, cooking skills and presentation. They offer a unique perspective on color, flavor and taste and recommend dishes based on the business-class traveler's personal taste preferences. It's a private chef experience onboard.
Additionally, Cabin Chefs strictly control the preparation of dishes, from heating, seasoning and presentation to embellishment and serving, enriching further the in-flight dining experience. Beautiful desserts and after-dinner wine conclude the experience for travelers. The program is set to expand further.
Hainan Airlines flies to 19 North American destinations, covering Seattle, San Jose, Los Angeles, New York, Chicago, Boston, Las Vegas, Toronto, Calgary, Vancouver, Mexico City and Tijuana, forming an airline based on rapid connectivity and intermodal cooperation. "Fly easier", with the brand-new "Dream Feather" visual design and the delightful 5-star services, Hainan Airlines will provide passengers with more convenient choice and a more comfortable, safe and pleasant flight experience.
Learn more at hainanairlines.com.
FX Excursions
FX Excursions offers the chance for once-in-a-lifetime experiences in destinations around the world.
Banyan Tree Group recently announced its first-ever expansion into Japan with five new properties across four concepts. The hospitality group's partnership with Wealth Management Group saw Dhawa Yura and Garrya Nijo Castle launch in June, with two more properties slated to open now through 2026. Another partnership with Terraform Capital sees plans to build Cassia, a property in the ski resort of Niseko.
Sponsored Content
Set on a seaside bluff overlooking Land's End in Cabo San Lucas, Vista Encantada Spa Resort & Residences is a Baja paradise specializing in serene vistas and impeccable hospitality, offering a Pacific coast lifestyle with authentic Mexican touches. Guests can now earn a fourth night free at the stunning resort, plus a $100 resort credit, when booking through March 20, for travel through June 15.
For many business and leisure visitors to Tokyo, squeezing in a few hours of shopping during the city's wet and humid early summer months can be somewhat unpleasant.