THE BASICS
Name: Benjamin Evers Swindell
Title: General manager
Company, city: Air New Zealand; Los Angeles, California
First job: Cook at KFC at 14 years old
Where to next: Vancouver to catch up with our airport teams
A LITTLE BIT MORE
What would you be doing professionally if you weren't in your current industry?
I'd definitely be in the service industry, probably working in hotels.
What actor would play you in a movie?
When I was younger, people said I looked like Chris O'Donnell, so I'll say him.
What is your favorite book, movie or television show?
The Ride of a Lifetime by Robert Iger
What historical figure, dead or alive, would you love to have dinner with?
Robert Iger, because I loved the book and how he focuses on optimism and leadership as opposed to pessimism
THE BUSINESS
What is your most recent project, and what was the inspiration behind it?
This past year we focused on the restart of our six existing ports in North America as well as launching a new gateway out of New York in September and rebuilding our team. From a strategic point, we refer to North America as our North Star. It's our connection between New Zealand and North America, and from Air NZ's perspective, these projects remain top priority.
What is your favorite aspect of your job?
Being an Australian and working for Air NZ, I have an outside perspective and deeper appreciation for the uniqueness of the company culture. The values at Air NZ are underpinned by Māori culture. Those values and how we operate as a business take care further than any other airline. It's genuine, and that's what we hear from customers.
What's the biggest business risk you've ever taken?
During COVID I oversaw the corporate and government portfolio in New Zealand. We needed to find ways to operate more efficiently with reduced team resources. Our team worked toward transforming the way we managed customer contracts and relationships. I led the charge in implementing a first to an airline by offering an opt-in/opt-out corporate program. It was risky, as our top customers weren't negotiating deals anymore, but the customer feedback was positive because the deals were more equitable. It freed Air NZ to work on the strategic and caring side of the relationship and gave customers more choice and control over how they utilized their benefits. The value in the program was predetermined by their overall volume, purchasing behavior and specific travel requirements.
Who is someone you admire in the professional travel industry?
Darryl Wade was CEO for more than 20 years at Intrepid Travel, an Australian- based and -founded company committed to sustainable travel. Its itineraries focus on education and having a positive impact on the communities visited. It was way ahead of its time and the industry.
AS A TRAVELER
Tell us about a travel nightmare: Our family arranged for all of us to spend these past holidays together for the first time since pre-COVID. The kids really looked forward to seeing their cousins. My sisters and their families traveled from Australia to meet us in Canada; they decided to stop in Whistler first but got stuck because of bad storms. So, unfortunately, our kids were separated from their cousins for yet another Christmas.
Share a comical travel experience: I was recently on a U.S. domestic flight with my family. We had a few bags and the cabin crew was working hard to find space. I got up to help, and my laptop fell out and almost hit a passenger. It was embarrassing, and my family said, "Sit down, Dad."
What is the best example of customer service you've experienced during your travels? My family and I booked a zip line through the treetops with a fantastic zip-lining company in New Zealand. I particularly liked having a guide just for our family and also a trainee guide, so two guides for the four of us meant some extra attention. An educational component helped the kids learn about the area, the trees and surrounding nature. They went above and beyond with little personal touches they added throughout the activity. It made for an amazing experience.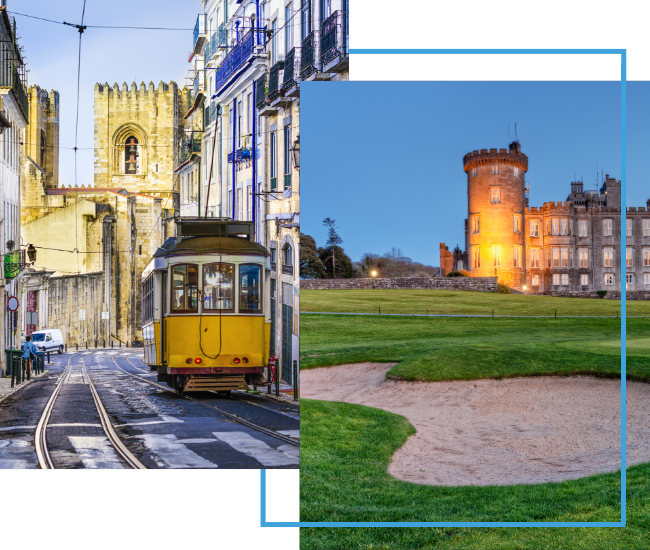 FX Excursions
FX Excursions offers the chance for once-in-a-lifetime experiences in destinations around the world.
Explore Excursions
There is something magical about sipping a glass of local wine while watching the sun slip into the Aegean Sea as the afterglow tinges traditional, white-washed Cycladic houses with glorious shades of rose, purple and gold. Ancient Greeks believed Helios, the Sun God, caused sunsets by driving his fiery chariot into the sea. Standing at water's edge in Mykonos, watching the sky slowly turn from purple to inky black, you almost believe it.
Sponsored Content
The Global Business Travel Association (GBTA) believes business travel is a fundamental force for good and brings the industry together to connect, innovate and set new standards. With members from across the globe, GBTA engages the many voices of business travel to build a collective future, providing a platform for buyers and suppliers to come together, connect with peers, grow their network and shape the future of the industry.
The prospect of a post-visit treasure hunting session inside the shops of landmark museums such as the Louvre in Paris, the Uffizi Gallery in Florence and The British Museum in London can be irresistible. However, some of Europe's smaller and more unusual museums boast retail spaces with a surprising "wow" factor, often as well-curated as the galleries.