We arrived in Venice by train, where the concierge arranged for a meet, greet and escort to a sleek, private, mahogany-sided water taxi, which whisked us past historic sites and under bridges, directly to the hotel's side-entry door. It would have been easy to leave the railroad station with our wheelie bags and walk down the ramp and across the promenade to a public launch, but this haute style proved so classy (and convenient) that we booked a similar return.
Staff from the newly transformed hotel within the 13th-century Ca' di Dio ecclesiastical compound greeted us and led us to register at a couch positioned under a stunning curvilinear chandelier within the expansive living room. Ca' di Dio, where VIPs now stay in rooms that originally housed crusaders and pilgrims, has sat among palatial mansions for more than eight centuries in a neighborhood called Arsenale, which is now the Contemporary Art District. This is the same district where the world-famous Venice Biennale art festival and exhibition takes place.
The 5-star boutique hotel, which opened a month earlier in May 2021, is affiliated with V Retreats. The building was restored and redesigned by internationally renowned architect Patricia Urquiola whose dramatic and modernized décor kept the distinctive style and artisanal talents worthy of an historic Venetian villa. The luxe interior incorporates Murano glass lamps, precious boiserie, headboards upholstered in rich textiles with decorative leather straps, windows and walls covered in matching fabric and marble-clad bathrooms.
Three upper floors house 66 accommodations, including nine deluxe rooms overlooking the landscaped courtyard. Among the 57 suites, two premium top floor suites feature outdoor terraces and 10 others all face the Venetian Lagoon reaching San Giorgio Maggiore Island, with its distinctive 16th-century church designed by Palladio.
Two of the restaurants offer outdoor seating. At one café, we sampled cicchetti, a sort of Venetian tapas. At the other, we shared a huge Tuscan steak. Another restaurant has an outdoor courtyard, where breakfast is served. A guest assistant stopped by each morning to see if we needed anything, offering access to tickets to events like my favorite, the Peggy Guggenheim Collection, and for major events like Carnevale, Biennale, International Film Festival, Biennale Architecture, 2023, Retendore fireworks and the annual Boat Show. The hotel also arranges transportation and tailor-made Venetian itineraries: a visit to the Murano Glass Factory; a trip to an urban vineyard and vegetable garden; or an experience aboard a private yacht, small fishing boat or rowing session. There's also a gym and a 650-square-foot spa with a single and duo-cabine, sauna and hamman, as well as treatments like the Merchant of Venice Gold Leaf Facial or Blue Tea treatment.
Outside, turn right to cross the famed Bridge of Sighs; within minutes, you'll be in the heart of the city at St. Mark's Square, the Basilica, Doge's Palace, Harry's Bar and countless shops, sights and bridges. The walk illustrates how Venice has improved since the COVID-19 era: New ramps on bridges along the lagoon give easy access to wheelchairs and strollers, and the city's 2021 ban on cruise ships has resulted in cleaner, greener waters, clear enough to watch fish swim.
Riva Ca' di Dio
2183, Venezia, VE, Italy
tel 39 041 098 0238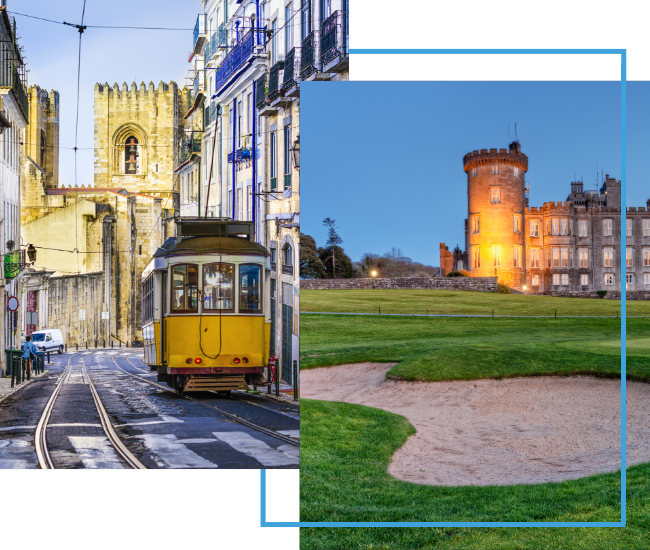 FX Excursions
FX Excursions offers the chance for once-in-a-lifetime experiences in destinations around the world.
Explore Excursions
Corsica with steep, gray cliffs overlooking the Mediterranean and sandy beaches attracting summer visitors, is a French-governed island sometimes confused with Sardinia and Sicily, Italian islands to the south. Fortunately, all three islands share the same love for good wine, food and sun-splashed beaches.
Sponsored Content
Learning more about our readers' travel habits and preferences ensures Global Traveler delivers the content you desire. As the travel industry has adapted and changed over the last few years, it's more important than ever to connect. To best meet your short- and long-term travel content needs, please help us!
If you're ready to do a little holiday catch-up with your besties, make a beeline for Conrad New York Downtown. The lobby metamorphosed into a holiday forest of heavenly scented, decorated Virginia Spruce trees. Make your first stop ATRIO Barista Station in the lobby for a complimentary hot spiced apple cider (until Dec. 3) or hot chocolate (Dec. 22­–24).