Attending a wedding in Cape Town, South Africa, the other guests and I enjoyed the city's numerous attractions, and some in the group connected with clients and business partners they had never met in person.
The groom, originally from South Africa, invited his friends and family from the Johannesburg region, a two-hour flight to Cape Town. The bride's family, who had never been to Cape Town, flew from their home in Brussels; and the wedding couple, Marcel and Birgit, who now live in the United States, took flights along with their American friends from the New York area. Everyone arrived in Cape Town several days prior to the wedding.
Known as the Mother City, Cape Town is the oldest city in South Africa, with a cultural history spanning more than 300 years. I had last visited the city in 1989, a year before Nelson Mandela was released from Robben Island prison, and much has changed in Cape Town since that time.
New hotels and restaurants opened, the city revitalized its unique Waterfront District, and Cape Town International Convention Centre opened in 2003, drawing many international visitors to the city. Although many South African cities have not fared as well economically as Cape Town during the country's political and social transition since the 1990s, the city's stunning location on the southern tip of the African continent proves a major draw for leisure and business travelers.
The wedding party found lots to see and do in and around the city. The wedding guests loved spending time at the redeveloped V&A Waterfront. The name comes from the two basins in the harbor, created in the late 1800s to early 1920s, one named after Queen Victoria and the other after her son Prince Alfred. At the Waterfront the wedding group visited the restored red-and-white clock tower, built in 1882. They went on Cape Wheel, with its 30 fully enclosed, air-conditioned cabins rising 141 feet above ground, and visited Zeitz MOCAA (Museum of Contemporary Art Africa), opened in 2017. Most of V&A Waterfront's current commercial development has taken place since 1988.
Several folks took the ferry tour to Robben Island (the departure pier for tours to the island is also at the Waterfront) and enjoyed an interesting visit to Robben Island Museum, an attraction nominated in the Leading Tourist Attraction category in the 30th edition of the World Travel Awards, 2023.
Other friends and family, some with children in tow, took bus tours or used rental cars to visit the scenic Cape of Good Hope, a 1.5-hour drive to the tip of Cape Peninsula, while a different group drove together in a rented van to Boulders Beach near Simon's Town, about 45 minutes down the Cape, to see the famous African penguin colony, the only penguins found on the continent. The beach falls under Table Mountain National Park Marine Protected Area and on weekdays is rarely crowded. Kids love watching hundreds of little penguins running along the beach.
Of course, taking Table Mountain Aerial Cableway, a five-minute ride to the top of Cape Town's most well-known geographical feature, was definitely a highlight among our group. At 3,563 feet above sea level, the view is spectacular.
The wedding took place at a winery near the lovely town of Stellenbosch, about 30 miles (45 minutes) from Cape Town. With 22 wine regions, South Africa is a major wine producer, and the Stellenbosch region, with its green, undulating hillside vineyards, reminded many of California's Napa Valley. The proximity of this area to Cape Town meant several wedding guests could spend a day or two before or after the wedding in Stellenbosch, visiting shops, cafés and restaurants, and the beautiful Stellenbosch University campus, plus enjoy winery tastings.
For those in the group who wanted to sneak in a little business, it was easy to make appointments and meet with some founders of Cape Town's startup firms. Boasting 225 emerging companies, the most startups among South African cities, Cape Town is second only to Lagos, Nigeria, in the entire African continent. In 2022 numerous success stories contributed to the city's growing list of promising startups including Yoco, Clickatell and Prodigy Finance.
For Marcel and Birgit, their destination wedding in Cape Town was a big success, and for their friends and family who attended, Cape Town proved to be a wonderful host city.
LODGING
AC Hotel Cape Town Waterfront
Opened in 2018, the stylish 188- room AC Hotel offers a fitness center, outdoor pool, bar, 24-hour front desk, four meeting rooms and a daily buffet breakfast at AC Restaurant. Located within walking distance of Cape Town International Convention Center and V&A Waterfront.
Dockrail Road, Foreshore, Cape Town
$$
Mount Nelson, A Belmond Hotel, Cape Town
The 198-room, sugar-pink, luxury hotel has attracted well-do-do guests since opening in 1899. Located in the upscale Gardens neighborhood, close to vibrant Kloof and Bree streets, it offers high tea and the Chef's Table fine-dining experience.
76 Orange St., Gardens, Cape Town
$$$$$
The Silo Hotel
The 28-room hotel and Zeitz MOCAA both opened in 2017 within a restored silo building. The hotel, on the upper floors, boasts floor-to-ceiling convex windows with views of the waterfront and Table Mountain. Rooms feature artwork from the owner's private collection.
Silo Square, V&A Waterfront, Cape Town
$$$$$
DINING
Chefs Warehouse
Recently moving to the historical, multiuse Bailey Building from its original site across the street, Chef Liam Tomlin continues to create unique tapas cuisine such as salt-and-pepper squid with chili, pineapple and caramelized ginger; Vietnamese rice paper rolls; and a signature risotto dish.
The Bailey, 91 Bree St., Cape Town
$$
Marco's African Place
The 220-seat venue attracts local and international customers who enjoy excellent African and Mediterranean cuisine and live music. Specialties include kudu steak with mushroom sauce, oxtail curry, Zwelethu's favorite chicken, Marcia's Rasta Pasta, and Mama's brandy tart with brandy sauce.
15 Rose Lane, Bo-Kaap, Cape Town
$$
The Nines
Discover the area's newest rooftop restaurant, featuring a huge deck with ocean views and serving classic South African dishes with a contemporary spin. Try the spatchcock roast chicken, Riebeek-Kasteel lamb loin cutlets, grilled local shellfish, and delicious cocktails and desserts.
Ninth Floor, Station House, 19 Kloof Road, Sea Point, Cape Town
$$–$$$
INFO ON THE GO
International and domestic flights land at Cape Town International Airport. There are few non-stop flights from U.S. gateways to CPT; many passengers take non-stop, trans-Atlantic flights to Johannesburg (JNB), South Africa's largest airport, and connect to CPT via one of the many daily, two-hour, non-stop flights. Cape Town International Airport lies 12 miles from the V&A Waterfront district, about 20 minutes' drive along a good highway. Taxi fares from the airport to the V&A Waterfront or Convention Center district cost about $13–16. Ridesharing services like Uber and Bolt are also available. Find major car rental companies in front of the Transport Plaza and Central Terminal building, accessed by two pedestrian tunnels on either side of the terminal. Air travelers familiar with Cape Town's public transport system and geography may elect to take buses and a railway to their destination.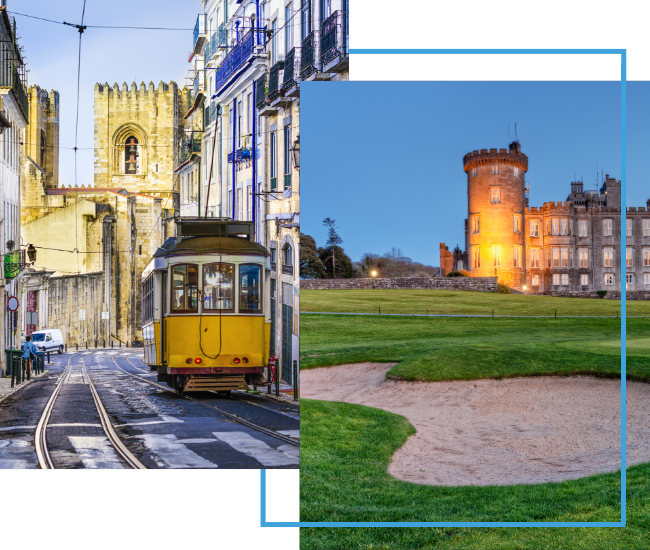 FX Excursions
FX Excursions offers the chance for once-in-a-lifetime experiences in destinations around the world.
Explore Excursions
The Perelman Performing Arts Center (PAC NYC), the cultural cornerstone and final public element of the World Trade Center site, opened this September.  The new performing arts center in Lower Manhattan provides a dynamic home for the arts, serving audiences and creators through flexible venues enabling the facility to embrace wide-ranging artistic programs.
Sponsored Content
United Airlines is in the midst of a major initiative to modernize its fleet over the next several years. After first announcing the plan in 2021, planes fitted with United's signature interior are finally beginning to appear across the airline's narrowbody fleet of Boeing and Airbus planes. United flyers are sure to notice these enhancements from the moment they step on board: Each new or updated plane sports remodeled seats, seatback entertainment screens for everyone, Bluetooth connectivity and more, all adding up to a better experience on every journey.
Whether you call secondhand fashion treasure troves "thrift stores," "fripperies," "charity shops," "vintage boutiques" or something else, shifting the paradigm from "old clothes" to "new finds," you may find the best, most conversation-starting souvenirs inside these shops and neighborhoods located in the world's most fashionable cities and a few unexpected places.