International hotel group Brown Hotels announced the opening of three new hotel properties – Brown Eilat, Brown Lighthouse Eilat and Brown Red Sea – in the southern Israeli city of Eilat.
With Brown Eilat situated along the Peace Lagoon near the northern beach of Eilat, and Brown Lighthouse Eilat and Brown Red Sea located centrally among the city's amenities, these three unique hotels are the first Israel properties by Brown Hotels to open outside of Tel Aviv and Jerusalem, invigorating this seaside town with the up-beat energy of Tel Aviv.
A region long favored by domestic travelers, Eilat has gained popularity with international tourists due to its year-round sunny,  warm winters and its increased accessibility since the opening of the nearby Ramon International Airport in 2019.
To meet the demands of this new wave of tourism, Brown Hotels opened Brown Eilat, a cozy, 84-room boutique hotel with a retro aesthetic; Brown Lighthouse Eilat, a well-equipped, 152-room resort reminiscent of its well-established Tel Aviv counterpart; and Brown Red Sea, a 154-room stylish resort conveniently located adjacent to the Seven Stars Mall, opening later this year. The entire city of Eilat is a VAT-free zone.
Situated among Eilat's bars and restaurants, Brown Eilat is a small, adult-friendly hotel with an aesthetic inspired by Miami's South Beach of the 1930s. The hotel maintains a retro design, its stylish rooms and suites embracing a Copacabana feel. With a choice of five room categories – Urban, Terrace, Classic or Studio rooms and Junior suites – each offers a waterfall shower, luxury bathrobes and fine Egyptian cotton linens and towels, as well as private balconies, private Jacuzzi baths and terraces in some of the larger rooms and suites. Other amenities include a cocktail bar, swimming pool and boutique, where guests can pick up locally sourced vintage items. For its culinary offerings, Brown Hotels brings in CENA, its Italian-concept restaurant from Tel Aviv, presenting a menu of Italian and Mediterranean classics with a backdrop of the Red Sea.
The152-room Brown Lighthouse Eilat resort manifests the urban design aesthetic of Tel Aviv on Eilat's coastline. With a plethora of shops, bars, restaurants and beautiful beaches all within a short distance, the hotel is ideally situated for the perfect Red Sea family getaway. The recently opened hotel offers a swimming pool and sun loungers; a premium, adults-only sun terrace overlooking the Edom Mountains; and coastline-view suites with terraces featuring private Jacuzzi baths. The renowned Brown Hotels Mediterranean breakfast buffet is available daily, and an on-site kids' complex offers a range of family activities including Gymboree and movie screenings. With a calming color palette of earthy tones, clean lines and natural wood furnishings, Brown Lighthouse Eilat presents multiple room categories to choose from – Classic and Balcony terrace rooms, penthouse suites, and a number of spacious family suites which can accommodate parents and up to five children. All rooms feature a bathtub or waterfall shower, bath products from Molton Brown, Egyptian cotton linens, towels and bathrobes. Many of the rooms offer spacious balconies and terraces with private Jacuzzis overlooking the pool, Eilat's marina and the Red Sea.
With the surrounding desert the main source of inspiration, Brown Red Sea proves a comfortable 154-room hotel, with an air of nostalgia sweeping through this revamped retreat. Maintaining Brown Hotels' boutique vibe, Brown Red Sea offers a welcoming lobby decorated in natural hues and stylish furnishings as well as a swimming pool lined with sun loungers. A  ool resto-bar serves up fresh Mediterranean dishes and signature cocktails, a spa complex provides an extensive menu of rejuvenating treatments, and a fully equipped gym awaits. With rooms to suit every traveler, Brown Red Sea offers Standard, Superior, Terrace and Garden rooms and Tulip suites, all pleasantly designed with a blend of natural elements. The Terrace rooms offer sunny balconies, while Garden rooms offer private, park-facing gardens. The supersized Tulip suites each feature a separate bedroom and living room, a balcony with park or pool views, double beds, large wardrobes, spacious en suite bathrooms and a kitchenette.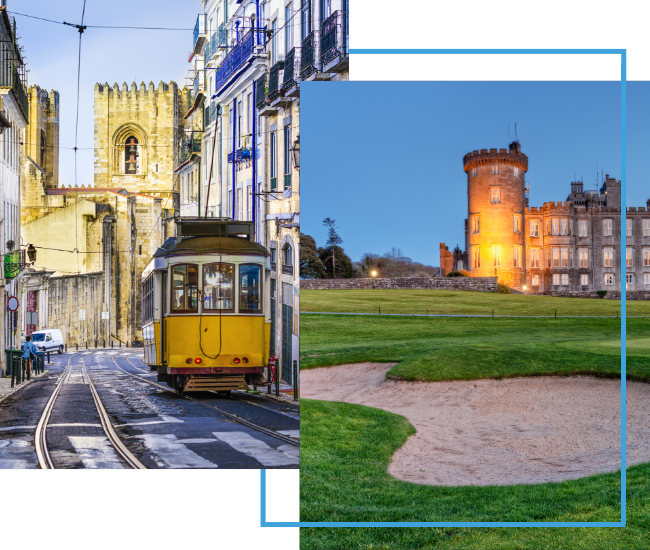 FX Excursions
FX Excursions offers the chance for once-in-a-lifetime experiences in destinations around the world.
Explore Excursions
There is something magical about sipping a glass of local wine while watching the sun slip into the Aegean Sea as the afterglow tinges traditional, white-washed Cycladic houses with glorious shades of rose, purple and gold. Ancient Greeks believed Helios, the Sun God, caused sunsets by driving his fiery chariot into the sea. Standing at water's edge in Mykonos, watching the sky slowly turn from purple to inky black, you almost believe it.
Sponsored Content
Are you looking to enhance your business trip with a little leisure? Look no further than Portugal, a country renowned for its captivating blend of history, culture and natural beauty. And with TAP Air Portugal, you can effortlessly transform your business trip into an unforgettable bleisure adventure. Discover why Portugal and TAP Air Portugal are the perfect combination for an enriching and rejuvenating experience.
I hadn't even made it to my first cup of coffee when I got an early phone call from my sister, who lives two time zones away. "OMG, Kristy, Patsy Cline came on twice while I was driving the kids to school today," she laughed. "You know what that means, right?" We both gasped and then instantly began singing the lyrics to "La Bamba," an inside joke we'd shared since our family's Alaskan cruise decades ago when we, unintentionally, won the ship's karaoke contest among a sea of Patsy Cline tributes.