At this point you have read about most of my travels to the Middle East; however, I saved my time at Diriyah Gate for this last post of my series for obvious reasons — save the best for last, right?
The WTTC Conference set up a special visitation for everyone attending to be some of the first visitors to Diriyah Gate — an ambitious $20 billion heritage and tourism project that will eventually be home to 100,000 people and was once home to King Salman bin Abdulaziz. There will eventually be several 5-star hotels, fine-dining restaurants, shopping and entertainment experiences, but at the time I was there, it was more similar to its roots, with the clay structures that were once the personal mosques of the royal family.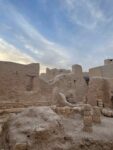 Upon arrival at Diriyah Gate, we were welcomed with Saudi coffee and dates. At this point I was no longer surprised by the gracious and warm welcome that greeted me just about anywhere I went. Although I wasn't a huge fan of the coffee, I always took a date.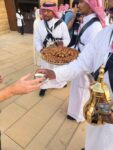 Next, a group of local musicians performed a cultural song and dance over hand drums while they performed traditional movements. During the performance we were offered an apple cider-tasting mocktail. At this point, local women and men disappeared to their separate prayer houses to worship for about 10 or so minutes.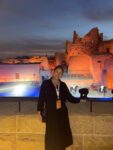 The tour of the historic town of Diriyah was led by multiple men and women who worked for the tourism entity. We walked through the town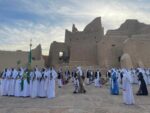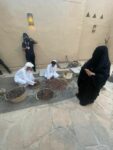 in about 30 minutes as actors and actresses played the part of the city people who would have lived there hundreds of years ago. We saw people harvesting dates, children playing in the alleys and even an Arabian horse decorated in colors and jewels. Arabian horses are much smaller than a horse you would see here in the States. This one had the energy of a puppy with "zoomies."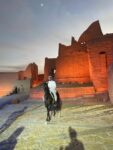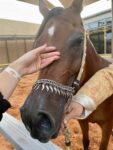 The end of the night concluded with Diriyah Gate executives thanking us for being some of the first visitors to this historic hub. It felt really special knowing the people here before were royalty praying in a private mosque, and those after me would enjoy the utmost level of hospitality. I do hope to return one day as hotels and restaurants begin to open, but I will cherish my memories until then.
— Haley Fogarty, advertising manager
FX Excursions
FX Excursions offers the chance for once-in-a-lifetime experiences in destinations around the world.
ZEL, the new lifestyle hotel brand from tennis superstar Rafael Nadal and Meliá Hotels International, is set to open its first hotel. Located in Mallorca, Spain, the hometown of both Nadal and Meliá, ZEL Mallorca debuts July 1.
Sponsored Content
If you're traveling stateside, travel insurance is a must.
Crystal Bridges Museum of American Art, located in Bentonville, Arkansas, presents Diego Rivera's America, the first major exhibition focused solely on the Mexican artist in more than 20 years, on view until July 31. Crystal Bridges is the second and final stop for the exhibition, the only remaining opportunity for visitors to experience Rivera's expansive vision of America.