A few days ago in #ComeBacktoTravel, Global Traveler editor in chief Kim Krol quoted a GT survey revealing 78 percent of respondents were planning to travel in 2020. She ended by asking if blog readers were planning travel in 2020, where would they go?  I posed this question to several people I know from all over the country.
"While I don't expect things to get 'back to normal' any time soon, if/when that time arrives I want to go to 1) the Blue Box Café to have coffee and a sandwich and 2) enjoy a happy hour beer and appetizer at Gino's East in River North."
— Elliott Serrano, writer and Chicago's "King of All Geeks"
"I'm hoping the weather will be great, and if that's the case, a restaurant/bar downtown on a nice rooftop or outdoor patio chilling with appetizers and a nice cold beverage!!!"
— Jourdan Skirha, National Pro Fastpitch Chicago Bandits assistant general manager
"Wrigley Field pressbox. I heard it has been remodeled, maybe even has A/C. Elevator straight up there. I had many memorable, funny, frustrating days and nights in the old pressbox built in 1989. My daughter Laura posed on Harry Caray's lap in the booth in 1996, a photo for the ages. Alas, I'd need a media outlet to get me in. They just don't let in anyone with even a minor media affiliation in as in the 1980s."
— George Castle, author and writer
"I am dying to go to Australia. While doing publicity for my documentary, Rocking the Couch, Australia was so kind to me. They have always been supportive of me. All of my shows have aired there, and I feel I owe them a visit! That is where I want to go after quarantine is over!"
— Andrea Evans, actress
"I would love to go to Italy. It has been a dream trip of mine. I never had the opportunity to go to Europe, but honestly, I just love to travel."
— Kacy Standohar, onfield reporter, interviewer
"Back to CKO Bay Bridge; kickboxing class makes me feel fabulous, and then my hair. The simple things for me."
— Mariann from Brooklyn, Howard Stern superfan
"I will be excited to fly home to Chicago and watch my brother graduate high school. His ceremony is pushed back until the end of July. I also enjoy road tripping and going to state parks. So when we are able to, I'd love to drive to a state park and enjoy nature walks!"
— Dominique Collins, former professional football player
"I want to go to Florida."
— Amanda Ruller, broadcaster, reporter
"I've always had London on my visit wish list, and that's pretty high up for me, but my lady is really keen on going to New Orleans for the first time."
— Victor Dandridge, Jr., president and editor in chief at Vantage:Inhouse Productions
"Since we've been cooped up, I would love to go to Galena (Illinois). It is beautiful. Rustic. I'd like to go somewhere secluded and get a cabin for the weekend."
— Jill Urchak, Chicago media personality and host of On A Quest Paranormal podcast
"I would love to travel to Colorado! My family and I usually travel there every summer to watch my younger sister play softball. I am not sure if the tournament is happening or not this year, but the Rockies are beautiful! Plus, we love going zip-lining or white-water rafting while we are there.
— Maranda Gutierrez, DePaul University junior softball player
"I can't wait to go back to the movies and see concerts."
— Bobby Easley, writer, director, producer
As for me, I would love to make the three-hour drive to my sister's Michigan lake house. A few days with my family on the lake would be a great way to relax and #ComeBacktoTravel.
— John Wroblewski, online writer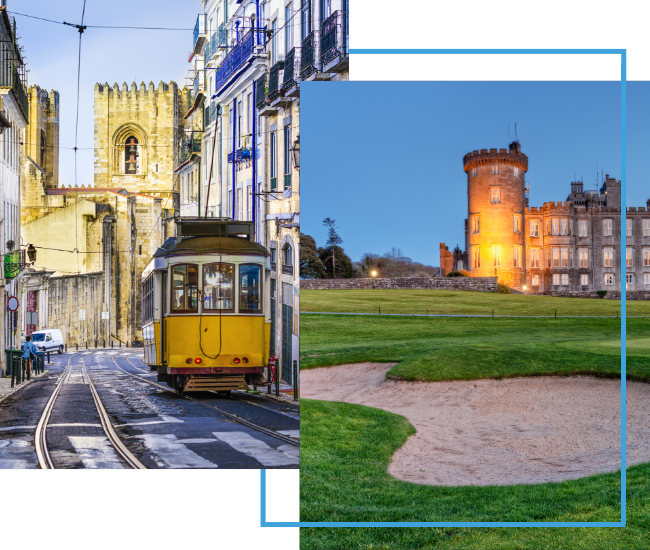 FX Excursions
FX Excursions offers the chance for once-in-a-lifetime experiences in destinations around the world.
Explore Excursions
It's time to start dreaming of your next trip. Here's some destination inspiration for you. Take a visual journey through these U.S. Christmas markets with us.
Sponsored Content
IHG Hotels & Resorts is thrilled to announce the launch of a new mobile product feature for members: IHG Wi-Fi Auto Connect. This feature is now available exclusively in the IHG One Rewards mobile app for both iOS and Android users and will automatically connect IHG One Rewards members to WiFi upon arrival at more than 5,000 IHG hotels worldwide — no separate passwords or log-ins needed. This is in addition to the exciting benefits of being an IHG Business Edge member. IHG Business Edge provides small- and medium-sized businesses access to a user-friendly portal that displays comprehensive spending and savings data while providing the convenience of direct booking with a guaranteed discount.
Everyone loves a good Christmas tree, but these iconic hotels around the world take it one step further with designer-styled trees illuminating lobbies and public spaces, wowing all who enter. From Lela Rose to Louis Vuitton, don't miss these ultra-luxury trees redefining tree decorating as we know it.