We enjoyed our most recent visit to Walla Walla wine country with two other couples, all of us part of a group of friends who have enjoyed food, wine and each others' friendship for over 40 years. Each evening of our visit we dined at a different Walla Walla restaurant, and each night affirmed my belief that good food and wine are always that much better when shared with friends. At each meal we opened three bottles of wine brought from our home cellars, allowing us to drink down some of our ample home supply and share some special wines with each other.
We always enjoy our meals at Passatempo Taverna, where the menu offers hearty Italian fare and the atmosphere is always friendly and low-key. We appreciated being seated in an alcove holding just our table, set up a short flight of stairs from the main dining room and bar. It provided us a quieter dining experience, but the service was, as ever, attentive and pleasant. Our server brought us the right glassware for the three Italian reds my husband provided that evening and was happy to open the bottles and chat with us about them.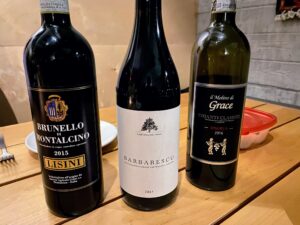 After starting by sharing a local greens salad and a crispy Margherita pizza, Harry and I each opted for a pasta dish as our mains, and the hearty, savory dishes (Harry got his favorite, Rigatoni alla Bolognese, a rich beef and pork ragu over pasta, and I chose the Mushroom duxelle Conchiglie: giant shells stuffed with mushrooms and baked in a cast-iron skillet in a red sauce) were perfect with the wines. The rest of our group also found the wines stood up well to the rich flavors of their meals.
The next evening we dined at Hattaway's on Alder, a favorite whose menu features Southern-inspired cuisine . . . sometimes with unique twists. We all shared some starters: fried Brussels sprouts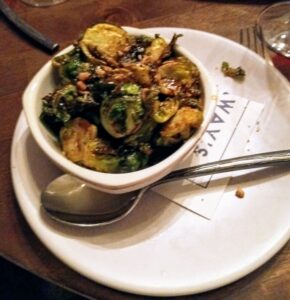 and a rich duck paté, served with pickled fennel — a nice contrast in taste and texture — grilled bread and Sierra fig mostarda.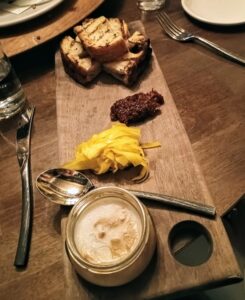 I loved my entrèe: a shrimp and sausage creole, featuring wild Patagonian shrimp and house-made andouille sausage tomato gravy served over rice.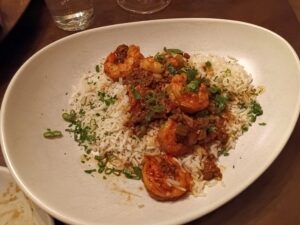 Harry ordered a dish which illustrated that "Southern-inspired cuisine with a twist" I mentioned. His Duck Fried Rice & Collard Kimchi had rich duck confit balanced by a tangy collard and green onion kimchi, with guchujang sauce, radishes and duck cracklings over rice.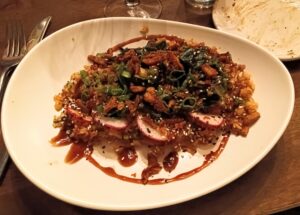 We wrapped up our meal with an amazing dessert: Sweet Duck Fat Corn Cake with Lemon Curd and Pecan Crumble.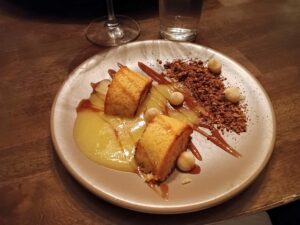 As with so many dishes at Hattaway's, rich and sweet was balanced with tart and fresh, smooth and velvety with crisp and crunchy.
Our final dinner in town found us at Saffron Mediterranean Kitchen, a spot we'd visited a few years back but which in the meantime had moved to a new, larger space. It's a modern, high-ceilinged room warmed by the use of wood and soft lighting.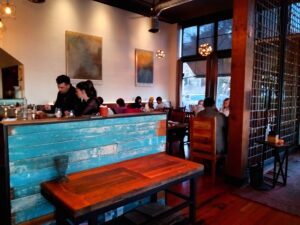 As the name suggests, the menu features flavors from Spain and Italy to Türkiye and Egypt and includes pizzas, pastas and tapas-sized plates. Our table shared a crisp prosciutto and arugula flatbread to start, and then we each ordered individual plates. I started with a deliciously seasonal heirloom apple salad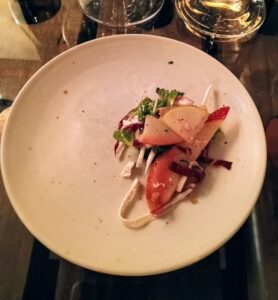 and followed with a delicious pasta entrée,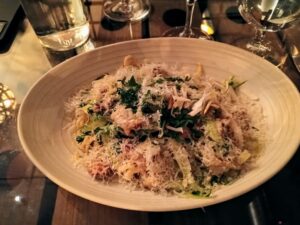 while Harry chose a dish featuring barbecued leg of lamb over house-made couscous with chard; tahini-yogurt; and a mint, dill and chili pepper purée.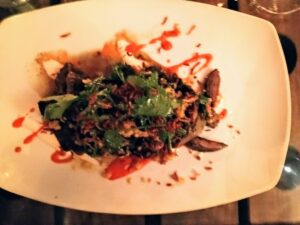 The melding of those Mediterranean flavors made for a really great meal.
Sharing this special weekend and wonderful meals and wines with our friends reminded us of how much we had missed those opportunities during COVID. I don't think we'll take such experiences for granted again.
— Patty Vanikiotis, associate editor/copy editor
FX Excursions
FX Excursions offers the chance for once-in-a-lifetime experiences in destinations around the world.
Recaro's new CL6720 business-class seat with doors took off recently on Iberia's Airbus A350 cabin, flying Madrid (MAD) to Buenos Aires (EZE), with a total of 31 of the seats in the aircraft's business-class cabin. The premium-economy and economy cabins also feature Recaro seats.
Sponsored Content
Learning more about our readers' travel habits and preferences ensures Global Traveler delivers the content you desire. As the travel industry has adapted and changed over the last few years, it's more important than ever to connect. To best meet your short- and long-term travel content needs, please help us!
In a city where new hotels, restaurants and experiences emerge seemingly every day, it's expected to feel overwhelmed when deciding where to dine. London consistently sees delicious and top-notch restaurants appear, but how can one possibly keep track of all the new and updated restaurants?