This weekend I visited Whitesbog Historic Farm & Village for a family hike. The small cranberry farming village is located in Brendan T. Byrne State Forest in Browns Mills, New Jersey. My husband and I met my sister-in-law, brother-in-law, niece and nephew at their house for the quick drive to the park.

Whitesbog is home to 3,000 acres of bogs, creeks and forests. Blueberry picking is available in the summer. The annual cranberry harvest takes place in fall. Whitesbog hosts numerous other events year-round.
When we arrived, we made our way to the nature trail which wove through part of a forest. The section of the trail ended at a dirt road which we followed until we reached the cranberry bogs. The bogs are striking, even after the cranberries have been harvested. We walked along the sandy trail, observing the leftover cranberries gathered along the edges of the bog.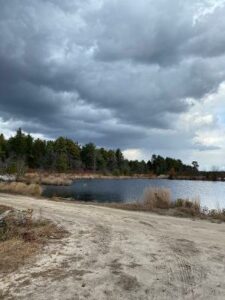 Unfortunately, shortly after we arrived at the cranberry bog section, it started to rain. Thankfully, we made it back to the parking lot just as it started to thunder. Before getting into the car, my husband and I ran into the Whitesbog General Store. We picked up a few jars of jam, some blueberry and cranberry candies, a book about the New Jersey devil and some stickers for our niece and nephew.
We all were disappointed our hike was cut short due to the storm. We're looking forward to returning on a sunnier day!
— Katie Skrzek, vice president/digital director
FX Excursions
FX Excursions offers the chance for once-in-a-lifetime experiences in destinations around the world.
Raffles Hotel Singapore delights guests with curated, immersive experiences. Coming off a restoration in 2019, the iconic property welcomes back international guests with unique offerings.
Sponsored Content
History and culture are etched into every corner of Greece. Beginning with its language, the oldest written language still in existence, and moving from the traces of passing civilizations and religions to pre-historic findings and works from many movements, there's a wealth of culture to discover on your next trip to Greece.
The holidays are right around the corner and it's time to start thinking about gifts for your wine-loving friends. If you or someone you know is planning an upcoming trip to a wine region, check out Argaux. The all-women-operated and -owned online wine shop and educational platform offers a series of tasting sets to celebrate and introduce some of the best wine destinations. The Gaux-To Tasting Sets are perfect for travelers to experience the wine before they travel — or without having to travel.