Last Friday my sister and brother-in-law celebrated their 33rd wedding anniversary by seeing Billy Joel perform at Wrigley Field. Of course, I had to join the celebration.
I have been a fan of Joel since the early 1970s. Although he hasn't produced new rock music in 25 years, he remains my favorite musician. At 69, I wonder how long he will keep performing, and I am not going to miss his last Chicago show.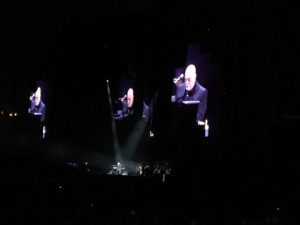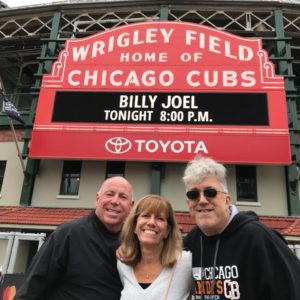 The Piano Man started the night with "Big Shot" and ended with "You May Be Right." Throughout the night, Joel and the band performed 26 songs, including the four-song encore.
About halfway through the night, band member Crystal Taliefero took the mic for a rousing rendition of "Respect" in a lively tribute to the recently deceased Aretha Franklin. Over the years, I have appreciated Taliefero's talent playing many instruments, but this was the first time I heard her do lead vocals, and she knocked it out of the park.
Near the end of the concert, guitarist Mike DelGuidice showcased his powerful voice on the opera classic "Nessun Dorma." DelGuidice, who also fronts Big Shot, a Billy Joel cover band, has an amazing vocal range.
This was Joel's record-setting, fifth consecutive year playing at Wrigley and seventh show there. I have attended four of these and 12 total Joel concerts.
Joel transitioned nicely over the years from an edgy, sometimes angry, performer into a polished musician without losing any of the passion. He occasionally relies on band members to help him with songs, and on a few songs, like "Piano Man," the audience does most of the singing. Whatever the execution, "It's still rock and roll to me."
Happy anniversary, Scott and Jean, and thanks for letting me crash your celebration.
— John Wroblewski, online writer
FX Excursions
FX Excursions offers the chance for once-in-a-lifetime experiences in destinations around the world.
With the autumn in full spring, now is time to start planning your fall weekend getaway.  Whether a relaxing weekend on the lake, leaf-peeping or hiking, check out these fall travel trends from vacation rental management company Vacasa.
Sponsored Content
Since its prestige for attracting the world elite grew in the 1960s, Greece remains the go-to destination for glittering holidays. Each step of the journey is enrobed in luxury, from culinary traditions with the highest standard of execution and name-brand, high-end shopping to first-rate wellness locales and elite accommodations, like 5-star hotels, private villas and yachts.
I imagine that when writer Hans Christian Andersen mused, "Life itself is the most wonderful fairy tale," he was standing at the edge of Copenhagen's historic Tivoli Gardens, one of his favorite haunts, enlivened by the swirl of human happiness that surrounded him: children laughing; carousels spinning; games of chance played for prizes; lovers holding hands; hungry people whispering over sweets, hot drinks, beer and towering, open-faced smørrebrød, Denmark's quintessential sandwich. That fairy tale lives on today at the second-oldest amusement park in the world, a spectacle of folly architecture, bakeries, gardens, rides, restaurants, puppet shows and joy ... and which also happens to be one of the city's most storied places to convene for business.