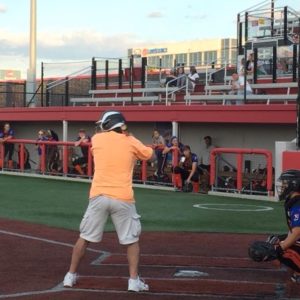 I have faced a lot of pitchers during my 30 years of playing softball, but I never faced anyone like I did a couple weeks ago. Thanks to the hospitality of the Chicago Bandits, a women's pro softball team in the National Pro Fastpitch league, I had the pleasure of facing ace pitcher Kirsten Verdun in a charity game benefiting the .
Playing with the Chicago North Men's Senior Baseball League, I struck out in my at bat. I did manage to work the count a bit, taking Kirsten to a 1–2 count before whiffing. Catcher Taylor Edwards even tried helping a bit by calling for a "slower" pitch (which would be about 55 miles per hour). Kirsten struck out 10 of us that game.
Later in the week, I was at the ballpark as softball legend Jennie Finch conducted a clinic for young athletes. Finch continues to give back and to champion the cause of getting softball back into the Olympics.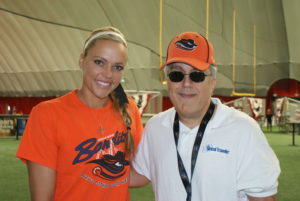 A few days later, broadcaster Mike Knezevich invited me to the media booth to join him for an inning of action. This was as exciting as my at bat, and I did not have to worry about hitting a rising fastball.
The fun continued this weekend, when the second-place Bandits advanced to the finals of the NPF playoffs. The best-of-three series pitted the USSSA Pride against the Bandits.
As I watched both games with my friends at the Village Inn, I reflected on how special this all has been. Speaking of special, elite pitcher Monica Abbott outdueled elite pitcher Cat Osterman as the Bandits took both games 1–0. The Bandits won the NPF championship for the third time.
The Bandits have been great to me, but more importantly, they have been even better for the community. While becoming an entertainment destination in Rosemont, they continually reach out to the youth. I am already looking forward to the 2016 season.
— John Wroblewski, online contributor
FX Excursions
FX Excursions offers the chance for once-in-a-lifetime experiences in destinations around the world.
Golden Rock Resort, the upscale, contemporary lifestyle property, opened in 2021 on the remote Dutch Caribbean island of Sint Eustatius. Compared to many other Caribbean islands, Sint Eustatius (aka Statia) is not known for mass tourism.
Sponsored Content
THE MOST EXCLUSIVE TOURS OF EGYPT EVER OFFERED
Princess Premier, a new add-on recently launched by Princess Cruises, offers cruise-goers unlimited WiFi, premium/top-shelf beverages, photos and more. The new offer builds off the popular Princess Plus add-on to bring guests a more comprehensive bundle and savings of more than 50 percent when all the amenities are purchased separately.