On our recent visit to San Diego, we made sure to budget a good portion of one day for a visit to the world-renowned San Diego Zoo,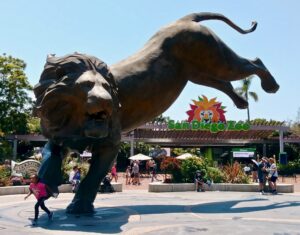 located in the city's Balboa Park, which also houses a number of museums and other attractions. We'd checked in advance to see whether we'd need to reserve an entry time, but a recent relaxation of COVID rules had dropped that requirement. We arrived just after the zoo opened at 9 a.m. and purchased our one-day passes ($62 for adults, with a small discount with our AAA membership), which included unlimited access to the aptly named hop-on, hop-off Kangaroo Bus and the 45-minute guided bus tour. Unfortunately, the Skyfari aerial tram, which is also normally included, was not operating that day. It provides a short cut with a view by connecting two far-flung corners of the park.
We grabbed a couple of maps and headed out, deciding to take a sort of counter-clockwise route from the entrance. Several hours later, we wished we had started with the guided bus tour in order to get a good overview of the entire zoo first, and that would be my advice for anyone visiting here. With more than 12,000 resident critters and at over 100 acres covered by miles of interconnecting paths, the zoo offers so much to see, and one really needs to have a plan or risk becoming overwhelmed and/or exhausted.
We wound our way first through the Africa Rocks exhibit, and I was as impressed with the gardens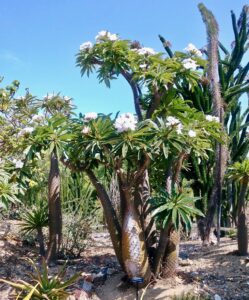 and landscaping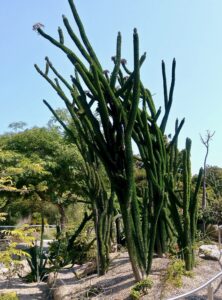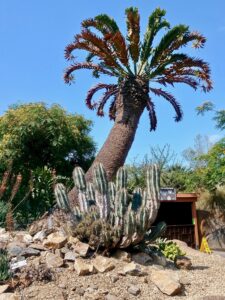 as I was with the animals, which included a very entertaining band of primates.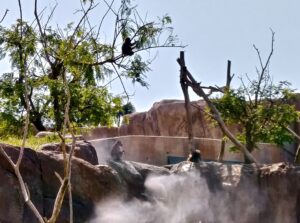 We enjoyed strolling through a three-story aviary filled with a wide assortment of busy, colorful birds, eventually making our way to another continent as we trekked to the Northern Frontier to see the polar bear exhibit (sadly, the bears weren't swimming in their pool when we stopped by). We backtracked when we realized we'd missed a lot of animals in the Elephant Odyssey section, including elephants,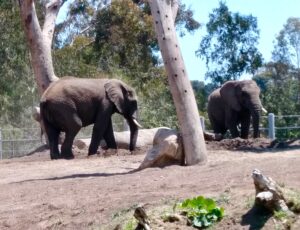 a rare rhinoceros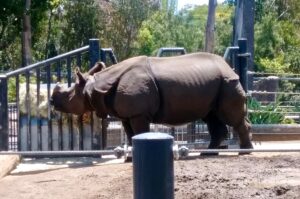 and a preening California condor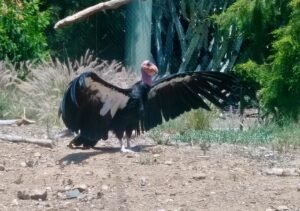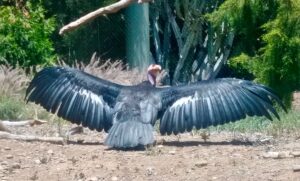 (much more show-offish than the ones we'd seen at the Oregon Zoo a few weeks earlier).
With temperatures rising and energy waning, we made a final push to follow the Hippo Trail and visit some of the animals from Asia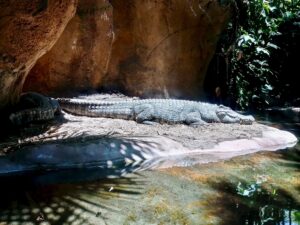 before making our way back to the entrance and the large flock of flamingoes there.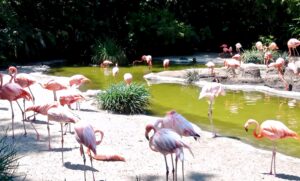 A good 5 hours had shown us about half of the exhibits, and we figured we'd just have to catch the rest on another visit. It really is a wonderful zoo and great for visitors of all ages. A new and improved Children's Zoo is scheduled to open this fall, so families may want to take note.
— Patty Vanikiotis, associate editor/copy editor
FX Excursions
FX Excursions offers the chance for once-in-a-lifetime experiences in destinations around the world.
With the autumn in full spring, now is time to start planning your fall weekend getaway.  Whether a relaxing weekend on the lake, leaf-peeping or hiking, check out these fall travel trends from vacation rental management company Vacasa.
Sponsored Content
The Global Business Travel Association's (GBTA) Convention 2021 will be unlike any other convention before it, as we come together in person for the first time since the business travel industry drastically changed and look forward to rebuilding and reshaping the future. GBTA Convention 2021 will bring all of us together to learn from experts and each other, in-person at Orange County Convention Center in Orlando, Florida, Nov. 17–19. The safety of our attendees is our top priority. View health and safety protocols.
I imagine that when writer Hans Christian Andersen mused, "Life itself is the most wonderful fairy tale," he was standing at the edge of Copenhagen's historic Tivoli Gardens, one of his favorite haunts, enlivened by the swirl of human happiness that surrounded him: children laughing; carousels spinning; games of chance played for prizes; lovers holding hands; hungry people whispering over sweets, hot drinks, beer and towering, open-faced smørrebrød, Denmark's quintessential sandwich. That fairy tale lives on today at the second-oldest amusement park in the world, a spectacle of folly architecture, bakeries, gardens, rides, restaurants, puppet shows and joy ... and which also happens to be one of the city's most storied places to convene for business.