Continuing my recent trend of trying different restaurants after watching college softball, this weekend produced mixed results. I visited one new place and returned to an old favorite after a long absence. Both were excellent, though.
On Saturday, after watching Northwestern beat Big Ten rival Iowa, we went to Comida Cantina down the street. The star of the night was an appetizer of plantains with pineapple and cojita. The combination of salty, sweet and slightly spicy flavors was amazing. I will return just for that, but I'll add more of their tasty options, too. For my main meal, I built a bowl featuring roasted chicken, vegetables and a couple sauces. I am really looking forward to checking out their rooftop deck in the summer.
Sunday started with Loyola splitting a double header with Drake. We planned to try another new Mexican restaurant but were disappointed it was closed, despite the posted hours. Our second Mexican choice met with the same results. Satisfied I had tried finding new places but very hungry by that point, we decided on Burt's Place for pizza.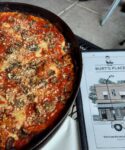 Burt's pizza is legendary for its caramelized, almost burnt, edge. It is deep-dish but surprisingly light and airy. Anthony Bourdain stated it was the only deep-dish he ever loved. While it isn't the only deep-dish I enjoy, it is the best.
In a couple weeks we are going to a weekend softball tournament, which will provide plenty of opportunities to try even more new restaurants. Wanting to be prepared, we've started researching places already.
— John Wroblewski, online writer
FX Excursions
FX Excursions offers the chance for once-in-a-lifetime experiences in destinations around the world.
Mövenpick, Accor's premium Swiss-born hospitality brand, officially launched its first property in New Zealand. Situated in Auckland, Mövenpick Hotel Auckland sets a new standard in the world of hospitality with unique and exciting amenities and a warm, contemporary design found throughout the property.
Sponsored Content
Global business travel is making its way back, even as the pandemic and other world events continue to challenge its return. In a recent poll from the Global Business Travel Association, more than four in five respondents (86 percent) from across the industry said they feel more optimistic than they did at the beginning of the year. Business travel bookings, the need to travel to do business and employee willingness to travel are all on the rise.
Turkish Airlines offers premium travelers something new. After signing an agreement with fashion brands Coccinelle and Hackett, the carrier introduced redesigned premium amenity kits for its business-class passengers flying eight hours or more on long-distance flights. The new kits were introduced April 29.