For those of us who are old enough to remember where we were and what we were doing 20 years ago on September 11, this morning brings up a well of emotions not easily shaken off. Just hearing that date spoken aloud starts a reel of images in my mind from that day and succeeding days, pictures and film clips that will be forever seared in my memory. What a painful, sorrowful, anxious and confusing time that was. For days I watched the television coverage and read endless stories, wanting to understand what happened and why. And while eventually I realized I needed to pull back from all that for my own mental health, I ached for all those whose lives were forever shattered and who could not remove themselves from the consequences of the terrorist acts of that day.
I know for many this anniversary may weigh especially heavy, coming as it does amidst the resurging pandemic, the withdrawal from Afghanistan, and with so many across our country and the world dealing with floods, fires, hurricanes and earthquakes. Here in Southern Oregon, this week marks not only a tragic national anniversary but a local one as well: September 8 was the one-year anniversary of the devastating Almeda wildfire that tore through our local communities, destroying 2,600 homes and dozens of businesses.
Images from that week also spool through my mind, along with memories of evacuating my home and witnessing the destruction firsthand.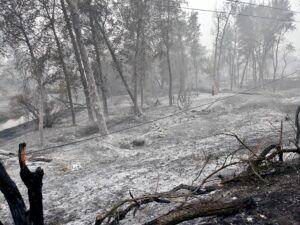 The smoke that has been lingering in our valley for the past several weeks from this year's fires only add a visual pall to the mental one that hangs over those still trying to find housing and rebuild their livelihoods.
But just as happened on 9/11 and after every disaster, manmade or natural, people sprang selflessly into action. They donated blood, money and time; they lent a compassionate ear and comforting shoulder; they cooked meals, offered shelter and dug in to dig out. It reminds me of my favorite line from the 1984 film Starman. Jeff Bridges' alien visitor explains what he finds beautiful about the human species: "You are at your very best when things are worst." This is the thing that lifts us all up when we are confronted with unspeakable loss and destruction (our own or others'): We step up to help others and get busy rebuilding.
Immediately after 9/11, people from all over the country and the world rushed in to help in countless ways, and some of those efforts continue today or find expression in improving lives going forward. One example is the Welles Remy Crowther Charitable Trust, established to honor "The Man in the Red Bandanna," 24-year-old Welles Crowther, who helped evacuate several people from the South Tower before dying when it collapsed. The trust's mission "recognizes and awards academic and athletic excellence in young men and women who serve their communities through education, health, recreation and character development. The Trust supports other not-for-profit organizations that benefit young people through annual gifts and special awards." It supports the development of young people who will build our future, a fitting tribute to a bright, selfless young man.
Today Global Traveler's editor in chief, Kimberly Krol Inlander, offers a list of other organizations that continue to support the survivors and family members of first responders and those who died in the attacks on September 11.
There are so many ways we can offer help and support in times of tragedy, whether in our own communities or the world at large. As global travelers, we understand we are all connected to each other and more alike than different. And our positive actions don't need the catalyst of a horrible event as a spur. Doing good can be the best antidote for the negative feelings that can overwhelm us in challenging times.
— Patty Vanikiotis, associate editor/copy editor
FX Excursions
FX Excursions offers the chance for once-in-a-lifetime experiences in destinations around the world.
I imagine that when writer Hans Christian Andersen mused, "Life itself is the most wonderful fairy tale," he was standing at the edge of Copenhagen's historic Tivoli Gardens, one of his favorite haunts, enlivened by the swirl of human happiness that surrounded him: children laughing; carousels spinning; games of chance played for prizes; lovers holding hands; hungry people whispering over sweets, hot drinks, beer and towering, open-faced smørrebrød, Denmark's quintessential sandwich. That fairy tale lives on today at the second-oldest amusement park in the world, a spectacle of folly architecture, bakeries, gardens, rides, restaurants, puppet shows and joy ... and which also happens to be one of the city's most storied places to convene for business.
Sponsored Content
The Global Business Travel Association's (GBTA) Convention 2021 will be unlike any other convention before it, as we come together in person for the first time since the business travel industry drastically changed and look forward to rebuilding and reshaping the future. GBTA Convention 2021 will bring all of us together to learn from experts and each other, in-person at Orange County Convention Center in Orlando, Florida, Nov. 17–19. The safety of our attendees is our top priority. View health and safety protocols.
The restored Park Hyatt Toronto reopened its doors, bringing luxury, sophistication and glamour alongside a nod to the hotel's Canadian heritage. Alessandro Munge of Studio Munge collaborated on the hotel's refresh, drawing inspiration from Canada's seasons and natural landscapes.