I spent much of my weekend with a bunch of Dogs — the Chicago Dogs, an independent baseball team. The Dogs won two of three weekend games which also featured live music on Friday, an Elvis-themed Saturday with fireworks, and pre-game, on-field fun with the team on Sunday.
The Chicago Dogs started play in 2018, quickly gaining popularity and capturing the attention of Chicago sports fans. A member of the American Association of Professional Baseball, an official Partner League of Major League Baseball, the Dogs play in the beautiful, 6,300-seat Impact Field. Located adjacent to an expressway and just east of Chicago O'Hare International Airport, the stadium offers interesting views as the backdrop. The Dogs are managed by former Major League Baseball player Butch Hobson.
School of Rock provided live entertainment on Friday. A music school for all skill levels and ages, School of Rock features local music students. WGN TV's Marcus Leshock and Paul Konrad were also on hand broadcasting live.
Saturday night was Elvis-themed. Elvis impersonators entertained fans, who got into the act wearing blue suede shoes and sparkly jumpsuits while gyrating their hips to the King's music. An amazing fireworks display celebrated a win to end the night.
Armed with gloves, fans lined up hours prior to Sunday's game to ensure maximum time on the field for the pre-game catch, followed by pictures and autographs with the team. Hundreds of parents tossed balls to their eager children, ecstatic to be playing on a real baseball field. The fun increased when the team interaction period started. Unfortunately, the Dogs lost to Cleburne in the series finale, but that didn't dampen the total fun of the weekend. Bottomless Cokes are also offered on Sundays, and I am pretty sure I wore out a path to the concession stand for my multiple refills.
The games also featured plenty of other on-field fun, usually involving younger fans. Races, wrestling in sumo suits and other games provided fun between innings. Mustard and Ketchup, the team's mascots, were all over the park entertaining fans. Ketchup would often get playfully booed because everyone knows ketchup does not belong on a Chicago dog.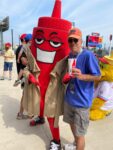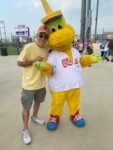 The Dogs are 38–25, good for second place in the North Division. They trail the Milwaukee Milkmen by three games, but with about 35 games left in the season, there is plenty of time for the Dogs to catch their northern rivals.
It was a fantastic weekend of baseball at Impact Field and not just because the Dogs won two of three. My friends and I are already planning our next games.
— John Wroblewski, online writer
FX Excursions
FX Excursions offers the chance for once-in-a-lifetime experiences in destinations around the world.
With the autumn in full spring, now is time to start planning your fall weekend getaway.  Whether a relaxing weekend on the lake, leaf-peeping or hiking, check out these fall travel trends from vacation rental management company Vacasa.
Sponsored Content
Since its prestige for attracting the world elite grew in the 1960s, Greece remains the go-to destination for glittering holidays. Each step of the journey is enrobed in luxury, from culinary traditions with the highest standard of execution and name-brand, high-end shopping to first-rate wellness locales and elite accommodations, like 5-star hotels, private villas and yachts.
I imagine that when writer Hans Christian Andersen mused, "Life itself is the most wonderful fairy tale," he was standing at the edge of Copenhagen's historic Tivoli Gardens, one of his favorite haunts, enlivened by the swirl of human happiness that surrounded him: children laughing; carousels spinning; games of chance played for prizes; lovers holding hands; hungry people whispering over sweets, hot drinks, beer and towering, open-faced smørrebrød, Denmark's quintessential sandwich. That fairy tale lives on today at the second-oldest amusement park in the world, a spectacle of folly architecture, bakeries, gardens, rides, restaurants, puppet shows and joy ... and which also happens to be one of the city's most storied places to convene for business.