Last month I wrote about my plans to do a lot of relaxing on my vacation to Jamaica. I am happy to report my relaxation trip was a success!
My husband and I, along with the two couples we traveled with, all booked Club Mobay, a service that helps you fast-track through customs and immigration. As soon as we exited the airplane, we were welcomed by a Club Mobay representative holding a sign with our names. She escorted us through the airport and past the long line of people waiting to pass through customs and immigration. We didn't have to wait long at all, and along the way, she gave me some excellent tips for authentic Jamaican food to try during our stay. (Note: You must try beef patties and jerk chicken). Then,we were ushered to the Club Mobay Lounge where we hoped to enjoy a tasty lunch and a drink or two. But we found all the tables taken, and our bus to the hotel would be ready in about 15 minutes. Luckily, with the help of our Club Mobay representative, we ordered some drinks. We were looking over a menu to order food to go since the bus ride would be almost two hours and we were starving. But then we were informed the bus would be ready in five minutes, not 15! So a helpful lady working in the lounge grabbed us a few boxed sandwiches, and we were on our way. We were disappointed we didn't get the leisurely lunch we hoped for. However, the fact we did not have to wait an hour in that long line made Club Mobay worth the money.
The bus ride to the hotel was almost two hours, and it was an education on Jamaican driving, which was terrifying at times. But the trip was educational with the help of the bus driver who acted as our tour guide. He pointed out the different districts and landmarks along the way.
When we arrived at Couples Sans Souci in Ocho Rios, we were relieved to step off the bus into the spacious, open-air lobby. We were greeted with Champagne and quickly checked in. Then we were invited onto a shuttle that already had our bags packed. Although I was hesitant to get on another shuttle, it was a short drive to our room. We could have easily walked there, but it was nice not having to carry our luggage up the stairs, as there were many! The resort is built into the hillside which, although beautiful, requires going up and down stairs to get just about anywhere. Luckily we have no mobility issues, so the stairs were not a problem. I think the exercise may have helped keep some pounds off during our stay. We enjoyed walking around the grounds, taking in the sights and learning the resort layout.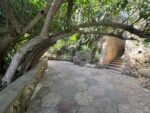 Our recently remodeled room was large and bright with pastel colors and wicker accents. The bathroom had a large walk-in shower surrounded by Italian porcelain with a showerhead at either end. And our favorite part of the room was the private balcony with a table and two chairs and both a single- and double-cushioned lounger. Our balcony overlooked lush greenery, the ocean and the Martini Bar. I was initially worried about the noise level of the bar right beneath us, but it was never an issue. I enjoyed listening to live music some nights.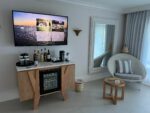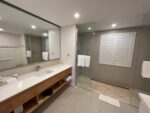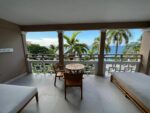 We met up with the other two couples we were traveling with and enjoyed exploring the resort a bit before the special Gala dinner. Every Friday night they set up tables and chairs on the lawn and have food stations set up with all sorts of delicious food. It is quite an undertaking for them to set up all those tables and then take them down, and they do this twice a week. The food was wonderful, and we were all stuffed and ready for bed. But before retiring for the night, I filled out my room service form. I was excited to order room service for the first time ever! The next morning we were greeted with hot coffee, homemade banana bread and fresh fruit. I think I can get used to room service!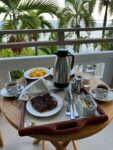 Stay tuned for more of my Jamaican adventure.
— Tracey Cullen, art director
FX Excursions
FX Excursions offers the chance for once-in-a-lifetime experiences in destinations around the world.
To celebrate Pride Month, Santa Barbara's The Leta, a chic hotel in the heart of the city, unveiled a new fun offer for you and your furry friend. The Puppy Pride offer includes a stay in a standard king room, a rainbow terry bathrobe for your pup by Dog French Touch and two Out & Proud welcome cocktails. The cocktails are a rainbow-hued concoction of pineapple, Aperol, Empress Gin and elderflower syrup.
Sponsored Content
In an increasingly digital and interconnected world, the Global Business Travel Association (GBTA) Convention remains an indispensable platform for business travel industry professionals seeking to make the most of the power of face-to-face connections. Taking place August 13–15 in Dallas, the 2023 GBTA Convention provides the unique opportunity for professionals and companies to join visionaries, thought leaders and industry experts for meaningful networking, cutting-edge insights and inspiring innovation.
Give dad the ultimate escape this Father's Day with a stay at Andaz San Diego. Book the Father's Day offer and receive a one-night stay in the Andaz Star Suite, a bottle of Your and Yours Gin upon arrival and a private mixology class at The Rooftop by STK.