All of the COVID brides and grooms out there can certainly understand the trials and tribulations of planning and replanning a wedding during the last 16 months. My second cousin Jeff and his bride, Erica, are no exception. However, after five different wedding dates and 18 months later, we were all finally able to gather on Long Island this past weekend to celebrate love and honor the couple.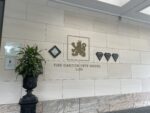 My family of five piled in our car and headed to Long Island this past Saturday, spending most of the drive contemplating whether the wedding was in or on Long Island. Once we arrived at the beautiful Garden City Hotel, we knew we had a night of pure class and good times ahead. The wedding took place at Engineers Country Club where guests, both masked and not, watched my cousin Jeff stomp on the sacred glass, signifying marriage and bond, and cheered "Mazel tov!" to the new couple as they descended down the aisle.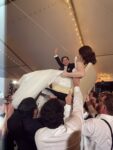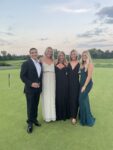 Admittedly, growing up, I used to giggle at some of the Jewish traditions and formalities in weddings, like the breaking of the glass mentioned above. But after a year of witnessing my cousin and his bride do anything just to be able to celebrate with the ones they loved, and after not seeing some of my family members, new baby cousins and all, I have never been so proud and joyful dancing the horah, or watching as my aunt and uncle were honored in a mezinka dance, as Jeff is the last of their children to be married.
Weddings are so beautiful as they are, but for me, taking a step back and finding my own meaning in togetherness, bond and family really tied the weekend together. The yummy food and awesome band were also a plus! Cheers to all of the brides and grooms out there finally celebrating their special day, however they can.
Mazel tov, Jeff and Erica!
— Haley Fogarty, advertising manager
FX Excursions
FX Excursions offers the chance for once-in-a-lifetime experiences in destinations around the world.
Anantara Uluwatu Bali Resort's acclaimed Anantara Spa incorporates indigenous practices from world traditions, offering signature experiences individually personalized. And now, two renowned healers, experts in holistic, natural approaches to healing mind, body and spirit, join the celebrated Ibu Jero, High Priestess of Balinese Healers, at the spa.
Sponsored Content
Without a doubt, the pandemic changed the role of airports in the travel industry. Hamad International Airport's role evolved in many ways since the pandemic hit. Now, more than ever, airports are responsible for creating a secure passenger experience. As the gateway to Qatar and the world, the safety and wellbeing of staff and passengers has always been at the core of Hamad International Airport's strategy.
It's time to start dreaming of your next trip. Here's some destination inspiration for you. Take a visual journey through Tulum with us.