A couple of years ago, Nathan and I ventured to New Orleans in December, returning home a couple days before Christmas, and we had a blast. The weather, the city, its people, the food … oh, the food! I'm getting off track. Anyway …
We found ourselves getting lost in saudade on a random December weekend and craved a succulent Southern dinner and live jazz. Tired of doom scrolling that Saturday afternoon, we decided to see what was available in the city and came across Chris' Jazz Café. I heard about this place from colleagues a few years ago, after attending a few events at The Union League of Philadelphia, but never thought of going.
Chris' Jazz Café has offered live jazz music in Philadelphia for 33 consecutive years. According to Visit Philadelphia, the club is the longest continuously operating jazz club in the city, averaging about 400 shows per year. It is also known for producing respected musical artists such as Billie Holiday, John Coltrane and others. With its relaxed lounge setting and soulful, Southern-inspired cuisine, Chris' draws in visitors from all over the country and the world.
The culinary team is led by chef and owner Mark DeNinno, whose culinary expertise is apparent, as this is not the typical menu most bars offer — especially when the menu changes daily. Dinner reservations are limited to two hours from the moment you're seated (the duration of each show with some time for dinner service). We arrived for our 7 p.m. reservation and were seated right away.
After getting our drinks, an Aperol spritz for me and a Johnny Walker for him, we placed our food order and awaited the show. We were impressed with the three-course fixed-price menu options. There were six options to choose from for each course; I opted for the chicken spring rolls and Nathan, as I expected, couldn't resist the truffle mac and cheese. Both appetizers were delicious and the perfect serving size to share with someone. However, I found the main course to be more of a tasting menu portion size, which was unfortunate because they were tasty.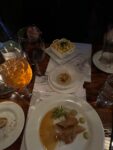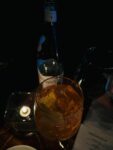 If there is shrimp & grits on the menu, chances are I'm having it. I just need to vet the place because the bar is set very high once you've eaten grits in the South. Chef DeNinno and his team did not disappoint me; the grits were creamy and cheesy with a decently firm bite. The shrimp, delicately grilled, floated atop the grits and Cajun butter, and it was topped off with microgreens. Nathan ordered the pan-roasted chicken, served with bacon-roasted Brussels sprouts and a surprisingly pleasant carrot mousse. The quality of my photos doesn't do the food justice, but you get the picture, right?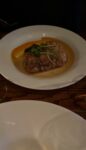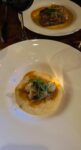 As we waited for dessert, some of the tables in front of us cleared up in time so we could enjoy an amazing solo. This night, Webb Thomas and His Superband played a lovely holiday set and welcomed vocalist Tonya Lynette as a special guest for a beautiful rendition of "Oh Holy Night." On that note, we enjoyed sharing the eggnog ice cream and apple cider beignets. The former was served with a delicious amaretto cookie, which contrasted pretty well with the eggnog.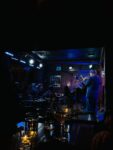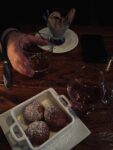 Overall, I'd recommend this place to the couple looking to do something fun without the craziness of the bar scene in the city. The food, service and environment were great; I'd prefer a bit more space in between some of the tables to the right of the stage, but that's my need for personal space. The next jazz club on our list is South on Broad Street; do you have any recommendations?
— Yasser Ogando, advertising and production manager
FX Excursions
FX Excursions offers the chance for once-in-a-lifetime experiences in destinations around the world.
Turkish Airlines recently opened a new lounge in Terminal 1 of New York's John F. Kennedy International Airport. The airline operates three flights per day from the airport and now premium passengers have luxurious, comfortable and hospitable lounge amenities to enjoy in a renovated, rebranded space.
Sponsored Content
Europe is more fun with a Portugal Stopover.
It's time to start dreaming of your next trip. Here's some destination inspiration for you. Take a visual journey through these unique museums in Europe with us.