As the snow fell, ruining or delaying Halloween for many Chicago-area trick-or-treaters, I enjoyed a night of music headlined by Tiffany at the Prairie Center for the Arts. Tiffany and opening act Ali Morgan delighted fans for more than two hours.
Located in the northwest suburb of Schaumburg, the Prairie Center for the Arts is an intimate 442-seat venue. Opened in 1986, it has great acoustics and fantastic sightlines, with the furthest seat only 14 rows from the stage.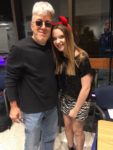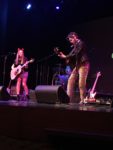 It was a bit of a homecoming for Morgan, who relocated to Nashville from her native Chicago area. The 16-year-old performed several tunes from It All Starts Here, as well as putting her spin on a rousing rendition of Paula Abdul's "Straight Up." The multi-talented Morgan co-wrote most of her songs and also displayed her musical chops on guitar.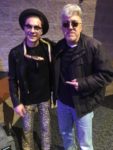 Accompanying Morgan on guitar and backup vocals was Gabe Burdulis. A Wisconsin native now also relocated to Nashville, singer-songwriter Burdulis was the perfect partner, providing excellent vocals and strong but not overpowering guitar work. After their set, Burdulis joined Morgan in meeting fans.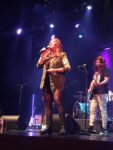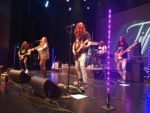 Tiffany's set started with a huge laugh, as her bandmates surprised her and the audience by taking the stage in Tiffany costumes, complete with long red hair. After the initial joke, Tiffany and the band got serious, playing songs from Pieces of Me, her latest album. Proving she is much more than a nostalgia act, Tiffany's new music shows maturity and growth while still retaining the high energy of her youth. Of course, Tiffany also treated all to a few of her hits from the 1980s, encouraging the crowd to sing along, which we all did!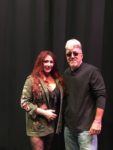 After the show, we talked to Tiffany backstage. She joked about Chicago's snow and her total surprise at the Tiffany cosplaying band. Tiffany now heads east to Boston for her next show and continues with this tour through March 2020.
— John Wroblewski, online writer
FX Excursions
FX Excursions offers the chance for once-in-a-lifetime experiences in destinations around the world.
Sponsored Content
Welcome to The Islands of Tahiti, where every moment is a treasure waiting to be discovered. From the moment you arrive, you will be greeted with warm hospitality, time-honored traditions and an awe-inspiring landscape that will take your breath away.
Contemporary lifestyle hotel brand art'otel expands throughout Europe with the launch of three new properties in Zagreb, London's Hoxton and Rome, all slated to open between fall 2023 and early 2024. These three hotels join the brand's existing boutique hotels in Berlin, Amsterdam, Cologne and another London property.