On our third full day on Maui, we planned on spending the morning revisiting some of our favorite places on the slopes of Haleakalā, Maui's 10,023-foot-tall volcano which comprises about 75 percent of the island. With a three-year-old in tow, we decided not to visit the national park or the peak (as we had done on a previous visit) but instead keep to the lush, lower slopes for less car time.
First up was Surfing Goat Dairy in lower Kula. It's a little rough around the edges, with retired surf boards used prominently around the landscape, but we recalled how much we enjoyed the cheeses here. The moment we got out of the car we were drawn to the pen where more than a dozen curious, hungry kids milled about.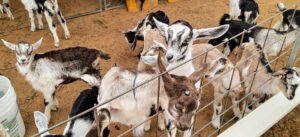 Our kid was pretty curious, too.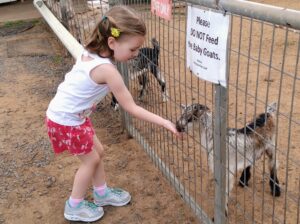 After a quick visit, we moved on to sample two delectable products Surfing Goat makes from the goat milk: beautifully crafted goat milk chocolate truffles and chèvre goat cheese in a host of flavors. A testament to how good the chocolates were: There are no photos, as we consumed them in a heartbeat. I did snap a picture of our cheese sample board, which came with a variety of crackers and pretzels.
  These six represented only a few of the options available, but they ranged from the pleasantly herbal Garden Fantasia to the refreshing and complex Olé! (with jalapeños, lime juice, artichokes and cilantro) and the fiery Men's Challenge (with horseradish and cayenne pepper).
We then drove further up the mountainside to Worcester Glassworks, a family-run gallery and glass shop we discovered on our last visit to Maui. Bill and Sally Worcester and their son Mike create stunning works of art, and we were eager to visit and add to the piece we had purchased years ago.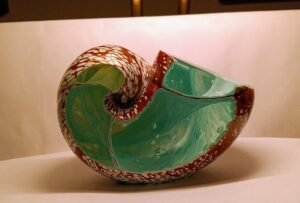 We learned that the glass shop had suffered a fire in November, so we wouldn't be observing any glassblowing, but we were happy to catch up with Bill and Sally and peruse the shelves full of beautiful objects. Our granddaughter was fascinated with them, too, but she remained safely perched on her daddy's shoulders. Bill was kind enough to present her with a smooth, clear glass disk at the end of our visit, etched with a peace symbol. I came away with my own treasures, a jewel-like fish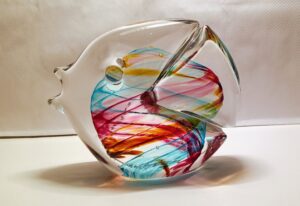 and a swirling droplet of coral reef.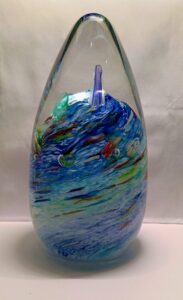 What a delight to have these lovely reminders of the beauty of the seas around Maui and this talented, warm and generous family of artists.
After a quick stop at a roadside produce stand for some fruit and vegetables for our evening's dinner (and a view west down the lush green slopes of the mountain)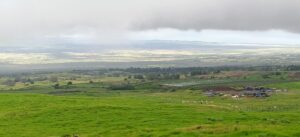 we made our way down to Makawao and lunch at Hali'imaile General Store. The restaurant came highly recommended to us by friends who had just recently visited the island. The building originally was a company general store amid pineapple plantations and served the community for nearly 100 years. Selling all manner of goods from food to appliances and clothing, it also served as butcher shop, fish market and post office as well as the heart of the community. In 1988 it began its new life as a popular restaurant while remaining a social hub for the local community.
We entered a bright, open dining area with a bar to one side and glasswork and paintings lining the walls.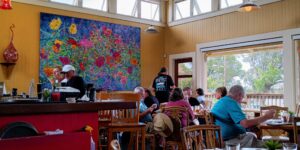 We quickly ordered some braised pork belly bao buns and focaccia bread to start, and enjoyed the contrast of the rich pork and soft buns with the crisp pickled daikon and carrots and the ginger chili slaw which accompanied them.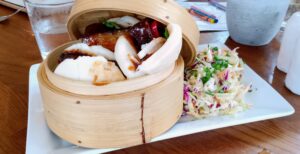 Son-in-law Josh and I each ordered the Maui Gold cocktail, and it proved a wonderfully refreshing drink after our busy morning, featuring Appleton rum, orange Curaçao, orgeat, pineapple, ginger, lime, orange zest, cinnamon and nutmeg.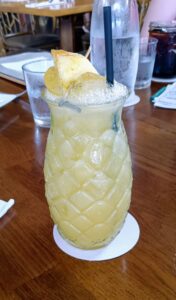 Then we had a bit of a lengthy wait for our entrées (which the manager made right by offering us two desserts on the house), but all proved delicious. The gentlemen opted for more pork, with Josh choosing the barbequed pork sandwich on a hoagie bun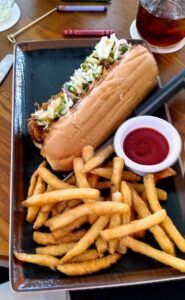 while my husband had the kalua pork enchilada pie, layered with mole sauce, cheese and coconut curry and served with jasmine rice.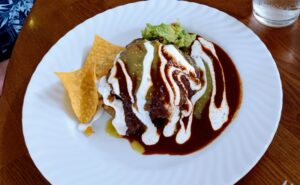 Daughter Jenny and I opted for seafood: Jenny got the ahi poke bowl with ginger-marinated tuna, sushi rice, Asian slaw and cucumber kimchee.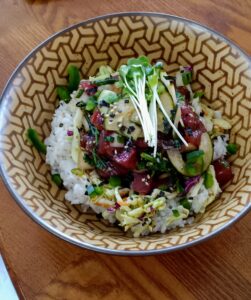 She declared it the best ahi she'd ever had. I thoroughly enjoyed my crab and rock shrimp cake, offset with a crunchy honey sesame slaw and mango remoulade.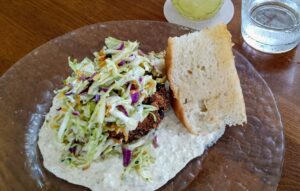 By the time we finished, it was definitely time to return to our accommodations and take a cue from our granddaughter and take a nice, restorative nap!
— Patty Vanikiotis, associate editor/copy editor
FX Excursions
FX Excursions offers the chance for once-in-a-lifetime experiences in destinations around the world.
Sponsored Content
Putting yourself first has never been easier.
Contemporary lifestyle hotel brand art'otel expands throughout Europe with the launch of three new properties in Zagreb, London's Hoxton and Rome, all slated to open between fall 2023 and early 2024. These three hotels join the brand's existing boutique hotels in Berlin, Amsterdam, Cologne and another London property.