I recently returned from a trip to New York City, where I got to sit down and enjoy fine dining at one of New York's hidden Greek treasures, Kellari Taverna, located in the heart of the city near Times Square and the Theater District. This traditional Greek taverna caught my eye at first gleam with its contemporary Bohemian charm.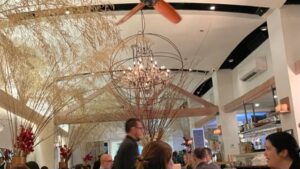 Guests mingled in every corner at the open bar or seated around the open kitchen outlined with fresh tomatoes used to make their delicious Greek salads, once ripened.
We started with various Greek appetizers ranging from charcoal-grilled calamari; octopodi;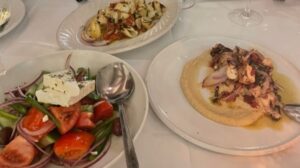 and pikilia spreads, consisting of tarama, tzatziki, melitzanosalata, and tirokafteri;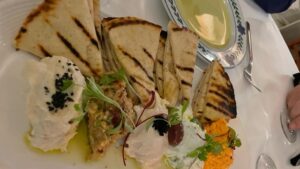 all of which paired nicely with Plano Malagousia, a refreshing wine from Macedonia, Greece.
Service was excellent, with staff making sure to swap out our plates, refill our glasses and clean off the tablecloths in between courses. Our main course was whole fish and broccolini split at the table.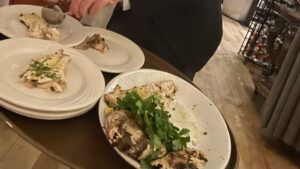 It was light and flavorful. I even went out of my comfort zone and tried the fish eye for the first time, which was better than I imagined. After eating it, however, I was thrilled to see the dessert.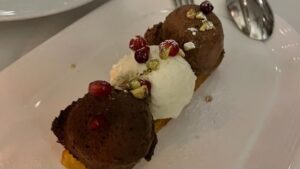 Kellari Taverna was one of the best overall Mediterranean cuisine experiences I have had, and I would highly recommend trying it the next time you find yourself in NYC.
— Christyn Pek, business development executive
FX Excursions
FX Excursions offers the chance for once-in-a-lifetime experiences in destinations around the world.
Turkish Airlines recently opened a new lounge in Terminal 1 of New York's John F. Kennedy International Airport. The airline operates three flights per day from the airport and now premium passengers have luxurious, comfortable and hospitable lounge amenities to enjoy in a renovated, rebranded space.
Sponsored Content
FXExpress Traveler of the Year Contest 2023
It's time to start dreaming of your next trip. Here's some destination inspiration for you. Take a visual journey through these unique museums in Europe with us.