As a pre-Halloween excursion, my husband and I recently took a daytrip to visit Sleepy Hollow, New York. Located in the state's Hudson Valley, the quaint town is known as the setting for Washington Irving's short story, "The Legend of Sleepy Hollow."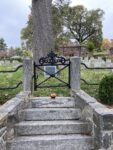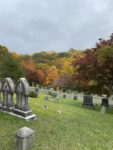 Sleepy Hollow is about a two-hour drive from our house, so it was the perfect destination for a fall daytrip. We drove up through New Jersey, enjoying the beautiful fall foliage along the way. Our first stop was Sleepy Hollow Cemetery. The 90-acre cemetery is open to visitors, with limited guided tours at reduced capacity due to COVID-19. We opted to wander on our own. There are many famous interments at the cemetery, including Elizabeth Arden, Alice Brady, Walter Chrysler, Leona Helmsley and William Rockefeller. A particular draw during the Halloween season, Washington Irving is buried here. After doing a loop of the cemetery, we concluded our visit with a stop at Irving's grave, where a visitor left a small pumpkin, no doubt a nod to his short story.
We then made our way to the adjacent town of Tarrytown. We walked through the local farmers market, a craft fair and browsed some of the shops and boutiques. After our day of wandering, we grabbed lunch at The Tapp. The bar and restaurant offers pub grub and a selection of local beers. I had fish and chips with a local cider, and my husband had a burger and local beer. It was a delicious meal with great service.
On our way home, we turned on a podcast about "The Legend of Sleepy Hollow." It was a perfect way to end our trip.
— Katie Skrzek, vice president/digital director
FX Excursions
FX Excursions offers the chance for once-in-a-lifetime experiences in destinations around the world.
Hyatt Hotels & Resorts invites travelers to enjoy the summer season with a lineup of fun activities and rooftop experiences.
Sponsored Content
Pack your bags, traveling for business is making a comeback — and the role of the corporate travel manager is more important than ever.
I recently returned from my second annual golf trip to Kiawah Island, where we enjoyed fantastic weather. Upon arrival, the group met for lunch at The Ryder Cup Bar, located at The Ocean Course, one of the top-ranked courses in the country. Luckily, we were not playing that day, as the wind whipped up and brought unscheduled douses of rain. As one of the caddies told me, wind gusts of 35 mph made the course unplayable. But some players braved the conditions as we sat comfortably inside enjoying our first lunch of the trip while chairs cascaded outside and players tried to keep their shots on track.