As a pre-Halloween excursion, my husband and I recently took a daytrip to visit Sleepy Hollow, New York. Located in the state's Hudson Valley, the quaint town is known as the setting for Washington Irving's short story, "The Legend of Sleepy Hollow."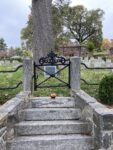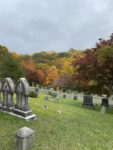 Sleepy Hollow is about a two-hour drive from our house, so it was the perfect destination for a fall daytrip. We drove up through New Jersey, enjoying the beautiful fall foliage along the way. Our first stop was Sleepy Hollow Cemetery. The 90-acre cemetery is open to visitors, with limited guided tours at reduced capacity due to COVID-19. We opted to wander on our own. There are many famous interments at the cemetery, including Elizabeth Arden, Alice Brady, Walter Chrysler, Leona Helmsley and William Rockefeller. A particular draw during the Halloween season, Washington Irving is buried here. After doing a loop of the cemetery, we concluded our visit with a stop at Irving's grave, where a visitor left a small pumpkin, no doubt a nod to his short story.
We then made our way to the adjacent town of Tarrytown. We walked through the local farmers market, a craft fair and browsed some of the shops and boutiques. After our day of wandering, we grabbed lunch at The Tapp. The bar and restaurant offers pub grub and a selection of local beers. I had fish and chips with a local cider, and my husband had a burger and local beer. It was a delicious meal with great service.
On our way home, we turned on a podcast about "The Legend of Sleepy Hollow." It was a perfect way to end our trip.
— Katie Skrzek, vice president/digital director
FX Excursions
FX Excursions offers the chance for once-in-a-lifetime experiences in destinations around the world.
Aimbridge Hospitality announced it will open two brand-new resorts at Frenchman's Reef in St. Thomas in the U.S. Virgin Islands. The Westin Beach Resort & Spa at Frenchman's Reef and The Seaborn at Frenchman's Reef, Autograph Collection, are expected to open in fall 2022. The new properties are part of a $350 million rebuild project on Frenchman's Reef.
Sponsored Content
ISN'T IT TIME? It's time to treat yourself to the vacation you deserve, and Celebrity Cruises® offers the perfect escapes. With an award-winning fleet of ships that sail to more than 300 destinations around the world, Celebrity will take you almost anywhere you want to go in style. Enjoy stunning staterooms and suites, culinary experiences imagined by Michelin-starred chefs and intuitive service. Celebrity makes sure your vacation is effortless from the start, which is why drinks, WiFi and tips are Always IncludedSM on every sailing.
Birds on the brain these days? Head to the Columbia Valley, located between the towering Rocky and Purcell mountains in southeast British Columbia. The newest addition to the BC Bird Trail is marked by friendly communities surrounded by wetlands, featuring a burgeoning avian population. In spring, watch for the striking plumage of horned grebes, as well as songbirds and Lewis's woodpecker.