With the college football season upon us, in Chicago that means Northwestern football. The last two Saturdays I took advantage of the last bits of summer at Ryan Field, but unfortunately, the Wildcats lost both games.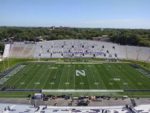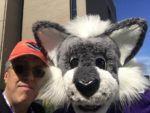 After being the 2018 Big Ten Western Division champs, the Wildcats came into this season with high expectations. Purple Nation is starting to worry about the 1–2 start for the Cats, but game day is always a fun experience.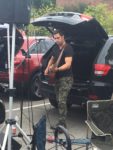 Tailgating starts several hours before kick-off. Both adjacent parking lots are a sea of purple as fans get into the spirit. In the west parking lot, musician Ty Parkin entertained fans. He was so good the Northwestern faithful did not even mind that he is a Michigan State Spartans fan.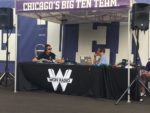 WGN Radio's Adam Hoge and Mark Carman broadcast live from the "N Zone" in front of Ryan Field. I had the pleasure of meeting Northwestern broadcaster Ted Albrecht, who was with the Chicago Bears of my youth. Behind the stadium, Wildcat Alley is alive with the Northwestern band and cheerleaders entertaining fans.
There are a few excellent food options. Mustard's Last Stand is a great burger joint right next to Ryan Field. They are so popular on game day they add an outdoor food counter to handle the crowd. The turkey burgers are flavorful and cooked to perfection, while the fries are top-notch. There are also a couple food trucks on site as well as Northwestern's concession stand.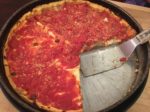 After the latest loss, dinner at Lou Malnati's brightened our day. A Chicago pizza institution, Lou's first opened in nearby Lincolnwood in 1971. Its deep-dish pizza, called a pie, is the prototypical Chicago-style pizza. I actually prefer the thin-crust pizza, but majority ruled. Either way, I am never disappointed at Lou's.
There is still time for Northwestern to salvage the season. They have nine games left, including five home games. Of course, I am hoping for wins, but I know I will have fun at all the games regardless of the outcomes.
— John Wroblewski, online writer
FX Excursions
FX Excursions offers the chance for once-in-a-lifetime experiences in destinations around the world.
With the start of spring, travelers have their choice of new design-centric boutique properties opening in the coming months. Check out these properties for travel inspiration.
Sponsored Content
FXExpress Traveler of the Year Contest 2023
Mendocino County is a self-contained universe of effortless, California-centric joy enveloped within the Redwood Forest National and State Parks, the rocky Pacific Coast and several prime wine production areas like Anderson Valley. If Highway 1 and Route 128 are the ribbons holding this package together, Elk Cove Inn & Spa can be considered the bow. Mendocino Coast's first vacation destination, established in 1968, is an ideal 16-room gateway to the destination.