I spent my weekend ensconced in pop culture goodness at C2E2 (Chicago Comic & Entertainment Expo). Held at McCormick Place, C2E2 is full of celebrities, artists, authors doing signings, photo ops, panels and more.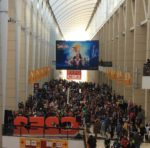 Debuting in 2010, the first C2E2 drew an estimated 25,000 attendees. This year, more than 100,000 people are expected. With attendees coming from all over the country, nearby hotels filled quickly, especially the nearby Hyatt Regency and Marriott Marquis. Founded in 2006, C2E2 organizer ReedPOP also runs 30 other events worldwide, including Comic Con Seoul, the Star Wars Celebration and New York Comic Con.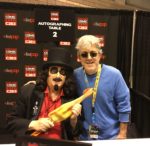 Legendary horror host Svengoolie (Rich Koz) has entertained people for more than 40 years. Koz has won multiple Emmy awards since he became the hand-picked successor to the original Svengoolie. Svengoolie is always a hit at C2E2 and anywhere else he appears. Sven and his Executive Producer Jim Roche work extremely hard at accommodating all fans, who range in age from youngsters to the elderly.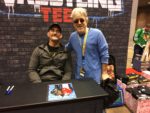 Chicago native and wrestler-turned-actor CM Punk was a huge hit with fans. Usually private, he enjoyed his hometown crowd. He talked to me about his burgeoning acting career, his love of comic books and travel. Outside of work travel obligations, he prefers discovering interesting places in Chicago.
Two other of the nicest celebrities were actresses Kara Eberle and Barbara Dunkelman. Each expressed an appreciation for Chicago, wishing they had time to dine at more legendary restaurants.
Hundreds of creators filled Artist Alley. This is always the area of most interest to me. These folks produce such beautiful and original work, much of which we have seen throughout pop culture without knowing its maker. These are the underrated folks who are the lifeline of the industry.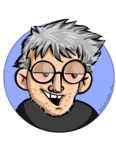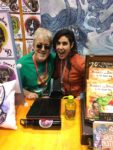 Local artist Ali Cantarella surprised me with a fun caricature of me.  Ali is more known for her animal caricatures, but anything she creates is awesome. My caricature will be hung soon in my place with other artwork I have gotten previously at C2E2. The interview my friend Joey Roth an I did with Ali can be found here.
Cosplay (costume playing) has become a huge part of C2E2. It started with attendees dressing in character for fun to having a whole section of the convention floor dedicated to the thousands of folks in elaborate costumes.
C2E2 also gives back to the community through the Power Up to Read program. Students from participating schools have the ability to earn a weekend pass by reading eight books from the school's library. The Power Up to Read program rewards students for reading while also adding a younger vibe to the event.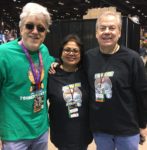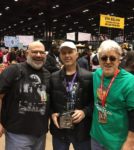 I reconnected with so many friends, both in and out of the industry. In many ways, C2E2 is like a big reunion. That is truly one of the best parts for me.
— John Wroblewski, online writer
FX Excursions
FX Excursions offers the chance for once-in-a-lifetime experiences in destinations around the world.
I imagine that when writer Hans Christian Andersen mused, "Life itself is the most wonderful fairy tale," he was standing at the edge of Copenhagen's historic Tivoli Gardens, one of his favorite haunts, enlivened by the swirl of human happiness that surrounded him: children laughing; carousels spinning; games of chance played for prizes; lovers holding hands; hungry people whispering over sweets, hot drinks, beer and towering, open-faced smørrebrød, Denmark's quintessential sandwich. That fairy tale lives on today at the second-oldest amusement park in the world, a spectacle of folly architecture, bakeries, gardens, rides, restaurants, puppet shows and joy ... and which also happens to be one of the city's most storied places to convene for business.
Sponsored Content
The Global Business Travel Association's (GBTA) Convention 2021 will be unlike any other convention before it, as we come together in person for the first time since the business travel industry drastically changed and look forward to rebuilding and reshaping the future. GBTA Convention 2021 will bring all of us together to learn from experts and each other, in-person at Orange County Convention Center in Orlando, Florida, Nov. 17–19. The safety of our attendees is our top priority. View health and safety protocols.
The restored Park Hyatt Toronto reopened its doors, bringing luxury, sophistication and glamour alongside a nod to the hotel's Canadian heritage. Alessandro Munge of Studio Munge collaborated on the hotel's refresh, drawing inspiration from Canada's seasons and natural landscapes.