I spent last weekend immersed in collegiate women's basketball action at the four-day Big East Conference championship tournament. For the third straight year, the DePaul Blue Demons beat the Marquette Golden Eagles in the championship game.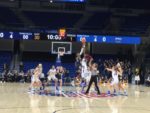 The weekend featured nine exciting basketball games as the Big East teams battled for an automatic spot in the upcoming NCAA Women's National Championship tournament. In the end, it came down to the top two seeds.
Like the last two seasons, the tournament was held at Wintrust Arena on Chicago's near south side. Every day the crowd got bigger and louder, culminating in a large, rowdy one for the championship game. With geographic rivals DePaul and Marquette playing in the title game as predicted, DePaul's hometown fans were joined by many Wisconsinites, making for a somewhat split but lively crowd.
Marquette led by a point after one quarter, but DePaul came roaring back in the second quarter to lead 45–33 at the half. DePaul coach Doug Bruno was able to empty his bench in the fourth quarter as DePaul cruised to an 88–73 victory. This gave the fans a chance to give the starters a much-deserved standing ovation as they departed the game while giving the reserves a little championship game time.
DePaul's sophomore guard Lexi Held was named Most Outstanding Player of the tournament. DePaul senior co-captains Kelly Campbell and Chante Stonewall were named to the All-Tournament team.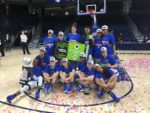 I watched these elite athletes up close from the press table and then joined them on the court for the post-game celebration. I followed the Blue Demons all season at games and practices, seeing how hard they work. It was moving and heartwarming seeing players hugging each other along with family and friends. I was a proud alum as I soaked in the celebration.
The Blue Demons celebrated last night, but soon they will be back at practice. The No. 15 nationally ranked Blue Demons need to prepare for the NCAA tournament, which starts March 20 and culminates April 5 with the National Championship in New Orleans.
— John Wroblewski, online writer
FX Excursions
FX Excursions offers the chance for once-in-a-lifetime experiences in destinations around the world.
With the start of spring, travelers have their choice of new design-centric boutique properties opening in the coming months. Check out these properties for travel inspiration.
Sponsored Content
Exclusive Sailing with Global Traveler
Mendocino County is a self-contained universe of effortless, California-centric joy enveloped within the Redwood Forest National and State Parks, the rocky Pacific Coast and several prime wine production areas like Anderson Valley. If Highway 1 and Route 128 are the ribbons holding this package together, Elk Cove Inn & Spa can be considered the bow. Mendocino Coast's first vacation destination, established in 1968, is an ideal 16-room gateway to the destination.