While visiting Portland, Oregon, last week in the lull between Christmas and New Year's, my sisters and I visited the Beyond Van Gogh: The Immersive Experience exhibit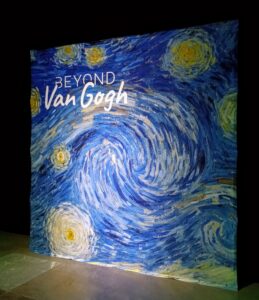 currently visiting the Oregon Convention Center through February 12. I had heard from several friends and family members who have visited the exhibit in cities across the country (though some of them may have seen a different exhibit, Immersive Van Gogh) that it should not be missed, and I'm glad I heeded their advice.
Our tickets had a timed entry to avoid crowding, and masks were required and social distancing encouraged. Once inside we were invited to take all the time we wanted, and we could move ahead of others if we wished. The first part of the exhibit was a series of panels (projections on cloth screens) with Van Gogh's works providing the background to some biographical information and quotes from both the artist and art critics.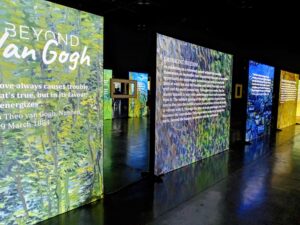 I appreciated the opportunity to be able to really get up close to see the brushstrokes and layers of color in the work.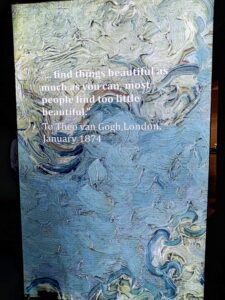 I found the information on the panels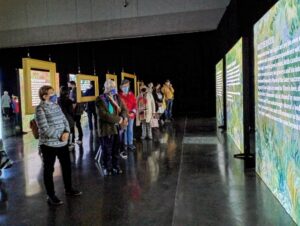 provided insight into the influences and technique of Van Gogh, preparing me to more fully appreciate the following parts of the exhibit.
The next space we entered was an entirely black room, and we faced a wall down which flowed a curtain of light, with the colors pooling and then spilling over two doorways cut into the wall,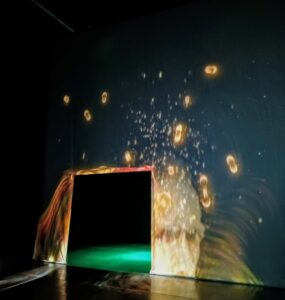 eventually spreading out over the floor on which we stood, as well. The streaks and dots sometimes coalesced gradually into self-portraits of Vincent,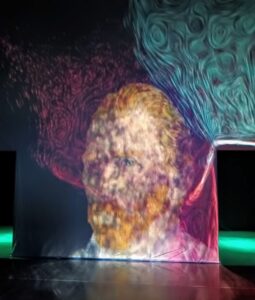 with his haunting, expressive eyes standing out from the abstract projections.
It was mesmerizing, with no repetition to the images that I could detect for at least five minutes.
Eventually I passed through the doorways and down a short hall to where an immense, darkened exhibit space beckoned with glowing walls flowing with iconic images.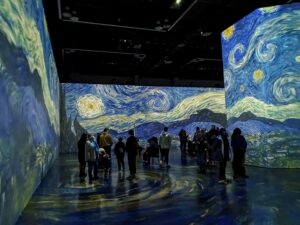 A soundtrack of a range of instrumental, symphonic music (I picked up Miles Davis, Simon and Garfunkel's "America" and Don McLean's "Vincent" — of course) played unobtrusively as we were immersed in the colors and patterns of the works which played over all the surfaces (including us). Sometimes a single work (such as "The Starry Night") filled the entire room, but more often a series of different works covered the screens and floor, from Van Gogh's flower portraits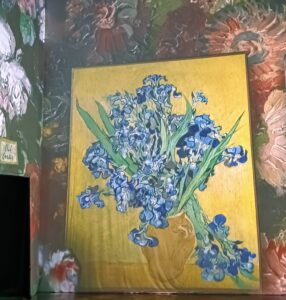 to self-portraits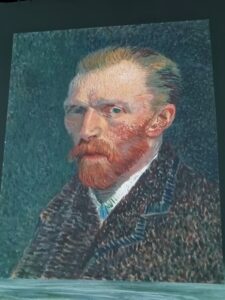 to land- and seascapes.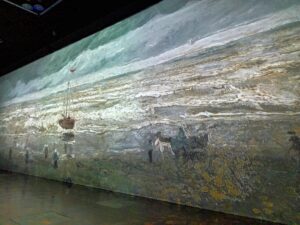 I'm not sure how it was done, but I came to realize that there was actual movement within some of the paintings. This was beyond merely one image fading into another, but, instead, I noticed that the smoke from a pipe in a self-portrait was actually slowly drifting up in the air,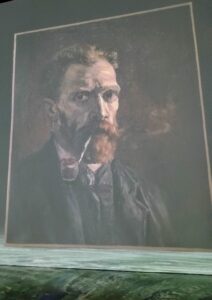 while in another, Vincent's eyes blinked! In another painting, the waves shifted and gleamed in a harbor.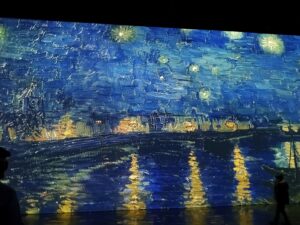 The paintings really came alive, and though it could have been distracting, for me it really called my attention to how Vincent achieved that movement on his still canvas with the colors of his paint and the movement of his brush.
Sometimes the walls were filled with quotes from letters Vincent wrote to his brother, Theo, and the letters spilled all over the floor and us.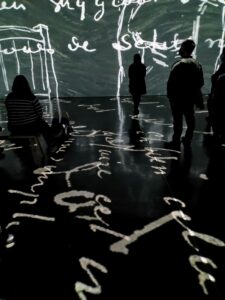 Though most know the artist as a tortured, anguished man, these writings shared his hopes and his ideas about creativity and beauty, providing a broader picture of one who created so much beauty himself.
Eventually we realized that we were beginning to see images we had seen before, but it did not seem there was a straightforward loop that repeated but rather a reordering and remixing of individual parts. The producers of the exhibit say it takes about an hour to view, but I would suggest you give yourself more time to really allow yourself the pleasure of this immersive experience. It provided a truly soul-satisfying and sensual afternoon, and I came away with a greater understanding and appreciation of an artist and his works whom I thought I knew.
— Patty Vanikiotis, associate editor/copy editor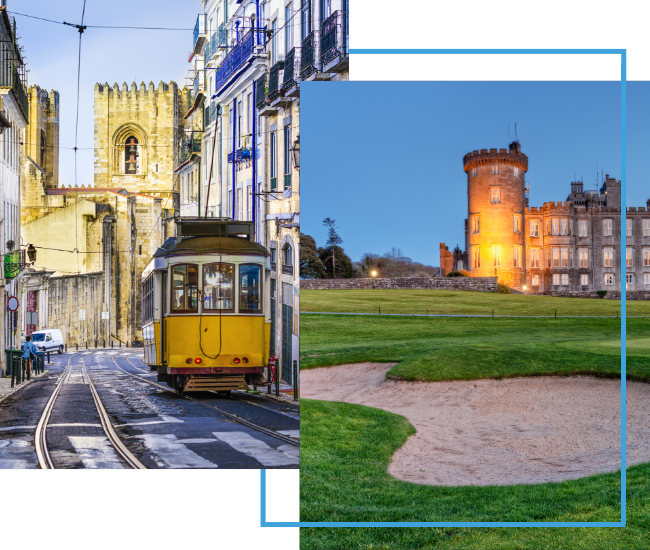 FX Excursions
FX Excursions offers the chance for once-in-a-lifetime experiences in destinations around the world.
Explore Excursions
If fabulous food and beverages are a must-have for any weekend getaway, then look no further than the City of Brotherly Love. Whether your palate has a penchant for vibrant Latin American fare or cozy French cuisine, whether you're an oenophile looking to swirl, sniff and sip your way around the globe or you'd rather sample farm-to-glass cocktails, Philly's got it all this fall. (With the exception of Bolo, which is a short taxi or Uber ride away and definitely worth the trip, the rest of these spots are all within walking distance of each other.)
Sponsored Content
Whether it's the people, the craic (fun) or the coasts, travelers always find something to love about the island of Ireland. What fills your heart?
From Santoríni to Dubai to New York, some hotels just have that "it" factor that draws visitors far and wide. For some hotels it's their proximity to popular landmarks and attractions, for others it's their amenities. But these hotels have something few can claim: a true room with a view.