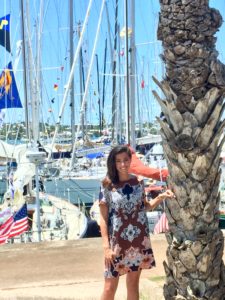 If you have kept up with my travels, you know I recently went to Bermuda for a quick trip. Bermuda won a 2018 Leisure Lifestyle Award for Best Weekend Destination, and I delivered the award to the Honorable Jahmal Simmons. I can totally understand why our readers voted Bermuda for this category, in particular. Between the crystal-clear waters, the fresh cuisine and the rum, this little slice of heaven really is the perfect distance from the East Coast in order to make a two-hour flight for a getaway to clear your mind for a bit.
This trip just so happened to fall during the 51st biennial Newport Bermuda Race. While I was there, people were sailing from Newport, Rhode Island, to right where I was in Hamilton, Bermuda, at the Royal Bermuda Yacht Club. The race took anywhere from three to five days depending on the size of the yacht. Needless to say, this added to the trip overall. With the largest fleet this year (265 boats to be exact), it was a colorful sight to see.
— Ashley Richards, account executive
FX Excursions
FX Excursions offers the chance for once-in-a-lifetime experiences in destinations around the world.
Celebrate World Vegan Day Nov. 1, with these vegan dishes from around the world.
Sponsored Content
History and culture are etched into every corner of Greece. Beginning with its language, the oldest written language still in existence, and moving from the traces of passing civilizations and religions to pre-historic findings and works from many movements, there's a wealth of culture to discover on your next trip to Greece.
The Hotel AMERON Zurich Bellerive au Lac, forged from the collaborative efforts of interior design firm Monoplan AG and other cutting-edge design firms, bills itself as a celebration of the 1920s and '30s aesthetic. The story behind it is compelling as the building dates to 1928 and has connections with the early days of Switzerland's movie industry. However, there are several fun Mid-Century Modern and late 20th-century design touches in the public and private areas. Clearly, it's going for the "modern luxury" vibe Millennial and Gen-X business and leisure travelers look for when seeking a quality smaller property with a great location.