When a Tony Award-nominated musical meets a historic local theater, the result is a great night of entertainment. Such was the case when I saw Anyone Can Whistle at Skokie Theatre.
Originally opened on Broadway in 1964 at Majestic Theater, Anyone Can Whistle is a musical with music and lyrics by Stephen Sondheim. It's the story of a small-town mayoress faking a miracle to attract tourists and raise her popularity. Her plan goes awry when a nurse and 40 freed inmates from the local asylum get involved. Who is crazy and who is sane?
As a lesser-known work of Sondheim with a relatively short time on Broadway, this was an interesting but excellent choice for a run at Skokie Theatre. A large cast and a small stage challenged director James Fleece, but he made use of aisles and other spaces, which actually made for almost a 3-D effect, like the audience was involved. Musicians provided the soundtrack from the balcony, formerly the projection area, which created a powerful surround sound effect.
The performance was fantastic on all levels. There was no weakness. The performers seemed to be having as much fun as the audience. The space limitations worked in favor of the production, too. I admit, I wasn't familiar with this musical prior to the performance, but I did recognize a few songs once I heard them.
As a long-time Skokie resident, I have been in the beautiful Skokie Theatre many times. Built in 1910, it was renovated in 2006, turning it from a movie theater to a performance arts center comfortably seating 140. Currently, seating is limited to 50, however. Managed by MadKap Productions, it hosts plays, concerts and more. It's also a quick three-block walk from my place.
Anyone Can Whistle runs through Oct. 10. Other future events at Skokie Theatre include The Creation of Anyone Can Whistle, The Gershwins in Hollywood and Hello, Carol!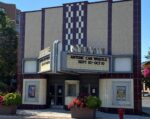 — John Wroblewski, online writer
FX Excursions
FX Excursions offers the chance for once-in-a-lifetime experiences in destinations around the world.
Galataport Istanbul, a new cruise and lifestyle destination on the Bosphorus in Istanbul, welcomed its first ship, SeaDream II, on Oct. 1. Approximately 150 passengers and crew from Bulgaria Varna arrived at 10 a.m. for a two-day homeport operation before continuing to Bulgaria Burgaz.
Sponsored Content
The Global Business Travel Association's (GBTA) Convention 2021 will be unlike any other convention before it, as we come together in person for the first time since the business travel industry drastically changed and look forward to rebuilding and reshaping the future. GBTA Convention 2021 will bring all of us together to learn from experts and each other, in-person at Orange County Convention Center in Orlando, Florida, Nov. 17–19. The safety of our attendees is our top priority. View health and safety protocols.
The countdown to Halloween weekend is on! Are you are still unsure about plans? Do you go to a house party? Stay in to hand out candy? Try something different this year and join Philadelphia's  The Mütter Museum at its 6th annual Mischief at The Mütter.