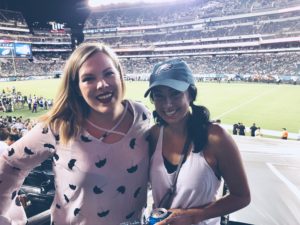 Well, it's almost upon us. If there is one thing that gets me through winter, it's football. I was lucky enough to win two tickets to the last Philadelphia Eagles preseason game last Thursday against the Jets. So after a day of meetings, I headed to the City of Brotherly Love for a little taste of what the Eagles have to offer this season.
Soon everyone will pack away baseball caps and get jerseys and scarves ready. But this game was a bit different, given it was a hot summer night. Nonetheless, the green guys (of course) came up with a W. Aside from the score, it is always a great feeling walking into Lincoln Financial Field. Between the smell of Chickie and Pete's crab fries, Tony Luke's cheesesteaks and the cold Bud Lights, you really can't go wrong. For me, being surrounded by Philadelphia fans is something that adds to the whole experience. Granted, we ARE the greatest fans in the world!
Afterwards, our group went to XFinity Live, a great spot to visit if you happen to be in the area and don't have tickets to the game. Check it out when you're in town!
— Ashley Richards, account executive
FX Excursions
FX Excursions offers the chance for once-in-a-lifetime experiences in destinations around the world.
Galataport Istanbul, a new cruise and lifestyle destination on the Bosphorus in Istanbul, welcomed its first ship, SeaDream II, on Oct. 1. Approximately 150 passengers and crew from Bulgaria Varna arrived at 10 a.m. for a two-day homeport operation before continuing to Bulgaria Burgaz.
Sponsored Content
This holiday season, escape to the Caribbean with Celebrity Cruises and reconnect with family and friends in luxurious accommodations that make you feel right at home. Savor globally inspired cuisine designed by our Michelin-starred chef, paired with the most awarded wine collection at sea. Elevate "me time" with a soothing spa treatment sure to renew. With both long and short cruises to celebrate in December, and even three special Ultimate Holiday Cruises that sail over Christmas and into the New Year, the time to gift an experience and create unforgettable memories is now. Celebrity Cruises' Always IncludedSM pricing — drinks, WiFi and tips — ensures a seamless, carefree vacation with the ones you love.
The countdown to Halloween weekend is on! Are you are still unsure about plans? Do you go to a house party? Stay in to hand out candy? Try something different this year and join Philadelphia's  The Mütter Museum at its 6th annual Mischief at The Mütter.