Though clustered relatively near one another, the Balearic Islands of Mallorca, Ibiza and Menorca are ostensibly worlds apart. To reinforce this, most travel publications, even the Tourist Office of Spain, happily pigeonhole each island into neat, rigid categories. The breakdown goes roughly as follows:
Mallorca — Largest and most mainstream of the three, where families, backpackers, old folks and partiers intermingle harmoniously, and traditional island life can still be found in the largely untouched hinterland.
Menorca — Second-largest and least touristy of the three, primarily a destination for quiet, low-impact resort getaways, with scores of archaeological treasures.
Ibiza — A spiritual, aging-counterculture paradise, underscored by uninhibited indulgence (prudently referred to as its "ebullient festive side").
Though these descriptions are broadly accurate, in reality each island has satisfactory outlets for whatever diversions you're seeking, whether it be water sports, family holidays, beaches, tranquility or ebullient festivities.
All three islands have been inhabited for over three millennia, originally functioning largely as ports for traders, then as key military positions, with salt mining (Ibiza), agriculture and livestock providing ancillary livelihoods. Tourism started slowly, in the 19th century. The profusion of artists (most notably George Sand and Chopin) returning from the islands with gushing works of literature, photographs and paintings spurred yet more people to visit. Nevertheless, tranquility prevailed. Even the modern tourist boom that started in the 1950s didn't appreciably affect island life.
These days, while industries such as footwear, costume jewelry, furniture and cultured pearls are doing well, it's tourism that generates roughly 75 percent of the islands' cash flow. The standard insular atmosphere of palm trees, expanses of sand and ice-cold cocktails in primary colors is highlighted by a classic Mediterranean climate. Average temperature in the summer is around 80 degrees, with a good zap of humidity and the tanning power of some 300 sunny days per year. Large numbers of locals — and a steady stream of paradise- seeking transplants — are linked to the service industry in some way, driving the islands' bountiful amenities with a chilled-out disposition, reflecting the overarching, casual approach to life in these parts. This infectious spirit and seemingly limitless stockpile of tropical recreation is fabulously accessible by air and sea — scarcely three hours from most points in Europe — making the Balearic Islands prime getaways for anyone unlucky enough not to already live there.
Crop out the vast and busy harbor, and Palma de Mallorca, the capital of both Mallorca and the entire Balearic island group, could be mistaken for any raging Spanish metropolis. Far from being serene, it is nevertheless enviably set on a bay over 15 miles long and is home to half the island's population.
The symbolic summer retreat of Spain, Palma's knotted historic center contains profuse remains of Roman architecture accented by occasional Moorish flourishes, with the Gothic Cathedral, consecrated in 1601, being the city's jewel. Defining features include Palma's collection of distinctive inner courtyards in public buildings and homes, the result of a centuries-long architectural evolution that began in Roman times, with transformations and updates incorporating Gothic, Renaissance and Baroque elements. Over 50 of these courtyards are open to the public during Palma's Spring Festival in June.
Outside Palma, the island's sizable, diverse landscape gives visitors the widest variety of exploring and activity options in the Balearics, from the ubiquitous seaside to the Tramuntana mountain range (nearly 5,000 feet high) — looming over Tuscanesque towns such as Deià and Valldemosa — to the unexpectedly robust agricultural sprawl in the hinterland to a vast series of coves and caves on the east coast, including Drac, which contains a large subterranean lake.
Menorca, close enough to Mallorca's shores to hit one with a well-thrown tapa, maintains a paradoxically peaceful and less tourist-centric atmosphere without sacrificing reasonable visitor infrastructure. Maó, the island's capital, boasts the second-largest natural deepwater port in the world (Hawaii's Pearl Harbor being No. 1), which saw all variety of opportunistic foreign invaders over the centuries attempting to secure it as a military asset. The best parts of the city are all within nondemanding walking distance, including the skyline-defining 18th-century Church of Santa Maria, with a 19th-century organ renowned for its sound quality. The City Hall is ornamented with a clock brought to the island in the early 1700s by then-British governor Richard Kane. The Colón, Reial and Conquesta plazas are worth a stop to admire the surrounding historic mansions and buildings.
Apart from being designated by UNESCO as a biosphere reserve (keeping mega-hotel development at bay), Menorca is somewhat lacking in geographic excitement. Its primary natural treasures are found in the wetlands of the southern coast, composed of ponds, lagoons, marshes, dune systems, coasts and islets, home to some 220 species of birds and 1,000 species of plants (60 of which are endemic). On firmer ground, in addition to the characteristic whitewashed Mediterranean dwellings, British colonial rule — from 1713 to 1782 — left the island with its most conspicuous architectural legacy in the form of cottages, sash windows and gardens.
By and large, non-resort diversions on Menorca tend to lean toward wholesome family-friendly activities such as touring prehistoric ruins and preserved fishing villages, though adrenalin spikes are available through a variety of water sports such as windsurfing and diving. Not to be outdone by its neighbors, Menorca has small, fist-pumping pockets of nightlife that rival anyplace in Spain, available to those with the impetus to find them.
Ibiza, arguably the most famous/infamous of the Balearic Islands, was founded 2,600 years ago by the Phoenicians and has been continuously inhabited ever since by subsequent waves of Romans, Muslims and Christians. Ibiza Town, or Eivissa, was declared a UNESCO World Heritage site in 1999, with the highlight being the hilltop Dalt Vila quarter, built out from the core of the castle and Almudaina palace and subsequently fortified over the centuries as defensive needs dictated. The current wall, designed by Italian engineers, dates from the 16th century. The area is crowned by the cathedral, built between the 14th and 16th centuries, in Gothic Catalan style and modified in the 18th century in Baroque style.
No one can seem to agree about Ibiza's current status: Is it being ruined by tourism or has it not even started yet? Ibiza Town is certainly filled to maximum capacity in summer, but much of the rest of the island sees only moderate levels of visitors and, in winter, the whole island is a ghost town. Folks in tourism moan about how the island is nowhere near its tourism potential; adding direct international flights and boosting off-season visitor numbers by attracting conventions are the talking points of the moment.
People fed up with Ibiza's circus-like summer scene are retreating to the smaller nearby island of Formentera, which has no airport, no traffic lights and no maniacal nightlife. Meanwhile, veteran revelers are tiring of Ibiza's club scene, particularly the soaring prices. Entry fees for theme nights at some clubs can run up to $74, with drinks going for $27 a pop. Reserving a private table at Pacha, one of the top clubs on the island, can cost up to $2,010. Even so, people save up for the entire year to happily spend that kind of money for the Ibiza Experience which, it should go without saying, is world-renowned. The overblown theme parties and ludicrous venue sizes aside, this is the place where the rave movement started 20 years ago and DJs still use these c lubs as their personal kitchens to cook up new mixes.
---
LODGING
IBIZA GRAN HOTEL
At press time, this hotel was set to open soon. All of its 157 guestrooms will be suites with sea views, each decorated with original art. The neighboring casino is a carefully designed, non-Vegas affair and the spa will be equipped with a swimming pool, fitness center, sauna, hammam (Turkish bath, and treatment rooms for individuals and couples. Paseo Juan Carlos I, Ibiza, tel 34 971 313 312, http://www.ibizagranhotel.com $$$$
MIRADOR DE DALT VILA
Opened literally at the moment of our visit, the 13-room Mirador abuts Ibiza's 16th century fortifications in the atmospheric hilltop Dalt Vila quarter. The former residence of one of Ibiza's wealthiest families, the property is modern and luxurious down to the light switches, and exquisitely decorated with pieces from the family's art collection and medieval artifacts recovered from nearby shipwrecks. The food and drinks served in the restaurant/bar also possess artistic merit. The polyglot staff is a young, talented and dedicated group, lavishing guests with intimate, detailed and heartening attention. Plaza de Espana 4, Dalt Vila, Ibiza, tel 34 971 303 045, http://www.hotelmiradoribiza.com $$$$
PALACIO CA SA GALESA
The only 5-star hotel in Palma's city center, this 12-room property is housed in a grand, 16th-century home, within easy walking distance of Palma's best attractions and dining options. The period dining room, kitchen (for guest use), bar and study are straight out of Pride and Prejudice, while a petite pool and sauna have been squished into the medieval stone cellar. There's no on-site restaurant, but room service is available until 10 p.m. Carrer de Miramar 8, Palma de Mallorca, tel 34 971 715 400, http://www.palaciocagalesa.com $$$$
---
DINING
LA RASPA
Some say it's prohibitively expensive, some say it's overrun with tourists and families, but all agree this place serves the best seafood that can be landed around the Balearics. Despite its being advertised as "the centerpiece of the Marina Botafoch area," four out of five locals cannot locate the place. Head to the end of the marina road and look for the terrace camouflaged in greenery, set back from the waterfront behind fountains. Marina Botafoch, Ibiza Town, tel 34 971 311 810 $$$$
FORN DE SANT JOAN
Popular, trendy and packed even on a Tuesday, Forn's three modern dining rooms are Palma's "place of the moment," evidenced by the snapshots of Eurocelebrities on the bar wall. Fair-priced and filling, the menu offers elaborate tapas such as Spanish potato omelets with spicy sausage and chives, as well as such hearty main dishes as sea bass and ostrich fillets with potatoes. Though reservations are recommended, a good sit-down in the bar while you wait for a table isn't so bad either. San Joan 4, Palma de Mallorca, tel 34 971 728 422, http://www.forndesantjoan.net $$$
LA TABERNA DEL CARACOL
A first-rate and surprisingly affordable tapas bar in Palma's historic center. Daily and permanent menus offer dozens of mouthwatering, artistically presented morsels of ham, chicken, fried vegetables and seafood, supplemented by affordable wines and tropical sangria. San Alonso 2, Palma de Mallorca, tel 34 971 714 908 $$$
---
INFO TO GO
All three islands have busy air and ferry ports. Mallorca's Palma Airport (PMA), just five miles east of the city, has the best connections of the three islands. A taxi ride to the center runs about $40. Ibiza Airport (IBZ), five miles from Ibiza Town, primarily has service from Spain and the United Kingdom, which drops dramatically outside of high season. A taxi ride to the city is about $14. Menorca Airport (MAH) is approximately three miles southwest of Maó, the island's capital. A taxi ride is approximately $14. All airports have car rental agencies on site, including Avis, Hertz and Europa, and frequent bus service into their respective cities. Daily ferry service connects the islands, though schedules are often designed for day-trippers so departure times may be at uncivilized hours like 7 a.m. and 10 p.m. Balearia and Transmediterranea are the busiest ferry companies.
---
DIVERSIONS
With their cumulative 768 miles of coastline, it should go without saying that the primary activities on all of the islands involve some combination of sand and water, with shopping always mere steps away. Yet there are plenty of cultural and architectural nuggets to uncover if the urge strikes. On Mallorca, Palma has an admirable array of modern art, including the Es Baluard Museum of Modern Art (10 Plaça Porta Santa Catalina, tel 34 971 908 200) and the Museum of Spanish Contemporary Art (Calle Sant Miquel 11, tel 34 971 713 515). The "giant old edifice quotient" is categorically filled by the Cathedral and Museum (Plaza Almoina, tel 34 902 022 445) and the 14th=century Bellver Castle (tel 34 971 730 657) on the western outskirts of the city. Book tee times on one of Mallorca's 18 golf courses — open year round — through Mallorca Golf Connection. To discover Palma's nightlife, have a cocktail in the Baroque, sumptuously decorated historic manor house Abaco (Calle Sant Joan 1, tel 34 971 714 939), then move on to dinner in the always lively Paseo Marítimo quarter. Close out the evening at the bar/entertainment venue at
Purobeach (Pagell 1, Cala Estancia, tel 34 971 744 744).
On Ibiza, open (and close) the night on the gorgeous terrace at El Divino (Paseo Juan Carlos I, Ibiza Town, tel 34 971 318 338_, and, if you've got the requisite brain cells to spare, try to get into Pacha , a European nightclubbing institution. During daylight hours, Al Sabini Touristic Services runs a variety of excursions by foot/wheels/sea, including trips to Es Vedrà, an uninhabited rock and nature preserve just off the west coast of Ibiza thought to have spooky magnetic properties and/or be the last visible part of Atlantis. The Hippy Market, located between Santa Eulalia and Escana in the northwest corner of the island, is held every Wednesday between April and October; you can pick up a variety of throwback paraphernalia such as leather goods, homemade jewelry, textiles and things that you should probably ship home, via an anonymous third party.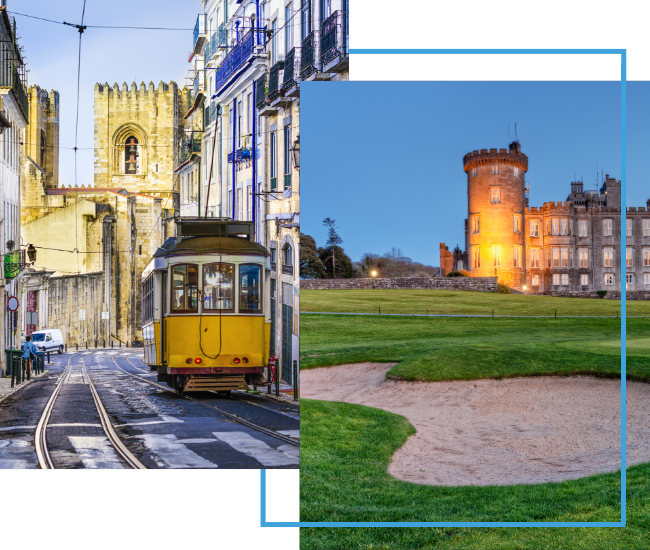 FX Excursions
FX Excursions offers the chance for once-in-a-lifetime experiences in destinations around the world.
Explore Excursions
It's time to start dreaming of your next trip. Here's some destination inspiration for you. Take a visual journey through these U.S. Christmas markets with us.
Sponsored Content
Whether it's the people, the craic (fun) or the coasts, travelers always find something to love about the island of Ireland. What fills your heart?
Everyone loves a good Christmas tree, but these iconic hotels around the world take it one step further with designer-styled trees illuminating lobbies and public spaces, wowing all who enter. From Lela Rose to Louis Vuitton, don't miss these ultra-luxury trees redefining tree decorating as we know it.