At the entrance to the fishing village of Les Goudes, a 40-minute drive south of Marseille facing the Mediterranean, is Tuba Club. Nestled in a historic seaside building,with its laid-back restaurant and sun-splashed terraces it is a perfect hideout for locals and international visitors who can actually find it.
Originally built about a century ago as a cabanon (cabin or fishing shed), the building operated as a small hotel known as the Roches Blances in the 1940's, a nightclub in the 1970s and a diving club in the 1980's. Here oceanographer Jacques Cousteau; record-breaking free diver Jacques Mayol; and Falco, captain of Jacques Cousteau's Calypso, visited.
"The place had the ideal backstory for us to reinvent something great and powerful," said present co-owner Greg Gassa, co-owner, Tuba Club. In 2013, after Marseille was chosen as the European Capital of Culture, Gassa said, "Marseille will be the source of a new energy.  The city's melting pot creates a special atmosphere where people feel able to bring new concepts to life, to build a new era."
In 2000, Gassa and Denizot, along with French interior designer Marion Mailaender, reconnected with the building's history as a small hotel and slowly transformed the property into a unique vacation retreat. The trio set out to restore the diving school while preserving the essence of what it once was: a beach shed for friends to hang out at the sea. In time, they added a small lounge, refurbished rooms, and a new bar and two terraces, all with views of the Mediterranean. In 2021 the Tuba Club reopened for guests and has become, again, the perfect place to disconnect from the often too-crowded neighborhoods of Marseille.
Presently, Tuba offers five historic rooms and four suites, all facing the sea. Designed with a minimalist vision inspired by the style of Le Corbusier, these comfortable cabanons were built simply with natural materials, combining driftwood with plywood paneling and white linens with rope lamps. In addition to the cabanons perched on the rock, Tuba added the three new suites and a duplex in which to live the good life.
Everywhere around the property, there is recycled furniture and unique-looking items, many found at the Avignon or Marseille flea markets. These include a canopy bed repurposed from a boat, reading lamps that look like submarine scopes, colorful buoy necklaces suspended from the ceiling and a chest covered in shells. No plush bathrobes or room slippers here, but you will get flippers, a snorkel and a mask.
Overlooking the sea and the terraces on the lower floors, the living room welcomes guests with its large Togo sofa. Mirrors reflecting the azure sky and historic black and white photographs line the walls, deck chairs invite relaxation, lamps made from recycled buoys light the space, and a unique Poulpe Fiction (Pulp Fiction) coffee table and ancient clay octopus traps add character.
Discreetly nestled at the back of the salon, the kitchen allows all hotel guests to grab a coffee, have breakfast or host a small private event. In this unique setting, Tuba Club opened its 12-guest Chef's Table, with chef Sylvain Roucayrol as the captain and guest chefs joining in from time to time.  Passionate about seafood, Chef Roucayrol expresses his authenticity by adjusting Tuba's cuisine to the rhythm of local and regional fishermen.
The chef's Madeleine de Proust features a whole barbecued fish — perhaps sea bream, red tuna, yellowtail, sea bass, turbot or John Dory — and the prized Mediterranean lobster. Straight from the nets of the local fishermen, it is delivered to Tuba directly from the boats and ends up grilled on guests' plates.
On the lunch menu, Sylvain Roucayrol speaks to his Catalan origins and unveils a menu exclusively for sharing. Tapas cuisine at the core, sandwiches shaped like a bikini and flatbreads with red tuna.
The Pastis Bar was a new addition this summer, offering Marseille's famous aperitif in several variations, including the classic Pastis 51, an anise-flavored spirit made in Marseille. Created in 1951 by Pernod when the ban on anise-based aperitifs was lifted, this classic soon became a leading brand in France. Tuba also serves up cocktails, including the Sormioule, a summer essential made with vodka and delicately blended thyme and rosemary flavors with ginger beer and lime, while the Basil Boli pays homage to the heroes of the Olympique de Marseille football team, mixing gin with Mediterranean tonic, fresh basil and cucumber syrup.
The new rooftop terrace above the rocks includes the new restaurant, Bikini's. The bar is converted from an old boat hull with a counter, and the restaurant was designed and orchestrated by Marion Mailaender with turquoise tables and armchairs recovered from a former beach restaurant and revamped in black and white gingham. Bikini's is open during the day and after sunset.
Tuba's yellow paddleboards and canoes are available for guests, and Beuchat snorkeling gear may be rented, purchased or borrowed. Private rooftop yoga classes are also available, and other amenities include a pétanque court for friendly competition, guided hikes in the surrounding calanques and a detoxifying hammam.
Tuba Club has banned plastic straws, disposable cups, individually wrapped soap and cleaning products with questionable compositions. With the opening of the villa suite, Tuba continues its commitment to vintage upcycling by selecting only second-hand furniture, favoring custom-made construction and supporting local artisans and artists.
The Tuba Club is open from April to October.  Double-occupancy room rates for October start at €230 (about $248.00) per night.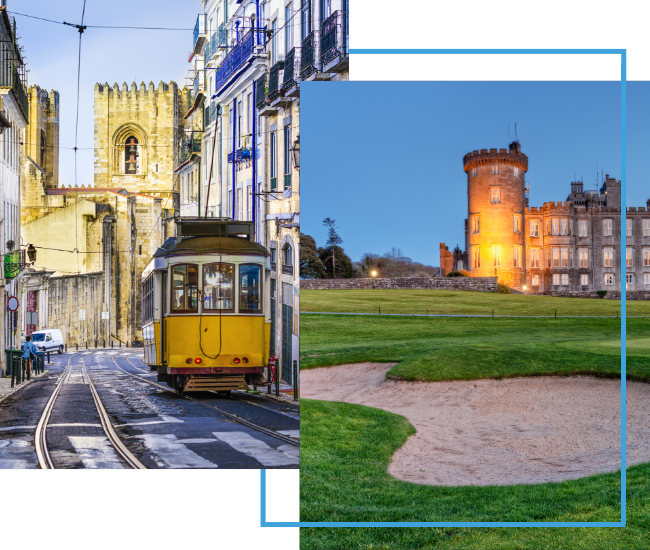 FX Excursions
FX Excursions offers the chance for once-in-a-lifetime experiences in destinations around the world.
Explore Excursions
More than 22 million visitors pour into Bangkok each year, adding to the roughly 11 million residents of the Thai capital famous for its bustling streets. Packed with food carts, markets and cultural spectacles, life in Bangkok is unusually defined by its vibrant street scene, both day and night. That means you don't necessarily need a solid plan when heading out on any given evening.
Sponsored Content
United Airlines is in the midst of a major initiative to modernize its fleet over the next several years. After first announcing the plan in 2021, planes fitted with United's signature interior are finally beginning to appear across the airline's narrowbody fleet of Boeing and Airbus planes. United flyers are sure to notice these enhancements from the moment they step on board: Each new or updated plane sports remodeled seats, seatback entertainment screens for everyone, Bluetooth connectivity and more, all adding up to a better experience on every journey.
As another phenomenal year of travel comes to an end, it's time, as always, for Global Traveler to celebrate and award those who do it best as we announce the 2023 winners of the GT Tested Reader Survey awards. But that's not the only cause for celebration here: We've hit another major milestone, as this marks our 20th year honoring the best of the best inn world of travel!