New Year's Eve is right around the corner, and that means it's time to finalize your plans, especially your cocktail menu. Besides the traditional popping of Champagne, treat your guests to delicious cocktails to enjoy while ringing in the New Year.
H-Drink
The H-Drink, attributed to Sami Katrib, director of food and beverage, Mercy Me DC, can be found at Mercy Me DC, located in Yours Truly DC.
6–7 ounces of high-quality Champagne
1 brandied cherry
1 ounce honey/hibiscus syrup
1 ounce citrus vodka
2 dashes of orange bitters
Dried hibiscus flower for garnish
Combine one part honey and one part water with three hibiscus tea bags. Take a Champagne flute and twirl it over sugar to create a sugar rim, then combine the brandied cherry and hibiscus mix in the glass, followed by vodka. Top it off with two dashes of orange bitters and as much Champagne as you wish.
La Frenchie
Available at Bar Rufus, located inside Rand Tower Hotel in Minneapolis, Minnesota, La Frenchie was created by Megan Luedtke, beverage director, DDP Restaurant Group.
40 ml Midwest Vodka
25 ml fermented raspberry liqueur
30 ml pineapple juice
10 ml lime
Combine ingredients into a shaker, shake well and double strain into a chilled cocktail glass, complete with a raspberry on top.
Mojito in Tuxedo
Courtesy of SelvaRey Rum, Mojito in Tuxedo offers a refreshing option for a New Year's Eve toast.
6 mint leaves
1½ ounces SelvaRey White Rum
7½ ounces lime juice
1 ounce simple syrup
2 dashes angostura bitters
Champagne
Mix all ingredients, shake well and strain into a Champagne flute. Top off with Champagne, then add a mint sprig on top.
Espresso Martini
Created by Liz Ramirez, bar manager, The Crossroads Hotel, Kansas City, the Espresso Martini at The Crossroads Hotel, Kansas City, is bound to give you and your guests that extra jolt in order to make it to midnight.
1 ounce Tito's Vodka
1 ounce Mr. Black Coffee Liqueur
½ ounce of Averna
½ ounce Giffard Vanille de Madagascar
½ ounce Demerara Syrup
2 dashes Fee Brothers Aztec Chocolate Bitters
2 dashes angostura bitters
Combine all ingredients in a shaker with ice then shake well. Strain into another shaker without ice and shake again. Pour directly into a glass of your choice.
Manhattan Tequileño
The Manhattan Tequileño was created by El Tequileño Tequila and can be found at Casa Salles in Tequila, Mexico. This drink puts a Mexican twist on the classic Manhattan.
2½ ounces of El Tequileño Resposadoo Gran Reserva
1 ounce sweet vermouth
2 dashes angostura bitters
Add all ingredients to a mixing glass with cubed ice and stir until cold. Strain liquid into a cocktail glass and garnish with a maraschino cherry.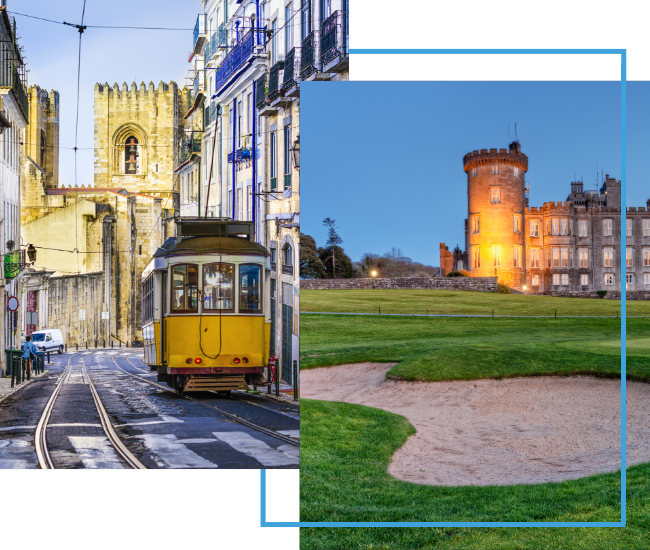 FX Excursions
FX Excursions offers the chance for once-in-a-lifetime experiences in destinations around the world.
Explore Excursions
It's time to start dreaming of your next trip. Here's some destination inspiration for you. Take a visual journey through these U.S. Christmas markets with us.
Sponsored Content
The Global Business Travel Association (GBTA) believes business travel is a fundamental force for good and brings the industry together to connect, innovate and set new standards. With members from across the globe, GBTA engages the many voices of business travel to build a collective future, providing a platform for buyers and suppliers to come together, connect with peers, grow their network and shape the future of the industry.
As another phenomenal year of travel comes to an end, it's time, as always, for Global Traveler to celebrate and award those who do it best as we announce the 2023 winners of the GT Tested Reader Survey awards. But that's not the only cause for celebration here: We've hit another major milestone, as this marks our 20th year honoring the best of the best inn world of travel!