THE LARGEST CITY IN CANADA, Toronto is a lively, cosmopolitan center of business, finance, arts and culture. Located only 14 miles from its center — home to landmarks like the CN Tower, Casa Loma and The Royal Ontario Museum — is Toronto Pearson International, Canada's largest and busiest airport.
More than 75 airlines operate 1,100 departures daily from Pearson to more than 180 destinations across all six inhabited continents. The North American hub saw more than 44 million passengers in 2016 alone and expects to handle around 85 million annually by the mid 2020s.
A main hub for Air Canada, Pearson operates via two public terminals, both designed to handle domestic, transborder and international flights, so terminal operations are grouped for airlines and alliances rather than domestic and international routes.
The airport's Terminal 1, home to Air Canada and all other Star Alliance members, is among the largest buildings in the world by floor space. Terminal 3 is used by all SkyTeam and oneworld airlines.
In addition to terminals 1 and 3, the Infield Terminal, originally opened in 2002 but currently is inactive. In 2015 it was upgraded and reopened to accommodate Syrian refugees and also frequently serves as a film location for major motion pictures and TV shows.
Pearson is not only a leading airport worldwide at this time but is poised and prepared for future growth as well — something many airports cannot say. Though the Infield Terminal is seldom used, plans are in place to reactivate it to accommodate seasonal or overflow demand or to provide additional capacity during future terminal construction. Last February the Greater Toronto Airports Authority proposed a brand-new transit hub be located across from Terminal 3. Currently the Union Pearson Express offers the only airport rail link between the airport and Union Station in Downtown Toronto.
The new transit hub will offer passengers several new options from the airport to reach different destinations in Toronto as well as the Greater Toronto area and Southern Ontario. The proposal includes convenient connections via the UP Express, GO's Regional Express Rail and Line 5 Eglinton LRT. The project will also eventually remove the current LINK Train operating between terminals in favor of bridges. Global architecture and design firm HOK was chosen to design the transit center, and the first phase of the new facility could be in place as early as the mid-2020s.
While the planning process is ongoing for the transit center, several new customer-friendly airport additions are up and running. In December Air Canada unveiled a new Signature Suite lounge in Terminal 1 for business-class passengers on long-haul international flights, offering a complimentary, full-service bistro restaurant with a menu devised by Vancouver-based chef David Hawksworth. In February ParkCloud made its first foray into Canada with its launch at Pearson, offering travelers a convenient online parking reservation option. Passengers parking in the airport's self-park covered garages at both terminals 1 and 3 can now reserve spaces before they travel, with 24-hour access and electric vehicle charging.
Speaking of customer satisfaction: In recent years airport management opened 95 new retail, food and beverage locations to improve the overall airport experience for travelers, even partnering with prominent chefs including Toronto's Susur Lee and Zane Caplansky. One of the most popular new venues opened recently is Smoke's Poutinerie food truck in Terminal 3. That's right, a food truck in an airport.
In January travel retail company Paradies Lagardere partnered with TripAdvisor to launch a new travel essentials store in Terminal 1. Shoppers can browse the latest travel products as well as TripAdvisor's latest reviews for nearby hotels, attractions and more.
As for nearby hotels, Embassy Suites by Hilton opened a new property within one mile of the airport in February following the completion of $14.5 million in renovation work. Guest amenities include WiFi, 24-hour fitness and business centers, a parking garage and complimentary airport shuttle.
By continuing to offer exciting and innovative retail, food and beverage options; new routes; modern facilities; and convenient transit options, Pearson will only further improve its already reputable position as a world-leading airport.
"The success of Toronto Pearson as one of the world's most significant international airports is a testament to the success of Canada and the Toronto region," said Howard Eng, president and CEO, GTAA.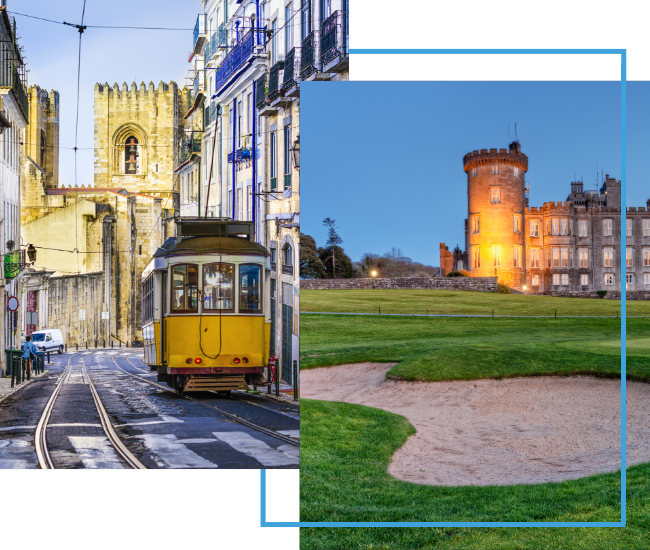 FX Excursions
FX Excursions offers the chance for once-in-a-lifetime experiences in destinations around the world.
Explore Excursions
There may not be snow in Los Angeles this season, but Waldorf Astoria Beverly Hills is certainly full of the holiday spirit, with Christmas, Hanukkah and New Year's events happening in the hotel's gorgeous event spaces.
Sponsored Content
IHG Hotels & Resorts is thrilled to announce the launch of a new mobile product feature for members: IHG Wi-Fi Auto Connect. This feature is now available exclusively in the IHG One Rewards mobile app for both iOS and Android users and will automatically connect IHG One Rewards members to WiFi upon arrival at more than 5,000 IHG hotels worldwide — no separate passwords or log-ins needed. This is in addition to the exciting benefits of being an IHG Business Edge member. IHG Business Edge provides small- and medium-sized businesses access to a user-friendly portal that displays comprehensive spending and savings data while providing the convenience of direct booking with a guaranteed discount.
Looking for fun things to stuff into the toe of a few holiday stockings? Here are some great choices: