Absorb yourself in the fantastic art display at Singapore's Changi Airport.
Changi Airport's focus on stylish designs and high-tech functions has always been apparent, but now, with its incredible art installations throughout the airport, it's extraordinary.
Here's a look at some of the airport's awe-inspiring artwork.
"Petalclouds," located in Changi Airport's new Terminal 4, is inspired by orchid petals motif, the foundation for all the designs in the new terminal. These enormous kinetic sculptures span 200 meters across the Central Galleria, combining art and technology through six identical "petal clouds." Stroll through, observing the captivating interplay of the piece, including animated lights and reflections, depicting the clouds slowly moving through the horizon — all with classical music specially composed by BAFTA award-winning composer, Ólafur Arnalds playing in the background.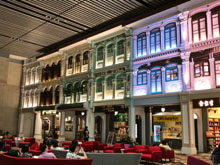 "Heritage Zone" offers a glimpse into the evolution of shophouse architecture from 1880–1950, nested in the Katong and Chinatown areas of Singapore. Enjoy a special performance on the Peranakan Façade LED screen, a six-minute Peranakan Love Story set in 1930s Singapore. Take in the history, romance and informative display for a bit of art and culture between flights.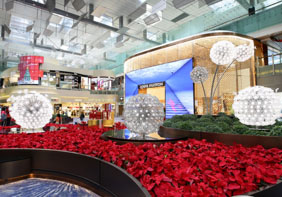 Enjoy the garden area of Crystal Garden, offering incredible garden beds tiered by plant and design, including a dozen spheres of artisan dandelion glass sculptures in varying sizes. With glass sculptures glowing and resembling floating pools of water swaying in a breeze, this piece exudes peace and calm.
Admire the Bohemian glass features, hand blown, boasting unique designs and finishes. The impeccable attention to detail of the floating dandelion seeds, flying across the Crystal Garden, represent passengers on their individual journeys.
"Coming Home," located at T3 immigration arrival, welcomes passengers to their destination. The sculpture greets travelers with birds returning home, cast in steel, bronze and gold by renowned Chinese artist, Han Meilin.
"A Million Times," is both a kinetic sculpture and a functioning clock — one of the biggest pieces of kinetic artwork in the world. Watch as the hands move in an unpredictable mechanical motion to a series of perfectly synchronized designs and patterns. The piece is a visual representation of time created by Stockholm-based artist, collective Humans Since 1982.
Delight in the artistic world displayed throughout the airport on your next journey through Changi Airport.
If you enjoyed the Changi Experience, vote for Changi Airport as Best Overall Airport in the World in the 2018 GT Tested Reader Survey here.
FX Excursions
FX Excursions offers the chance for once-in-a-lifetime experiences in destinations around the world.
Windstar Cruises partnered with the National Health Association to create a new vegan menu available on all six of the line's yachts. The plant-based dishes are prepared without added salt, oil or sugar, and are also gluten-free.
Sponsored Content
Now through May 8, sign up for a free six-month trial of the Global Traveler app and be automatically entered for a chance to win a $500 gift card of your choice for Amazon, Apple or American Express.
Viceroy Hotels & Resorts recently announced a partnership with Out & Equal Workplace Advocates, the premier nonprofit organization working exclusively on LGBTQIA+ workplace equality. O&E will provide Viceroy with LGBTQIA+ executive leadership development; comprehensive Diversity, Equality & Inclusion training and consultation; and opportunities for professional networking, creating and sustaining an inclusive and welcoming work environment.