Planning a trip through Hartsfield-Jackson Atlanta International Airport this fall? You might notice some changes taking place around the world's busiest and most efficient airport.
ATLNext, the airport's $6 billion capital improvement program, will modernize Hartsfield-Jackson over the next 20 years. Simply put, we launched a total renovation to improve your entire travel and guest experience at ATL. It's our goal to meet — and exceed — evolving passenger needs, and ATLNext is the solution.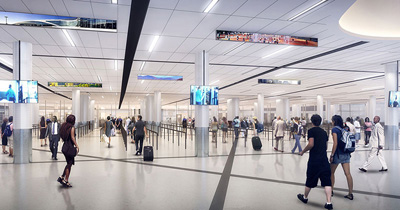 The upgrades are comprised of six general project areas that will result in a complete facelift of ATL as you know it. You can look forward to expanded concourses, additional parking options, an updated airfield and more. In addition, a 4-star hotel, a mixed-use development with office space and a travel plaza are all on the docket in coming years.
Construction is underway on the centerpiece of the Domestic Terminal modernization: Two gigantic canopies spanning the North and South entrances will connect to both parking decks. Once completed in late 2018, the canopies will protect guests from the elements while providing a dramatic entrance to the airport. Totaling the length of nearly three football fields, they will transform the look and feel of the terminal, and even illuminate at night.
Find out how ATLNext could impact your travel plans and stay a step ahead with ongoing renovation updates at next.atl.com.
FX Excursions
FX Excursions offers the chance for once-in-a-lifetime experiences in destinations around the world.
Sponsored Content
FXExpress Traveler of the Year Contest 2023
NoMo SoHo recently announced the return of Rose Garden as well as the introduction of two new event spaces, The Penthouse and Nina's.