Planning a trip through Hartsfield-Jackson Atlanta International Airport this fall? You might notice some changes taking place around the world's busiest and most efficient airport.
ATLNext, the airport's $6 billion capital improvement program, will modernize Hartsfield-Jackson over the next 20 years. Simply put, we launched a total renovation to improve your entire travel and guest experience at ATL. It's our goal to meet — and exceed — evolving passenger needs, and ATLNext is the solution.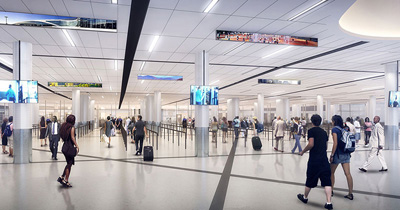 The upgrades are comprised of six general project areas that will result in a complete facelift of ATL as you know it. You can look forward to expanded concourses, additional parking options, an updated airfield and more. In addition, a 4-star hotel, a mixed-use development with office space and a travel plaza are all on the docket in coming years.
Construction is underway on the centerpiece of the Domestic Terminal modernization: Two gigantic canopies spanning the North and South entrances will connect to both parking decks. Once completed in late 2018, the canopies will protect guests from the elements while providing a dramatic entrance to the airport. Totaling the length of nearly three football fields, they will transform the look and feel of the terminal, and even illuminate at night.
Find out how ATLNext could impact your travel plans and stay a step ahead with ongoing renovation updates at next.atl.com.
FX Excursions
FX Excursions offers the chance for once-in-a-lifetime experiences in destinations around the world.
Banyan Tree Group recently announced its first-ever expansion into Japan with five new properties across four concepts. The hospitality group's partnership with Wealth Management Group saw Dhawa Yura and Garrya Nijo Castle launch in June, with two more properties slated to open now through 2026. Another partnership with Terraform Capital sees plans to build Cassia, a property in the ski resort of Niseko.
Sponsored Content
Considering an autumnal adventure or Thanksgiving trip this year? Well, with walkable cities, cozy pubs and lots of seasonal festivals, the island of Ireland is calling. And if you need more reasons to Press the Green Button and go, take a look and see what awaits you on the Emerald Isle …
For many business and leisure visitors to Tokyo, squeezing in a few hours of shopping during the city's wet and humid early summer months can be somewhat unpleasant.