Sometimes a vacation turns into a STAYcation. As in "I'm stayin' here!"
Whether you're retiring to a change of pace, a digital nomad seeking a beachy new place to pitch your cyber-tent, or you're just running from the law for a crime you didn't commit, Portugal may be home to the New You you've been looking for.
Before — and especially during — Covid, adventure-seekers from America, England, Ireland, Norway, Italy and a host of other countries decided to ditch their long-time homes and relocate to this idyllic, sunny wonderland at the western edge of Europe. And though real estate prices have gone up, the cost of living is still low, which means … it's not too late for you to get a new permanent address.
Temperate, culturally diverse and a cheap flight to virtually everywhere else in Europe, Portugal is one of the easiest countries in which to gain citizenship and a whole new life, just like the guest on this week's episode of A Fork on the Road, Lisbon's ex-pat Liz.
You can watch episode 99, Top 10 Reasons to Move to Portugal, here.
In 99, Liz walks us through the top 10 reasons to move to Portugal. After 50 years in America and 30 years of research, Liz finally left Los Angeles to set up her new home in a bustling resort town in the south of Portugal. She explains the paperwork, the various cities that are popular with ex-pats, shopping, making new friends, dating and how the food is "Different. Not different bad, but different."
Hosts Mark and Yeni go deep inside the Masonic Castle at Sintra and dash around the vibrant colonial city of Lisbon on a wild vespa ride during their time staying at the boutique Alma Lusa hotel in the center of the city.
Yeni has a "soup-phiany" at Fatto eating Chef Claudio Coelho's mushroom truffle and chickpea soup but can't decide if it's better than her mushroom soup at Tuscany's Osteria Di Passignano.
Liz dishes on the drinking habits of British ex-pats (excessive) and the Portugal palate (bland-ish) while Mark and Yeni revel in their neighborhood food tour that included pastel de nata from Timeout Market Lisboa, a food hall with more meat than Gold's Gym on a Friday night.
Links, insights and Liz's inspiring story of courage make this an episode you want to watch over and over … as you fly over the ocean en route to your new home.
@MarkDeCarlo – X
@MarkDeCarloTV – Instagram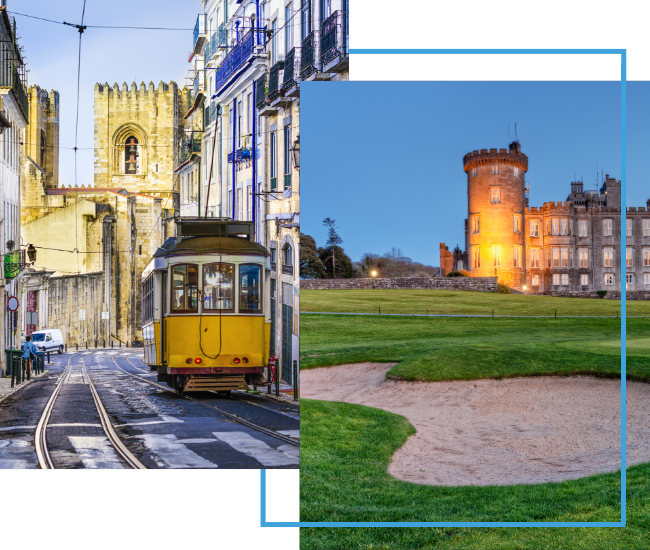 FX Excursions
FX Excursions offers the chance for once-in-a-lifetime experiences in destinations around the world.
Explore Excursions
More than 22 million visitors pour into Bangkok each year, adding to the roughly 11 million residents of the Thai capital famous for its bustling streets. Packed with food carts, markets and cultural spectacles, life in Bangkok is unusually defined by its vibrant street scene, both day and night. That means you don't necessarily need a solid plan when heading out on any given evening.
Sponsored Content
The Global Business Travel Association (GBTA) believes business travel is a fundamental force for good and brings the industry together to connect, innovate and set new standards. With members from across the globe, GBTA engages the many voices of business travel to build a collective future, providing a platform for buyers and suppliers to come together, connect with peers, grow their network and shape the future of the industry.
As another phenomenal year of travel comes to an end, it's time, as always, for Global Traveler to celebrate and award those who do it best as we announce the 2023 winners of the GT Tested Reader Survey awards. But that's not the only cause for celebration here: We've hit another major milestone, as this marks our 20th year honoring the best of the best inn world of travel!