When The Gleneagles Hotel debuted in 1924, the newspapers dubbed the palatial getaway in the Scottish countryside "a Riviera in the Highlands" for its dedication to luxury and leisure pursuits. Built by the former Caledonian Railway Co. as a destination for fashionable Edinburghers and Londoners, what began as a golf resort has since expanded to offer all manner of outdoor activities — shooting, riding and falconry — as well as indoor pleasures at the award-winning Spa by ESPA and Scotland's only 2-Michelin-starred restaurant, Andrew Fairlie.
Since my hand-eye coordination is passable at best, I opted for the indoor pursuits during my two-night stay with my husband at Gleneagles in early March. In addition to an already expansive fitness club with two indoor swimming pools, outdoor Jacuzzi, sauna and steam room, the hotel opened The Spa by ESPA complex in 2008 with its own relaxation rooms, saunas, therapy showers and treatment rooms.
The spa recommends arriving at least an hour before your scheduled treatment to take advantage of the various relaxation areas, which I gladly did after finishing the hotel's famous breakfast buffet in a soporific state. The spa staff greeted me with a robe and slippers and toured me through the facilities, which feature limestone heated flooring, bubbling fountains and natural light from glass roofs.
After changing into a swimsuit, I passed through the women's relaxation area to the unisex "vitality pool," complete with massaging fountains and heated tile loungers. Though the lobby bustled with people, I had the bath area almost entirely to myself as I made the circuit from hot sauna to rain shower to steam room. Just outside the steam room — whose ceiling was lit by moving pinpricks of light as if it were a changing night sky — a constantly replenishing mound of crushed ice offered welcome refreshment.
Prior to entering the courtyard waiting area for my treatment, I opted for the unusual aromatherapy shower, which pipes in the scent of chamomile along with jets of water and LED lighting. Feeling thoroughly relaxed already, I donned my robe and slippers and entered the sunny courtyard, where half a dozen other spa-goers dozed on reclining lounge beds or flipped through magazines.
I lay back and shut my eyes but didn't need to wait for long — a few moments later, a spa attendant called my name and led me to my private treatment room, dimly lit and decorated in natural hues with hints of burgundy. I had selected ESPA's signature treatment, simply called "The Source," which consists of a two-hour combination of foot ritual, body exfoliation, full body massage and scalp massage.
The therapist led me to an armchair in the corner, where she instructed me to have a seat and lowered my feet, one at a time, into a copper bowl of warm water. Using smooth stones, she gently stimulated the reflex points in my feet before exfoliating and wrapping them in warm towels. Next she led me to the massage table, where she proceeded to exfoliate my body with a warm poultice of herbs wrapped in muslin.
Though I'm not usually one to fall asleep during massages, I dozed off almost as soon as the full-body massage began, lulled to sleep by the several hours of relaxation I had already enjoyed. As I transitioned in and out of awareness during the hour-long massage, I felt my muscles melting into an even deeper state of repose. To finish the treatment, the therapist massaged an herbal masque onto my scalp, instructing me to leave it in place for at least half an hour for maximum moisturizing effect.
Following my treatment, I retired to the women's relaxation lounge to savor my time at the spa just a little longer. A darkened room featuring reclining beds, fuzzy blankets, warm herbal tea and individual servings of dried fruit and nuts, it offered an ideal space to revive myself prior to rejoining the world outside the spa.
In addition to European therapies, ESPA offers a range of Ayurvedic and Oriental-inspired experiences. Along with treatments such as reiki, reflexology and four-handed massage with volcanic stones, spa-goers can use the full schedule of health programs available through the ESPA Life program. The on-site alternative health specialists provide consultations as well as a range of treatments such as acupuncture, craniosacral therapy and colon hydrotherapy.
To top it all off, Gleneagles guests have access to a roster of fitness classes that take place throughout the hotel grounds, from yoga and Pilates to outdoor body conditioning. In my case, the most I exerted myself was in walking back to the buffet for a second helping of breakfast — but The Spa by ESPA proved to be the perfect complement to this regimen as well.
THE SPA BY ESPA THE GLENEAGLES HOTEL
Auchterarder
Perthshire
Scotland PH3 1NF
tel 44 1764 662231
gleneagles.com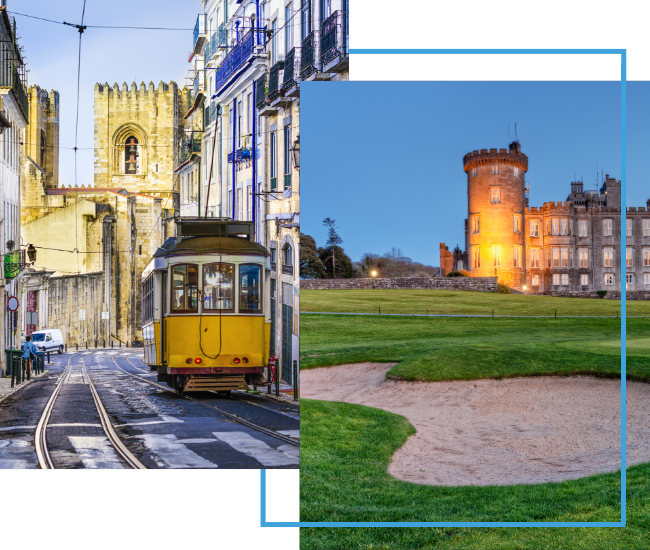 FX Excursions
FX Excursions offers the chance for once-in-a-lifetime experiences in destinations around the world.
Explore Excursions
Pleasant weather, autumn foliage and vibrant flowers are among the many delights awaiting nature lovers at botanical gardens and arboretums across the United States. However, some of these green spaces take on additional color this month and through Halloween when enterprising gardeners, landscape architects, management and other creative minds cast a spell with themed environments running the gamut from spooky to utterly bewitching.
Sponsored Content
Are you looking to enhance your business trip with a little leisure? Look no further than Portugal, a country renowned for its captivating blend of history, culture and natural beauty. And with TAP Air Portugal, you can effortlessly transform your business trip into an unforgettable bleisure adventure. Discover why Portugal and TAP Air Portugal are the perfect combination for an enriching and rejuvenating experience.
For travelers who love all things autumn, Crystal Springs Resort, New York City's closest destination resort, features special offers and experiences to meet the demands of everyone's fall bucket list. Located only 80 minutes outside New York City in Sussex County, New Jersey, Crystal Springs Resort offers a quick getaway to enjoy fall foliage. Are any of these new offers or experiences on your bucket list?