For generations, locals have called Victoria Falls Mosi-oa-Tunya ("The Smoke That Thunders") — not a surprising name at all considering most of us will see the waterfall's massive mist and hear its all-encompassing rumble even before we catch sight of it. In season, its booming roar can be heard from miles away, its echo a kind of low vibration like the reverberating sound of a drum. Careening on the Zambia-Zimbabwe border, running from the rushing, mile-wide Zambezi River, Victoria Falls cascades from an astonishingly ample expanse, descending with such prodigious force (often clocked at 110 million gallons per minute), it propels a spray of rainbow-shimmering water high into the air, saturating the edge of the Falls — and all who stand near it. Most who gaze upon its beauty will stare hypnotized, often finding themselves soaked before they realize it.
One of Africa's top attractions, often visited in conjunction with a safari to Botswana, Zambia or South Africa, the spectacular Falls strut their natural showstopping beauty best from February to May, following the region's summer monsoons. Though hurried tourists can visit the Falls quickly just to get a glimpse of their majesty, the most intrepid wanderlusters take advantage of the region's reputation as an adventure capital. Guides conduct hikes along pathways leading to the Falls, but you can also enjoy the natural wonder from a canoe in the water, cruising on a larger luxury boat, floating atop a raft or while submerged at Devils' Pool. This 10-foot-deep swimming hole, at the top of the Falls, overlooks the abyss, separated only by a thin strip of rocks from the unbridled volumes of fast-flowing water. For a bird's-eye view of Victoria Falls, hover above them, ensconced in a helicopter — and you likely won't get drenched.
My favorite place to stay at the Falls is Royal Livingstone Victoria Falls Zambia Hotel by Anantara. Though new-built a few decades ago, it exudes the aura of bygone times, with a slight colonial-era quality manifesting in its architecture and stately vibe. Essentially located across a stretch of manicured gardens from the Falls, literally a 10-minute walk away, the exquisite, 5-star hotel ensures a visit to one of the world's wonders will be not only comfortable but also sophisticated and spiced with storybook flair. The only hotel on the Zambia side of Victoria Falls to offer walk-in/walk-out access, Royal Livingstone takes full advantage of its prime location. Rooms lie in small, bi-level buildings, all facing the Zambezi River. You may see beasts (perhaps zebras) munching on the lawn. Plan to clink glasses (we suggest gin and tonics) on the Sundeck, boasting riveting views along the water's edge. Book an unforgettable arrival by speedboat, arranged by the hotel. You'll crash over the river, hearing the sound of the Falls grow louder as you approach. Once you arrive at the property's dock, a group of hotel staff, normally led by riveting resident storyteller Edward Minyoi, will greet you with traditional Zambian songs and cocktails, likely concocted with the resort's house-made gin. Ask Edward (who normally dons colorful traditional attire and a smile as wide as Africa) to regale you with tales that illustrate the rich heritage of his region.
I visited the Falls with the inimitable Africa (and beyond) experts and outfitters at Abercrombie & Kent as part of an itinerary that took me on a transformative 10-day jaunt through Botswana and Zambia — a trip everybody needs to put on their list. Led by amazing expert guide Poniso Shamakuni, my trip included not just a visit to Victoria Falls but also a ramble through Botswana's UNESCO-listed Okavango Delta and water-rife, elephant-brimming Chobe National Park. A&K's Zambia-sited Sanctuary Sussi & Chuma lodge, an amazement of treehouse-like accommodations, fulfills every safari fantasy. (On my final day, I walked out my front door at dawn to find a group of elephants surrounding my threshold. They noisily dined on the ebony forest as if it were a breakfast buffet.) You'll also find Victoria Falls as part of A&K safari itineraries that focus on the delights of South Africa and its incomparable Kruger National Park, incorporating, as well, urbane Cape Town. You can't go wrong.
INFO TO GO
Victoria Falls Airport in Zimbabwe and Livingstone Airport in Zambia are the closest airports to the Falls themselves. From Kasane Airport in Botswana you can take an hour-long road trip to Victoria Falls, which requires a border crossing. A tour with Abercrombie & Kent includes private transfer from major airports in Africa, depending on the itinerary.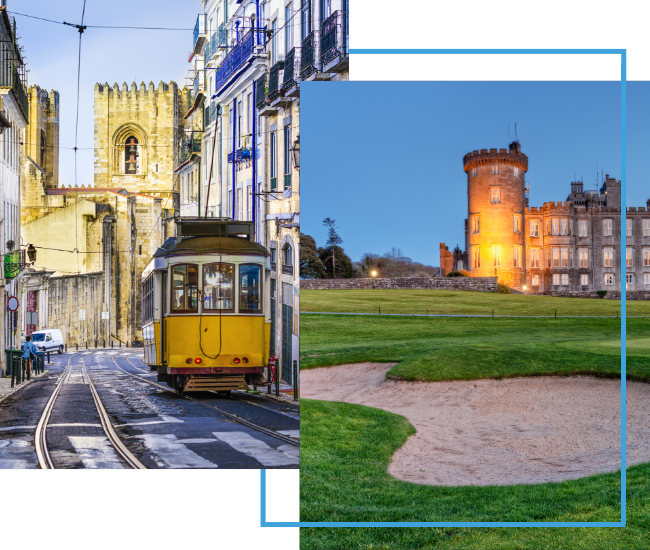 FX Excursions
FX Excursions offers the chance for once-in-a-lifetime experiences in destinations around the world.
Explore Excursions
There may not be snow in Los Angeles this season, but Waldorf Astoria Beverly Hills is certainly full of the holiday spirit, with Christmas, Hanukkah and New Year's events happening in the hotel's gorgeous event spaces.
Sponsored Content
Learning more about our readers' travel habits and preferences ensures Global Traveler delivers the content you desire. As the travel industry has adapted and changed over the last few years, it's more important than ever to connect. To best meet your short- and long-term travel content needs, please help us!
Looking for fun things to stuff into the toe of a few holiday stockings? Here are some great choices: