The intimate, luxury ship was created to explore the irresistible islands of French Polynesia. Scattered like emeralds across the turquoise waters of the South Pacific, the islands and atolls of French Polynesia are unmatched in their allure. Here await sun-kissed beaches, lush rain forests and barrier reefs teeming with Technicolor sea life, as well as intriguing cultures immortalized by novelist James Michener, songwriters Rodgers and Hammerstein and artist Paul Gauguin. The m/s Paul Gauguin takes its name from the French painter who spent the last years of his life in Tahiti. The intimate 332-guest vessel was specifically designed to cruise the South Pacific and sails these storied isles year-round, navigating shallow waters as nimbly as a yacht. The ship's informal ambience reflects the relaxed nature of the region. A much-loved troupe known as Les Gauguines — Tahitians who serve as staff, entertainers and storytellers — add a uniquely South Pacific touch to life on board. Best of all, The Gauguin offers an all-inclusive experience, with airfare from Los Angeles, gratuities, 24-hour room service, bottled water, soft drinks, and select wines and spirits all included in the cruise fare.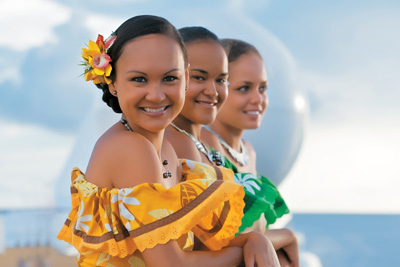 All suites and staterooms feature ocean views, and nearly 70 percent have private balconies. Guests who book category B suites or higher receive in-suite bar service, an iPod music system and the service of a butler who can unpack your bags, make appointments for you at the spa or arrange a private car or lunch reservation in port. A crew-to-guest ratio of 1 to 1.5 ensures the highest level of personal attention. The maitre d' will remember your favorite table, and your stateroom stewardess will fill your fruit basket with the ripe fruits you prefer.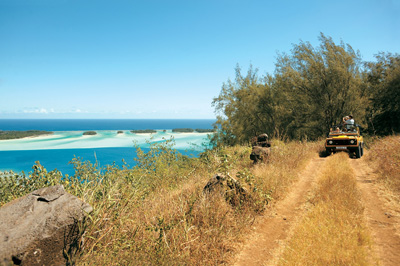 The exclusive treatment continues ashore. Guests enjoy a day on the cruise line's private isle, Motu Mahana, complete with snorkeling, full-bar service and a barbecue with Polynesian entertainment. The ship also features a retractable watersports marina from which you can kayak or paddleboard. Or set out in the Zodiac for an optional diving excursion; The Gauguin is the only luxury ship in French Polynesia to offer PADI certification onboard. Paris Chef Jean-Pierre Vigato, chef propriétaire of the world-renowned, Michelin-rated restaurant Apicius will continue to create signature dishes and menus to be featured onboard ship. The three dining venues range from elegant traditional to casual al fresco, and all offer open seating. Nightly entertainment in Le Grand Salon draws upon the traditions of the South Pacific. Listen to the a cappella harmonies of himene — formal Tahitian choral songs — or watch a riveting performance of the otea, a complex line dance accompanied by drums. Singers croon as couples take a spin on the dance floor in La Palette, the observation lounge at the top of the ship, while a casino and piano bar round out the options for evening diversions. Itineraries include seven-night Tahiti & the Society Islands;10-night Society Islands & Tuamotus; 11-night Cook Islands & Society Islands; 14-night Marquesas, Tuamotus & Society Islands; 12- and 13-night Society Islands, Cook Islands, Tonga and Fiji; and a 16- and 17-night Fiji-Bali.
FX Excursions
FX Excursions offers the chance for once-in-a-lifetime experiences in destinations around the world.
Crystal Bridges Museum of American Art, located in Bentonville, Arkansas, presents Diego Rivera's America, the first major exhibition focused solely on the Mexican artist in more than 20 years, on view until July 31. Crystal Bridges is the second and final stop for the exhibition, the only remaining opportunity for visitors to experience Rivera's expansive vision of America.
Sponsored Content
Nashville's once-modest skyline continues to evolve as its luxury market grows. Lavish hotel properties are added to the landscape while acclaimed chefs stake claim in the robust culinary scene and premier cultural offerings round out the city's repertoire.
In San Antonio, Texas, old buildings are seldom destroyed. When they fall into disrepair, they are instead repurposed and restored to maintain the city's history and traditions for future generations to appreciate. Whether it's a former brewery or bank transforming into a chic hotel or a candy factory evolving into stylish lofts, this Texas city embraces both history and sustainability.