MY OBSESSION WITH AURORA BOREALIS (northern lights) started in my grandma's attic. I was there to help her clean out "old junk," but instead I sat with a pile of old National Geographic magazines — riveted by spectacular photos of northern lights that seemed to shimmer and dance right there on the page.
No one had a bucket list back then, but as soon as such a thing existed, the northern lights were at the top of mine.
Although northern lights are visible in many places — Iceland, Greenland, Canada, Finland, Russia and, sometimes, even the northern United States — I decided on Norway's dark and remote Lofoten Islands, partly because they are washed by the Gulf Stream, making for milder mid-winter weather.
After landing in Oslo, I took a two-hour flight to Tromsø (above the Arctic Circle), where I would spend a few days before renting a car and taking a scenic, 17-hour car ferry journey to the town of Svolvær, Lofoten's unofficial capital. Flights from Tromsø to the islands take about an hour — or don't go at all, depending on weather.
I wanted to stop in Tromsø — the biggest city in the "Aurora Zone" — because it is known for reliable northern-light sightings, a buzzy nightlife and authentic Nordic restaurants. I ate salmon marinated in Aperol and reindeer beef at Emmas Drømmekjøkken, stopped for a drink at Ølhallen (67 Norwegian ales on tap) and ended up listening to a local rock band at Bastard Bar. Each time I stepped outdoors, I was greeted by a blast of icy air (it was minus 6 degrees Fahrenheit) and an incredible light show — undulating ribbons of green and purple light.
Accommodations in Tromsø range from the 4-star Radisson Blu Hotel to studio apartments listed on Airbnb. I chose something different: the Tromsø Ice Domes Hotel in a pristine valley about 60 miles northeast of the city. From the outside, the domes are shaped much like the snow igloos we made as children, but inside they display stunning ice sculptures of Arctic wildlife and indigenous reindeer herder (Sami) culture. I slept, mummy-like, in an expedition sleeping bag on a comfortable mattress covered by reindeer skins but on a bed carved entirely out of ice. In my thermals and pull-over-the-ears wool hat, I was completely warm … except for my nose. Some highlights: guided snowshoeing to look for northern lights, hot chocolate liberally laced with Baileys, a salmon and veggie dinner cooked over an open fire and driving my own pair of huskies on a dogsled tour.
When I boarded the car ferry (heading for the Lofoten Islands) at 1:30 a.m. the next day, the northern lights appeared jawdroppingly brilliant. The trip may have been scenic in summer, but now, in near-inky darkness, we only saw lights of small, coast-hugging villages along the way … and the white, green and purple northern lights shifting and swaying overhead like a silky curtain in the wind.
The scientific explanation — collisions between electrically charged particles carried from flare-ups on the sun into the Earth's upper atmosphere by solar winds — is a less poetic way to describe aurora borealis (northern lights) and aurora australis (southern lights). Viewings are best when solar flares are the strongest and the skies are clear. Sometimes the show lasts for 10 minutes, sometimes it lasts all night.
Tromsø, the Lofoten Islands and other Norwegian towns above the Arctic Circle experience a long and cold polar night, several weeks during which the sun does not rise at all. Tromsø's polar night usually lasts from the beginning of December until mid-January. In late January, a shimmer of pink and gold appears on the horizon as the sun rises briefly at midday and quickly sets, leaving the world bathed in a deep blue light that can last for several hours until night takes over again. Nature photographers come here especially to capture this magical but elusive Arctic light.
When the ferry finally docked in Svolvær, I had only a 10- minute drive to my hotel — Swinøya Rorbuer, a collection of original, restored fishing cabins (robu), each with a kitchen. But why cook? Børsen Spiseri, a fish-centric restaurant in a repurposed quayside warehouse, lay a mere few steps away.
About the dramatic and windswept Lofoten Islands: The spectacular 110-mile archipelago (five large islands — connected by bridges or tunnels — and numerous islets) boasts traditional fishing villages and a history dating from before the Vikings. Aurora borealis season usually lasts longer here, from September until mid-April. Most beaches (there are many) are away from city lights, making them perfect viewing spots. I booked a late-night, slow-tempo ride at stables in the small village of Hov. I rode on Arctic white beaches astride the small, muscular horses favored by Vikings back in the day. A pre-ride dinner of foraged and fresh- caught food was served in a restaurant housed in an old hay barn.
The colorful ribbons of light I attempted to capture on my cellphone are blurry reminders of a long-imagined, finally accomplished trip. I saw northern lights every day of my late January adventure. I'm told that is unusual, and that I'm lucky. I absolutely agree.
INFO TO GO
Most international airlines fly to Norway's Oslo Airport. A two-hour flight connects Oslo to Tromsø via SAS or Norwegian, and a one-hour flight on regional airline Widero takes you from Tromsø to the Lofoten Islands. Accommodations in Tromsø and the Lofoten Islands can easily be arranged online. Tromsø Ice Domes Hotel is open from December through March (depending on weather) and charges $1,500 per night for two people, all-inclusive. You can find weather alerts for most likely northern lights viewing at aurora-service.eu/ aurora-forecast.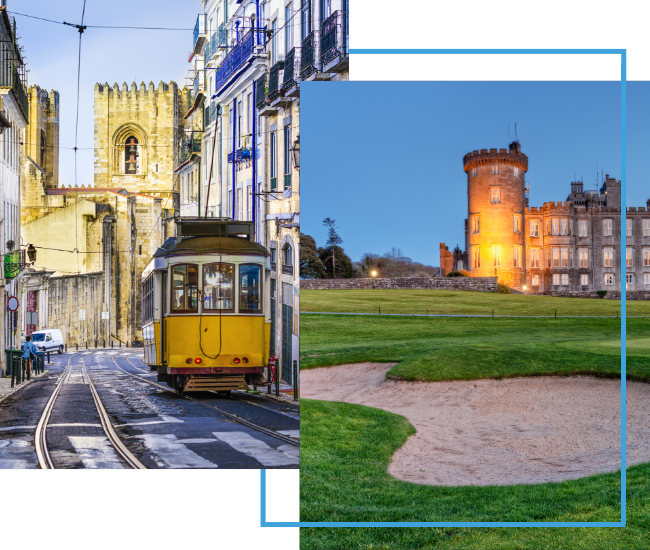 FX Excursions
FX Excursions offers the chance for once-in-a-lifetime experiences in destinations around the world.
Explore Excursions
Less than five years ago the world's first hybrid cruise ship, Hurtigruten Expeditions' MS Roald Amundsen, set sail for Antarctica in November 2019 with 450 passengers. The battery-hybrid-powered ship, named for the first man to cross the continent and reach the South Pole, was built specifically for voyages in polar waters. Its battery-hybrid power reduces the ship's consumption and CO2 emissions by 20 percent compared to equally sized ships.
Sponsored Content
The Islands of Tahiti are among the most beautiful and sought-after vacation destinations in the world. The endless images of overwater bungalows with Bora Bora's majestic peak towering over waters of every shade of blue have an intrinsic pull. But with 118 islands and atolls to explore, there is so much more to this spectacular region of the Pacific.
A few months ago, I flew Polaris business class on a United flight from Dulles (IAD) to Paris (CDG). It was only when I got to my hotel in Paris I realized that I didn't have my iPad or its bag or accessories. Since I had been working on it in the restaurant in the Polaris lounge and then went directly to the gate, I knew I either left it propped up on my table when I packed up or in my business-class seat. But what was the best method to alert the airline about my careless mishap and (hopefully) retrieve it? With spotty data and WiFi, searching for information on my phone was frustrating and slow. Here's what I learned from the anxiety-inducing experience (and unexpected ending) about what to do if you leave something behind on your flight: