What were your ancestors doing 4,500 years ago? It's statistically probable some of them were building the pyramids of Eg ypt. It's also statistically probable some were the pharaohs for whom the pyramids were being built.
Bear that in mind when you arrive in Cairo and, for the first time, approach these wonders of the ancient world. The frenetic streets overflow with exotic sights and sounds. When, suddenly, the pyramids appear ahead of you with instant familiarity, their scale in both age and size over- whelms you. It's amazing to realize they are part of your own family history, albeit going back more than 160 generations.
When we talk about the pyramids, we usually refer to the Pyramids of Giza, a spectacular complex built on a desert plateau close to the River Nile comprising three main pyramids — the Great Pyramid, the Pyramid of Khafre and the Pyramid of Men- kaure — together with smaller pyramids and the Great Sphinx.
There are many more pyramids than you might imagine …. at least 138 around Egypt, with 200 more in Sudan. Pyramids probably evolved from tumuli, primitive mounds for ceremony or burial common to many of the world's early civilizations.
In Ancient Egypt these simple mounds evolved into titanic stone structures made from limestone and granite blocks weighing as much as 2.5 tons each. The Great Pyramid alone consists of 2,300,000 of these blocks, each one laboriously transported to the site and hauled into place. Even now we don't entirely know how it was done.
Impressive as the pyramids are to us today, to our ancestors — both those who built them and those for whom they were built — they appeared quite different. Whereas now the gigantic stone blocks are exposed, originally they bore a smooth finish of shiny white limestone and a gold-plated cap on top.
The setting also dramatically differs from the one our ancestors knew. Cairo's urban sprawl now laps right to the edge of the pyramid complex. The first sight is magnificent, but a slight sense of disappointment soon sets in. Yes, the pyramids and the Sphinx live up to expectations, but other tourists keep getting in your photos, and hawkers selling souvenirs and camel rides create a nuisance.
Tune it all out. Everyone has an equal right to be here; we all have family connections to this place. With patience you can shrug off the crowds and hucksters and simply marvel at what was achieved here so long ago.
Modern Egypt has its own wonders that would astonish our ancestors. If you stay in one of the 5-star hotels with views of the pyramid complex, you will experience a level of luxury even the pharaohs could not reach. For all their wealth and power, they were interred within their great mausoleums without ever having known the joys of air-conditioning, minibars, hotel slippers or WiFi.
Since 1901 the Egyptian Museum in downtown Cairo has housed the main collection of Egyptian treasures and artifacts. It exudes an Indiana Jones type of charm, but both the building and the displays are now quite old-fashioned.
Two new museums will supplement the old one. The National Museum of Egyptian Civilization, located beside an artificial lake south of downtown, opened in 2021 and displays more than 50,000 artifacts, including 22 mummies. Egyptian history includes more than just the pharaohs, and the museum reflects that with collections focused on the Greeks and Romans, on Islam and on the emergence of modern Egypt.
One of the world's most highly anticipated new visitor attractions is the Grand Egyptian Museum, located a short distance from the pyramid complex. Although not yet officially open (the current estimate is late 2023), guided tours offer access to parts of the museum, giving a taste of stunning architecture and an unrivaled Ancient Egyptian collection, which will display the legendary treasures of Tutankhamun.
Lending a special mystique to the pyramids are the many secrets they harbor. As recently as March 2023, researchers announced the discovery of a new chamber in the Great Pyramid. They found the chamber using the latest scanning techniques but do not yet know its purpose. Every new discovery raises new questions, not just about the pyramids, but about our own history.
INFO TO GO
International flights arrive at Cairo International Airport, 9 miles northeast of downtown Cairo and 18 miles northeast of the pyramid complex at Giza. Most of the Giza hotels have airport limousine services for around $70 one way, while private transport companies based at the airport charge around $30 roundtrip.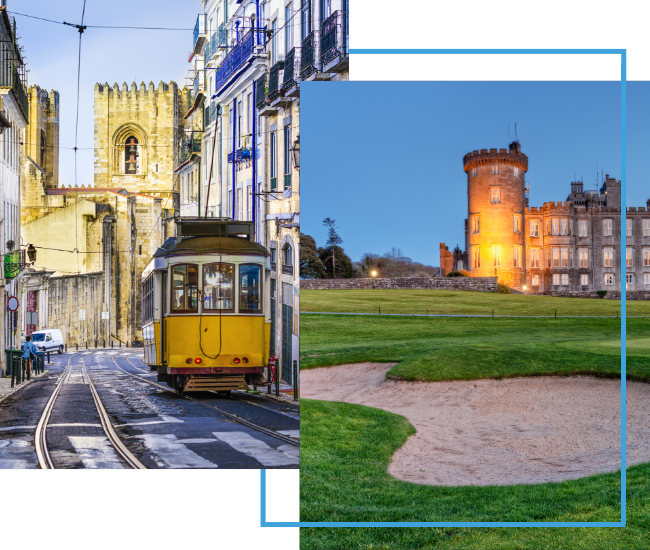 FX Excursions
FX Excursions offers the chance for once-in-a-lifetime experiences in destinations around the world.
Explore Excursions
One thing  surprising about the Prince Edward Island capital is its abundance of shops specializing in affordable, fashion-forward jewelry rendered in sterling silver, vermeil, 14K gold and semi-precious stones. Whether you prefer delicate pieces or bold wearable art, you can be assured the pieces for sale are inspired by the maritime island setting and, therefore, specific to the place where they are created. Here are a few shining, woman-owned examples:
Norway, a haven for visionary artists, architects and designers, showcases an exceptionally diverse array of cultural attractions. This year, the country commemorates exciting milestones and unveilings captivating enthusiasts of the arts, from iconic scenic routes to new museums to gallery openings. Up Norway features these new offerings in personalized itineraries catered to aesthetes.