Kenya Airways, a leading African airline and member of the Sky Team alliance, will commence a new, daily, non-stop service from New York (JFK) to Nairobi (NBO) Oct. 29. The airline flies to more than 52 destinations worldwide via its hub at Jomo Kenyatta International Airport Nairobi. Kenya Airways' routes include 43 destinations in Africa and carries more than 3 million passengers annually. Its fleet of 32 aircraft is one of the most modern and up-to-date in Africa, including its flagship Boeing 787 Dreamliners.
Kenya Airways will introduce the 787 Dreamliner on the New York route. Flying daily from New York to Nairobi, it offers 30 seats in Premier World (business class), boasting a 75-inch pitch, fully flat-bed seat with leather footrests, laptop stowage and armrests that also act as privacy dividers. For economy class, the Dreamliner offers 32-inch seat pitch seats, also a cut above the rest with articulating seat bottoms for better legroom, four-way adjustable headrests, in-flight handset seatback and large 10.6-inch touch-screen monitors. Each seat also has a USB port, with power sockets strategically installed throughout the cabin.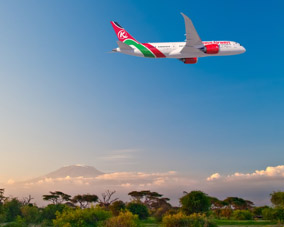 Witness the amazing interior aboard Kenya Airways Boeing 787, from vibrant and dynamic LED lighting to photo-sensitive, shutter-less windows to plushy roomy seating and spacious overhead bins allowing you to carry what matters most into the aircraft with you.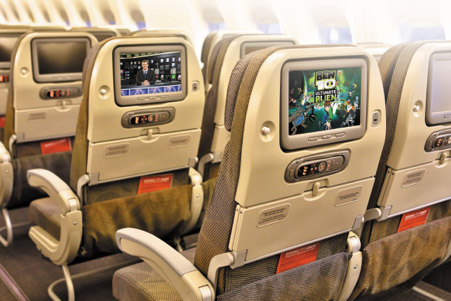 Kenya Airways Cabin Services
Your journey should be as memorable as your destination. This is both Kenya Airways belief and its service objective. The cabins offer a selection of on-board films on super high-quality personal screens, as well as newly introduced gaming and live television screening options on selected routes.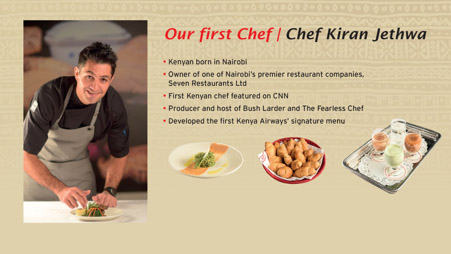 When you fly Premier World you will experience our new Chef on Board product, selected chefs across Africa showcasing their menus, starting with Celebrity, Chef Kirwan Jethwa. A new experience with an African touch. Locally sourced food and ethical packaging offer a personalised touch. Signature Kenya Airways drinks – Tamarind, Coconut Pineapple and Mint and Kenyan Iced Tea complete the new service.
Introducing Terminal 1A at Jomo Kenyatta International Airport (JKIA) in Nairobi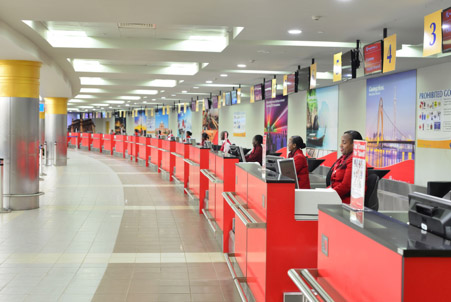 Board in comfort and take off in style in our exclusive terminal at JKIA. Offering over 10 boarding gates and a seating capacity of 1,700, there is more than enough room for everyone to stretch out and relax. With new dedicated state-of-art Pride and Simba lounges in the terminal, with increased interior space allowing for greater relaxation. The lounges feature a family area, secluded silent spaces for naps, a fully equipped business centre, a smoker friendly room and a VVIP lounge for those who want even more privacy.
FX Excursions
FX Excursions offers the chance for once-in-a-lifetime experiences in destinations around the world.
Crystal Bridges Museum of American Art, located in Bentonville, Arkansas, presents Diego Rivera's America, the first major exhibition focused solely on the Mexican artist in more than 20 years, on view until July 31. Crystal Bridges is the second and final stop for the exhibition, the only remaining opportunity for visitors to experience Rivera's expansive vision of America.
Sponsored Content
Nashville's once-modest skyline continues to evolve as its luxury market grows. Lavish hotel properties are added to the landscape while acclaimed chefs stake claim in the robust culinary scene and premier cultural offerings round out the city's repertoire.
In San Antonio, Texas, old buildings are seldom destroyed. When they fall into disrepair, they are instead repurposed and restored to maintain the city's history and traditions for future generations to appreciate. Whether it's a former brewery or bank transforming into a chic hotel or a candy factory evolving into stylish lofts, this Texas city embraces both history and sustainability.