Although much changed in the past year, Cancún still has the joie de vivre we need right now after months of cabin fever — even with safety measures in place. In fact, the first half of 2021 may be a good time to rediscover Mexico's home-grown Caribbean resort town in a slower, more relaxed mode that contrasts its rollicking "spring break" reputation of old. One place to take in Cancún at its best is JW Marriott Cancun Resort & Spa, a mile up from the convergence of night clubs, chain restaurants, souvenir emporiums and shopping malls along Avenida Kukulkan.
JW Marriott Cancun and the adjoining, 4-star Marriott Cancun Resort not only have weathered the storm of the pandemic/current world events, but also actual storms from the most recent hurricane season. Even as some of its landscaping required some shoring up at press time, JW is resplendent from its $40 million, 2019 renovation conceived by Mexico City-headquartered G+G Interiorismo. Even with 447, generously sized, ocean-facing rooms and an abundance of event space, the designers' approach to the color scheme and subtle use of Mayan and Yucatan folkloric motifs (hummingbirds, local quetzales birds, four-petal flowers, snail fossils) juxtapose clean-lined furnishings to create an ambiance that's airy and modern, yet never stark. Shapes inspired by undersea vegetation and water rendered in pops of blue, from pale cerulean to navy, are offset with warm gray and sand tones.
The 4,000-square-foot, 14th-floor Presidential Suite reflects the ultimate realization of the vision for the rest of the hotel. The stylish rethinking of the Cancún experience starts with a backdrop of floor-to-ceiling windows that allow sunlight to flood the entire space by day. Executives or guests taking the suite over for a special occasion can wake up to a perfect day or upcoming dinner party they can make their own with a conversation-starting sitting room, a perfectly stocked office space, full kitchen, bar area and dining room.
Club 91, also on the 14th floor, is awash in calming navy blue and olive-hued chairs and appealing coral reef ceiling décor. Updated menus and top-shelf spirits further enhance the executive lounge's ambiance, enabling guests on bleisure to plan one-on-one meetings or small gatherings against a backdrop where work and play seamlessly blend. Other rooms and suites follow suit aesthetically, with herringbone floors, blonde wood headboards, marble appointments, rainfall showers and a free-standing soaking tub. Every terrace overlooks tropical landscaping, breezy cabanas, Bali-inspired day beds and the outdoor areas of three of the hotel restaurants.
The property's Mayan-inspired spa offers a full range of body, face, hair and nail treatments in a spacious, two-story facility. Beyond the reception desk (and a wall of international spa awards of excellence), there is a sparkling indoor pool, well-appointed juice bar, fitness center and gift shop, readily accessible to all resort guests. The treatment rooms, saunas, steam room, Jacuzzis and locker rooms are located on the second floor are accessible with a massage or treatment appointment. Couple's treatments, men's services and bridal packages are available. Beyond the fully outfitted (and socially distanced) fitness room, spin, yoga and other fitness classes are available for an extra charge.
When circumstances allow, JW Marriott Cancun will open 20,236 square feet of meeting space among several rooms, which can be expanded or continued into its sibling across a short walkway. Services within JW Marriott Cancun include a wide array of AV equipment and high-speed WiFi, access to the in-house catering and planning team and other services for company-wide meetings at the full-service business center.
International dining also ties together the two resorts for business, leisure and bleisure journeys. On the JW side, restaurants include the poolside BeachWalk (serving fresh sandwiches, salads and "street" tacos stuffed with octopus or shrimp), hearty breakfasts at Sedona Grill, and Gustino Italian Grill's fine-dining dinner experience.
The most exciting development coming to the properties is HANA, Cancun's first-ever Polynesian white tablecloth restaurant, set to open in fall 2021 inside the Marriott Cancun Resort. Under the direction of Executive Chef Pedro Maldonado, every course is rendered with the Quintana Roo region's rich variety of produce, fish and seafood.
The overall mixology program, meanwhile, has gotten a major upgrade. Its centerpiece is the 150 Margaritas menu at JW Lobby Bar, broken down into Classic, Modern, Fusion and Exotic categories. All 150 cocktails are built on a foundation of top-shelf tequilas and mezcals, either neat or infused with black tea, beetroot and serrano chili. Imbibers coming to the lobby bar — or any other bar-restaurant on property — for a great drink made with quality ingredients and techniques will not be disappointed.
JW Marriott Cancun Resort & Spa
Blvd. Kukulcan Km 14.5
Lote 40-A, Zona Hotelera
77500 Cancún
Q.R., Mexico
tel 52 998 848 9600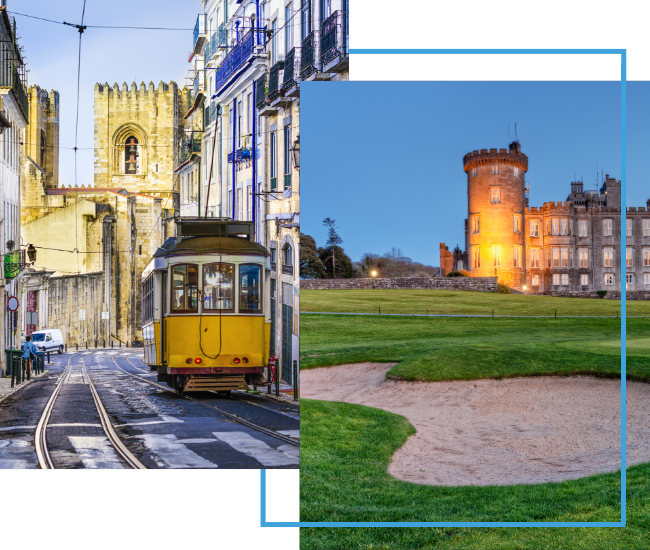 FX Excursions
FX Excursions offers the chance for once-in-a-lifetime experiences in destinations around the world.
Explore Excursions
There is something magical about sipping a glass of local wine while watching the sun slip into the Aegean Sea as the afterglow tinges traditional, white-washed Cycladic houses with glorious shades of rose, purple and gold. Ancient Greeks believed Helios, the Sun God, caused sunsets by driving his fiery chariot into the sea. Standing at water's edge in Mykonos, watching the sky slowly turn from purple to inky black, you almost believe it.
Sponsored Content
United Airlines is in the midst of a major initiative to modernize its fleet over the next several years. After first announcing the plan in 2021, planes fitted with United's signature interior are finally beginning to appear across the airline's narrowbody fleet of Boeing and Airbus planes. United flyers are sure to notice these enhancements from the moment they step on board: Each new or updated plane sports remodeled seats, seatback entertainment screens for everyone, Bluetooth connectivity and more, all adding up to a better experience on every journey.
The prospect of a post-visit treasure hunting session inside the shops of landmark museums such as the Louvre in Paris, the Uffizi Gallery in Florence and The British Museum in London can be irresistible. However, some of Europe's smaller and more unusual museums boast retail spaces with a surprising "wow" factor, often as well-curated as the galleries.