The relatively new Il Tinello East, opened in September 2022, descends from Il Tinello West, the old-school Italian restaurant operating across town on West 56th Street for 38 years. For folks working or living on the east side of Manhattan however, finding a new Il Tinello on East 46th Street was like a gift from heaven. Il Tinello East is the perfect "new" old-school Italian restaurant for a mid-week business lunch with a client or two, or a dinner with your best friend, sister/brother or parent. Perfect, that is, if everyone is in the mood for a quiet restaurant meal in Manhattan (a rarity these days) with friendly waiters in white gloves and exceptionally good traditional Italian cuisine on the menu.
For diners tired of the noise and crowds at Carmines, Carbone or in the smaller places on Mulberry Street in Little Italy, many now make Il Tinello East their go-to spot for Italian food. Il Tinello East not only resides on a relatively quiet block, but also guests in the restaurant do not have to scream over music to hear each other. The food is the attention getter here, and why not, Il Tinello translates as The Dining Room, and the staff in the kitchen and those working the floor are determined to maintain a calm, relaxing atmosphere.
A manager greets diners with a smile and a pressed suit, and a bow-tied server quickly provides a basket of warm bread and a couple of small dishes of caponata for the table.  The wine list is impressive, as is the handcrafted cocktail list, including one called Side of 46 Street, with Hennessy Cognac, Grand Marnier liqueur and lemon juice. Another great cocktail, the Smoked Mantinello, combines 1792 Ridgemont Reserve, small-batch bourbon, Averna liqueur and orange bitters.
The nine antipasti choices include octopus salad with potato, red onions, caper berries and lemon; and Capesante, seared jumbo sea scallops, brandy, saffron and herb sauce. Soup is the traditional ministrone or a Risi e Bisi (Venetian rice and pea soup). There are 10 pasta dishes, from cappellini to orecchiette to tagliolini; six pollo choices; and five meat dishes. These include Campagnola for two, which includes beef, chicken, sausages, peppers, potatoes, white wine, rosemary and garlic; and a Tagliata with black Angus steak, arugula, garlic and rosemary. There are plenty of shrimp, squid and mixed seafood dishes, too.
The restaurant is also known for its house salad favorites, caesar salad for two prepared tableside and served classic style, or the Siciliana salad with mesclun, tomatoes, onions, feta cheese and cucumbers.
All 11 desserts are made in house, including the Italian ricotta cheesecake, tartufo, panna cotta, chocolate cake and crème brûlée.
With servers in white gloves and suits, and appetizer and dessert carts quietly moving among the white tablecloths, diners at the new El Tinello will feel as if they have stepped back in time to an era when a polite, quiet atmosphere and excellent cuisine was a recipe for success. Servers will also go off-menu if a diner desires a special dish. At Il Tinello East the menu is the same for lunch and dinner, and the restaurant is open every day except Sunday.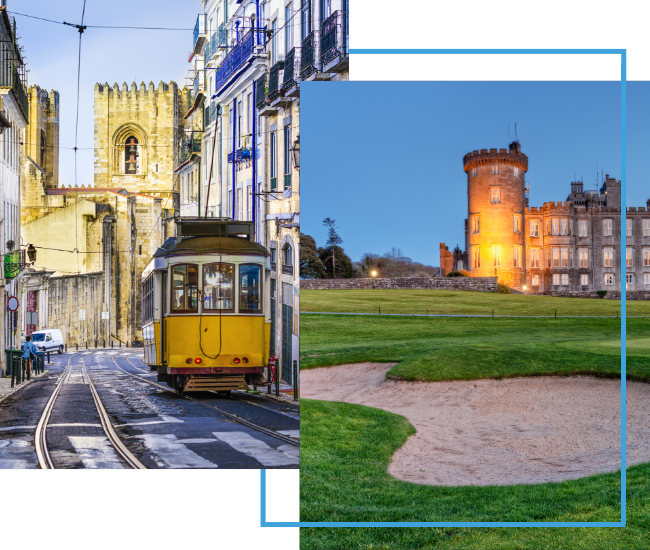 FX Excursions
FX Excursions offers the chance for once-in-a-lifetime experiences in destinations around the world.
Explore Excursions
More than 22 million visitors pour into Bangkok each year, adding to the roughly 11 million residents of the Thai capital famous for its bustling streets. Packed with food carts, markets and cultural spectacles, life in Bangkok is unusually defined by its vibrant street scene, both day and night. That means you don't necessarily need a solid plan when heading out on any given evening.
Sponsored Content
Whether it's the people, the craic (fun) or the coasts, travelers always find something to love about the island of Ireland. What fills your heart?
As another phenomenal year of travel comes to an end, it's time, as always, for Global Traveler to celebrate and award those who do it best as we announce the 2023 winners of the GT Tested Reader Survey awards. But that's not the only cause for celebration here: We've hit another major milestone, as this marks our 20th year honoring the best of the best inn world of travel!