In Tunis one can truly apply the term "living history." With Islamic, Roman and Phoenician roots, the vibrant and exotic capital of Tunisia bears the vestiges of trade and wealth, wars and conquests, placing more than 3,000 years of ancient civilization at your fingertips. The modern-day city is at once timeless and contemporary, a thriving business hub and a welcoming seaside oasis blessed with a balmy Mediterranean climate. Here you can also explore mosques, museums and artists' enclaves, as well as enjoy diverse culinary delights.
GETTING THERE & AROUND
Visitors arrive at Tunis Carthage International Airport, about 4 miles from city center. Many flights to Tunisia are operated by national carrier Tunis Air, offering regular flights from many European cities. Air France also flies to Tunis from Paris. The best way to transit to the city is by taxi, although a local public bus also runs into the city. Yellow metered taxis are available at the taxi rank outside the terminal. Avoid unregistered taxis, as they often overcharge. The journey to the city takes about 20 minutes. It's easy to get around Tunis by taxi as well as via an electric train service and tram network.
LODGING
Four Seasons Hotel Tunis
Escape to a modern Mediterranean oasis and enjoy sea-view accommodations, a relaxing spa, infinity pool and private beach. On-site restaurants serve exquisite international, Tunisian and Greek cuisine. Stay connected with state-of-the- art business services.
1057 La Marsa, Gammarth, Tunis, Tunisia
tel 216 31 260 001
fourseasons.com
Mövenpick Hotel du Lac Tunis
Discover pure indulgence at the luxe hotel situated near Tunis Lake. The hotel features well- appointed guestrooms, a deluxe spa and health club, and a sunny pool. Dine at several venues, including La Table du Chef … and don't miss the daily Chocolate Hour serving mouth-watering cocoa.
Rue du Lac Huron, Tunis, Tunisia
tel 216 36 421 000
movenpick.accor.com
Novotel Tunis Lac
Novotel Tunis Lac offers every amenity to provide guests with a sense of serenity and well-being, from its modern guestrooms and well-being area to its pool, terrace and refined restaurants. Five meeting rooms accommodate business meetings and special events.
Cité les Pins, Rue de la Feuille d'Érable, Tunis, Tunisia
tel 216 31 329 329
all.accor.com
DINING
Dar El Jeld Restaurant
Housed in a centuries-old mansion, the fine-dining restaurant features beautiful tiled walls, ornate railings and a collection of Ottoman carpets. Sample from a menu of traditional Tunisian cuisine cooked to the highest standards in this stunning architectural masterpiece.
Dar El Jeld Hotel & Spa, 5-10 Rue Dar El Jeld, Tunis, Tunisia
tel 216 71 560 916
dareljeld.com
La Salle à Manger
For a special dinner, choose La Salle à Manger, where bold flavors, artistic presentation and an unforgettable culinary experience await. Enjoy excellent service and a welcoming ambience.
3 Rue Imam Sahnoun, Tunis, Tunisia
tel 216 71 793 283
La Table du Chef
Enjoy a unique culinary interaction at La Table du Chef — not only the chef's table, but also the chef's kitchen and a dining experience where you can speak directly with the chef. Everything is cooked to order with your choice of sides and tasty beverages.
Mövenpick Hotel du Lac Tunis, Rue du Lac Huron, Tunis, Tunisia
tel 216 36 421 000
movenpick.accor.com
ATTRACTIONS
Ancient Carthage
Explore the remnants of the fabled wealthy seafaring city of the Phoenicians. Because the remains and ancient monuments are scattered across the neighborhood of Carthage, many visitors prefer to book a tour with a guide. You can get an overview of the ancient ruin from atop Byrsa Hill.
Medina of Tunis
Enter through the Bab el Bhar gate to explore the maze of ancient streets and alleyways of one of the most impressive medinas in North Africa, site of trading since the 13th century. You'll find souks selling everything imaginable, along with busy cafés, shops with artisans at work, monuments and mosques.
Tunis Nippon Garden
Savor a few moments of serenity as you stroll the 1.5-acre Nippon Garden in the heart of Tunis. The botanical and recreational park was created according to principles of Japanese garden design.
R59V+WG3, Tunis, Tunisia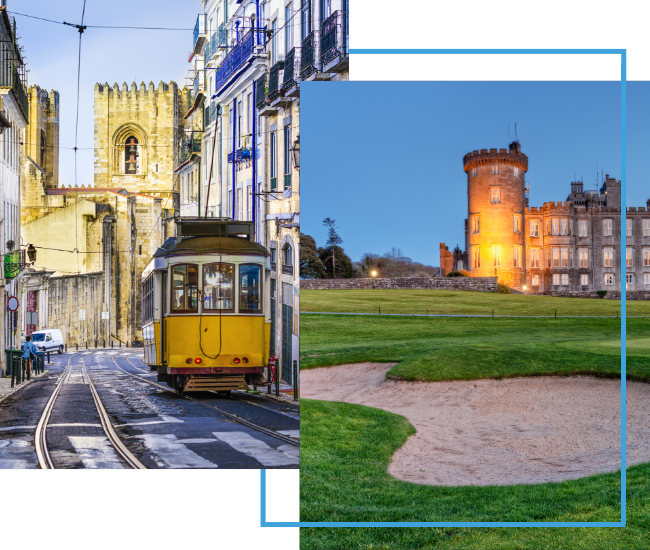 FX Excursions
FX Excursions offers the chance for once-in-a-lifetime experiences in destinations around the world.
Explore Excursions
The Perelman Performing Arts Center (PAC NYC), the cultural cornerstone and final public element of the World Trade Center site, opened this September.  The new performing arts center in Lower Manhattan provides a dynamic home for the arts, serving audiences and creators through flexible venues enabling the facility to embrace wide-ranging artistic programs.
Sponsored Content
The Islands of Tahiti are among the most beautiful and sought-after vacation destinations in the world. The endless images of overwater bungalows with Bora Bora's majestic peak towering over waters of every shade of blue have an intrinsic pull. But with 118 islands and atolls to explore, there is so much more to this spectacular region of the Pacific.
Whether you call secondhand fashion treasure troves "thrift stores," "fripperies," "charity shops," "vintage boutiques" or something else, shifting the paradigm from "old clothes" to "new finds," you may find the best, most conversation-starting souvenirs inside these shops and neighborhoods located in the world's most fashionable cities and a few unexpected places.