Located on the southern Mediterranean coast of Spain, in the heart of the Costa del Sol, Málaga and its 300 annual days of sunshine draw sun worshippers from around the world. Founded by the Phoenicians in 770 B.C., its architecture reflects the influ- ences of the Romans and Moors. Today, this cosmopolitan city boasts museums, a lively cultural scene, several annual festivals and a rising tech industry.
GETTING THERE & AROUND
Málaga-Costa del Sol Airport lies just 4 miles from city center and hosts some 60 airlines connecting to cities throughout Europe and beyond. Train and bus services link to cities across Spain and Europe, including high-speed rail (AVE) to Madrid and other major cities. Car rentals are widely available, but parking is expensive and driving in the city can be difficult. Taxis are plentiful, and rideshares Cabify and Uber operate here. Public transit includes an extensive city bus system and rail connections to other parts of the Costa del Sol. Many of the major attractions in the city are within walking distance of each other, or try Málaga Bici, a bike-sharing program.
LODGING
Gran Hotel Miramar Resort & Spa
This Leading Hotels of the World member boasts a location in the heart of Málaga; five restaurants; a convention center, event rooms and private gardens; spa and wellness facilities; a 24-hour fitness center; and two outdoor pools. Rooms and suites promise city, garden, royal courtyard or sea views.
Paseo de Reding 22-24, Málaga, Spain, tel 34 952 60 03 00 granhotelmiramarmalaga.com
Molina Lario Hotel Málaga
Located in the heart of the city, this property caters to business and leisure travelers alike with a 24-hour business center, event and meeting spaces, restaurant and rooftop pool. The Top bar features tapas, creative cocktails and great city views, making it one of the most popular rooftop bars in Málaga.
Calle Molina Lario 20, Málaga, Spain,
tel 34 952 06 20 02 hotelmolinalario.com
Palacio Solecio
Housed in a restored 18th-century palace, this Small Luxury Hotel of the World member lies close to top attractions in the city and boasts original elements such as a grand staircase, wrought-iron balconies and lovely courtyards. Modern amenities such as a fitness center, free WiFi, marble bathrooms and fine dining ensure a comfortable stay.
Calle Granada 61, Málaga, Spain, tel 34 952 22 20 00 palaciosolecio.com
DINING
Balausta
Under the direction of Michelin-starred chef José Carlos García, appetizers, lunch and dinner are served daily, along with a varied signature cocktail selection. Enjoy traditional Andalusian cuisine prepared using contemporary techniques in a relaxed atmosphere under the glass vault of the interior patio of Palacio Solecio.
Palacio Solecio, Calle Granada 61, Málaga, Spain, tel 34 952 22 20 00 restaurantebalausta.com
Restaurante Al-Yamal
Malaga's first Arabic restaurant, Al-Yamal ("beauty") serves traditional Mediterranean and Moroccan dishes including couscous, hummus and tagines in a dining room evocative of the medinas of Northern Africa, right down to the Andalusian and Arabic music playing in the background.
Calle Blasco de Garay 7, Málaga, Spain,
tel 34 952 21 20 46 restaurantealyamal.eatbu.com
Restaurante El Caleño
This beachside restaurant with indoor and outdoor seating features fresh seafood and classic Spanish dishes. Warm, welcoming staff and a cozy, intimate vibe make for a relaxed dining experience.
Paseo Marítimo el Pedregal 49, Málaga, Spain, tel 34 952 29 00 06
ATTRACTIONS
Alcazaba
This Moorish fortress, begun in the 11th century, is considered one of the best-preserved and most beautiful urban fortresses in Spain. Explore the gardens, fountains and architecture of the fortress and palace complex.
Calle Alcazabilla 2, Málaga, Spain, tel 34 630 93 2987
Beaches
The entire Costa del Sol is renowned for its beaches, and that includes the 16 "city beaches" in Málaga itself. Most are well-maintained; offer restrooms, showers and chair rentals; and benefit from close proximity to a host of beach bars, cafés and restaurants. Some, such as La Caleta, also provide access to water sports from paddleboarding to windsurfing and jet skiing.
Museo Picasso Málaga
Housed in a 16th-century Andalusian palace, the museum's permanent collection consists of some 400 works by Málaga-born Pablo Picasso dating from 1894 through 1972. Newer buildings surrounding the palace contain the museum's temporary exhibits, workshops and support facilities. Open daily, the collection boasts sculptures, paintings, drawings and ceramics.
Palacio de Buenavista, Calle San Agustin 8, Málaga, Spain, tel 34 952 12 76 00 museopicassomalaga.org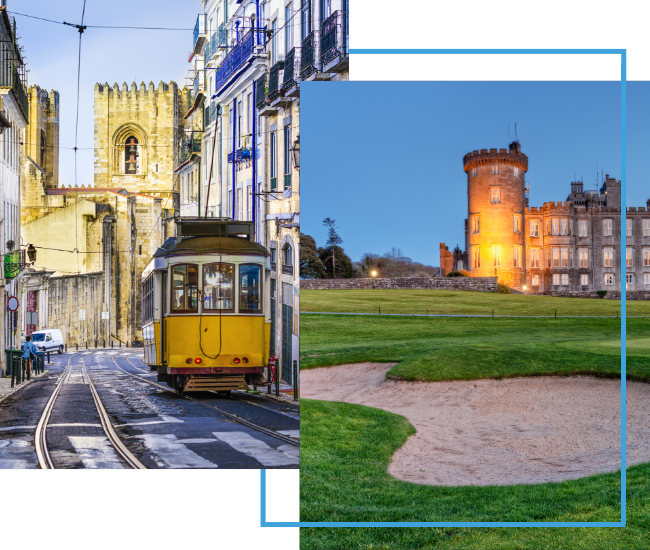 FX Excursions
FX Excursions offers the chance for once-in-a-lifetime experiences in destinations around the world.
Explore Excursions
Red Savannah launched a new series called In the Footsteps of…, which debuts itineraries of well-known figures, the first being Coco Chanel. As Chanel No. 5 celebrates its 102nd anniversary this year, the travel company invites fashion lovers, history enthusiasts and admirers of Coco Chanel to experience the new itinerary, In the Footsteps of Coco Chanel. The experience allows travelers to step into the remarkable life of one of most iconic figures in the fashion world.
Sponsored Content
Embracing a life well lived often means embracing a life well-traveled. Every journey becomes a canvas for experiences that shape our lives and at the heart of every adventure lies the indispensable companion: quality luggage.
Mazatlán, Mexico, has long been an attractive home destination for Canadian and American retirees, but, in recent years, young, digital nomads have also discovered the charms of this coastal city, finding inexpensive accommodations, beautiful weather and plenty of bandwidth for working remotely. The laid-back beach scene definitely eases the transition of relocating to Mexico's West Coast.