THE BASICS
Name: Ghim-Lay Yeo
Title: Vice president, corporate communications
Company, city: oneworld; New York, New York
First job: When I was 18 years old, as a telemarketer for a financial services company, I had to cold-call people, which is never pleasant.
Where to next: Madrid, Spain
A LITTLE BIT MORE
What actor or actress would play you in a movie of your life? Lucy Liu, because she's a bad ass and a good actress.
What would you be doing professionally if you weren't in your current industry? I'd be a novelist writing fiction.
What is your favorite book, movie or television show? Little Miss Sunshine is my favorite movie; it's funny, and the dark humor appeals to me, but it's also a good movie about family.
What historical figure, dead or alive, would you love to have dinner with? Bessie Coleman — she was the first African American and Native American female pilot, carving out a space in a field still dominated by men today.
THE BUSINESS
What is your most recent project, and what was the inspiration behind it? I've been organizing our town halls, an initiative we continued from our 20th-anniversary year in 2019. We're visiting member airlines to get to know them better, get updates, bring our message to the airlines and meet the employees.
What is your favorite aspect of the job? Working with the people; as the newest member of the team, it's a treat to get to know everyone: people of different cultures, backgrounds and at different stages of their lives and careers.
What's the biggest business risk you've ever taken? I moved from Singapore to Washington, D.C., in 2011. I was transferred with my previous company, in my late 20s, and I didn't want to turn down the transfer and potentially regret it. I was initially financially worse off, but it was such a big decision that was worth it in the end.
Who is someone you admire professionally in the travel industry? Claudia Sender, who previously served as the only woman on the executive team at LATAM — and Latin America has a male-dominated culture. She was out- spoken about women having a better seat at the table.
AS A TRAVELER
Tell us about a travel nightmare: When I lived in D.C., I booked a flight to Boston in March. I don't know why, because I typically don't, but I checked a bag. In line for security, my flight was canceled. I was put on the next flight, but my bag went on an earlier one. My next flight canceled. It wasn't worth it for a short trip to rebook again, and it then took me two days to track down my bag, calling every number I could think of. Four days later, I picked up my bag at the airport in D.C.
Share a comical travel experience: I extended a business trip to include a solo trip to Machu Picchu. Singapore is a tiny country, and I rarely run into Singaporeans on my travels. On the train ride back from Machu Picchu, I was among an entire tour of Singaporeans — it was serendipity! What is your preferred method of travel — planes, trains, automobiles, cruise ships — and why? It depends on where I'm going, but mostly planes. It's the easiest, most convenient option, especially as the train infrastructure in the United States isn't great.
What has been the best example of customer service you've experienced during your travels? In my previous career as a journalist, I was booked on a Singapore Airlines flight. I was sick a few days prior to the trip and not sure I'd even make it; I had no appetite on my business- class flight, and the cabin crew noticed and expressed concern. A flight attendant brought me green tea throughout the flight, and I felt much better upon landing.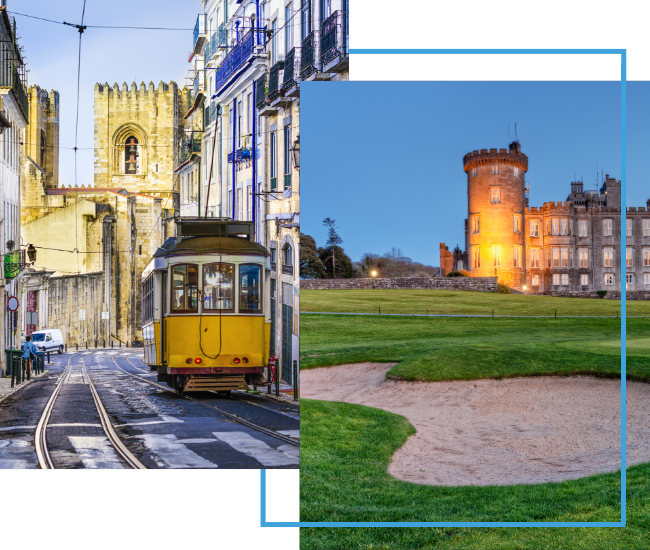 FX Excursions
FX Excursions offers the chance for once-in-a-lifetime experiences in destinations around the world.
Explore Excursions
Less than five years ago the world's first hybrid cruise ship, Hurtigruten Expeditions' MS Roald Amundsen, set sail for Antarctica in November 2019 with 450 passengers. The battery-hybrid-powered ship, named for the first man to cross the continent and reach the South Pole, was built specifically for voyages in polar waters. Its battery-hybrid power reduces the ship's consumption and CO2 emissions by 20 percent compared to equally sized ships.
Sponsored Content
The Islands of Tahiti are among the most beautiful and sought-after vacation destinations in the world. The endless images of overwater bungalows with Bora Bora's majestic peak towering over waters of every shade of blue have an intrinsic pull. But with 118 islands and atolls to explore, there is so much more to this spectacular region of the Pacific.
A few months ago, I flew Polaris business class on a United flight from Dulles (IAD) to Paris (CDG). It was only when I got to my hotel in Paris I realized that I didn't have my iPad or its bag or accessories. Since I had been working on it in the restaurant in the Polaris lounge and then went directly to the gate, I knew I either left it propped up on my table when I packed up or in my business-class seat. But what was the best method to alert the airline about my careless mishap and (hopefully) retrieve it? With spotty data and WiFi, searching for information on my phone was frustrating and slow. Here's what I learned from the anxiety-inducing experience (and unexpected ending) about what to do if you leave something behind on your flight: