This holiday season, Norway offers travelers the Northern Lights, Christmas lights, holiday artisan markets and interactive workshops for travelers and locals alike. With a focus on curating uniquely Norwegian experiences, Up Norway offers off-the-beaten-path itineraries for travelers. Although all journeys and experiences can be tailored to meet the specific needs of each group, Up Norway recommends the following destinations this holiday season.
Lofoten Islands
Travelers can experience pre-Christmas time north of the Arctic Circle on the Lofoten Islands. Stay in private, secluded villas; discover the traditional, red-painted rorbu cabins of the artisan Christmas markets; and participate in workshops like glassblowing, ceramics and sustainable wool. For those wanting to explore the landscapes, head out on outdoor hikes, snowshoe trails and even try your hand at photographing the Northern Lights.
Fjord Country
Norway's UNESCO heritage fjord country, surrounded by lush pastures and towering peaks, offers a popular destination during the holiday season. Immerse yourself into a tranquil world of rich cultural history and untouched nature with the help of hoteliers and their extended team of locals. For a cozy stay, check out family estate Amot, available for groups of up to 12 guests. While staying at the property, spend your days on a winter cruise in the secluded Dalsfjord, winter hiking with outdoor lunches, stargazing from an outdoor hot tub, pampering yourself with a hot-stone massage or yoga sessions with a view. All food served on property is locally sourced and prepared by the resident chef.
Oslo
Up Norway suggests spending a few days exploring the capital before hopping on a train to take you to the snow-covered landscapes of the mountain village of Geilo. Once in the village, enjoy activities like kick-sledding, cross-country skiing, dog sledding and ice fishing. After working up an appetite, indulge in home-cooked meals made with local fish and other ingredients, and a glass of gluhwein (mulled wine). Next, make your way over to Voss aboard Flåm Railway. The trip through Voss offers a trip through the UNESCO Heritage-protected fjord landscapes and a variety of winter activities. The journey ends in a treetop cabin in the Finnskogen forest where you can listen for the sounds of wolves and owls while searching for shooting stars.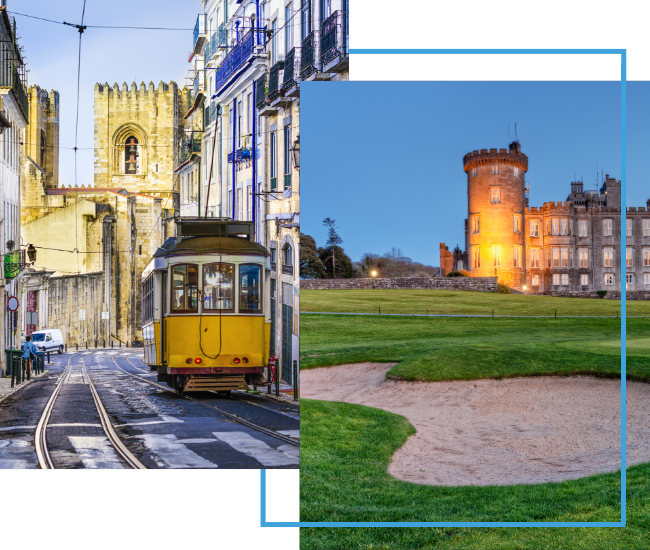 FX Excursions
FX Excursions offers the chance for once-in-a-lifetime experiences in destinations around the world.
Explore Excursions
As another phenomenal year of travel comes to an end, it's time, as always, for Global Traveler to celebrate and award those who do it best as we announce the 2023 winners of the GT Tested Reader Survey awards. But that's not the only cause for celebration here: We've hit another major milestone, as this marks our 20th year honoring the best of the best inn world of travel!
Sponsored Content
Whether it's the people, the craic (fun) or the coasts, travelers always find something to love about the island of Ireland. What fills your heart?
The highly anticipated GT Tested Reader Survey has more reason to celebrate in 2024 than ever before. This year marks the 20th anniversary of our GT Tested Reader Survey awards, with many of the winning brands earning milestone accolades for years of dedicated and consistent service.